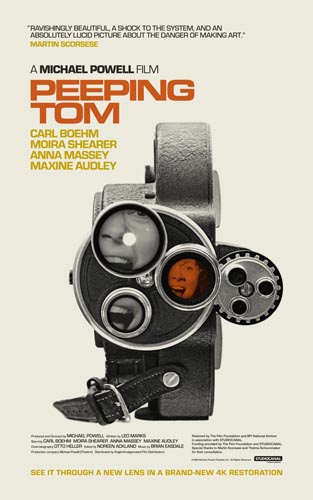 STUDIOCANAL has announced the release of a spectacular 4K restoration of Michael Powell's iconic serial killer classic PEEPING TOM, restored by The Film Foundation and BFI National Archive in association with STUDIOCANAL and premiering at the BFI London Film Festival on 7th October 2023, followed by its release in UK cinemas from 27th October and as a Special Edition UHD, Blu-ray and DVD release from 29th January 2024.
Martin Scorsese, longtime admirer of Michael Powell, who spearheaded the film's rediscovery in the US by releasing the film in 1979 comments:
"Art and obsession—they go together. To create anything, whether it's writing or painting or music or dance or cinema, you have to be obsessed. But one can cross the line into danger, easily. Michael Powell didn't just understand that danger—he lived it. And he actually expressed it in cinematic terms. Unlike The Red Shoes, set in the grand world of high culture, Peeping Tom is set at the rock bottom level of low culture, with a protagonist who has already crossed the line. On a plot level, it's about a serial killer who murders women as he films them. On a deeper level, it's a portrait of self-destruction by means of cinema—the lenses are scalpels, the splices real cuts that bleed, the celluloid razor wire, and the light of the projector blinding. There's no other picture quite like Peeping Tom in the history of the cinema. It is ravishingly beautiful, like all of Michael's greatest films, and I'm thrilled that we've finally been able to give it the restoration that it deserved. It is also a shock to the system, a deeply unsettling, and, I find, absolutely lucid picture about the danger of making art."
An influential cinematic masterpiece written by Leo Marks (Twisted Nerve) and starring Carl Boehm (Sissi), Anna Massey (Frenzy), Moira Shearer (The Red Shoes) and Maxine Audley (A King in New York), PEEPING TOM will also play as part of the BFI's Cinema Unbound: The Creative Worlds of Powell and Pressburger season at BFI Southbank and UK-wide programme (16 Oct – 31 Dec) and at the Lumière Film Festival in Lyon (14-22 Oct).
Mark (Carl Boehm), a focus puller at the local film studio, supplements his wages by taking glamour photographs in a seedy studio above a newsagent. By night he is a killer, stalking his victims with his camera forever in his hand trying to capture the look of genuine, unadulterated fear – an obsession that stems from his disturbing and terrifying childhood at the hands of his scientist father. Mark slowly becomes enamoured with Helen (Anna Massey), who lives with her blind mother (Maxine Audley) in the flat downstairs, but how long before he turns the deadly gaze of his camera towards her?
Now regarded as a ground-breaking masterpiece of the British horror movement, on its initial release in 1960, PEEPING TOM received a savage reception from critics who were dismayed by its controversial subject matter and the sympathy it seems to engender for its murderous protagonist. The second film from visionary director Michael Powell, following his run of 1940s and 50s classics collaborating with screenwriter Emeric Pressburger, PEEPING TOM left Powell's career in tatters and the film was made unavailable for many years. PEEPING TOM has since become recognized as a watershed in genre cinema, its themes of voyeurism and psychopathy proving hugely influential on the evolution of the slasher movie.
PEEPING TOM and also Powell and Pressburger's THE SMALL BACK ROOM were restored by The Film Foundation and BFI National Archive in association with STUDIOCANAL. Funding provided by The Film Foundation and STUDIOCANAL. Special thanks to Martin Scorsese and Thelma Schoonmaker for their consultation.
STUDIOCANAL will be unveiling the new 4K restoration of THE SMALL BACK ROOM as part of the BFI's Cinema Unbound: The Creative Worlds of Powell and Pressburger season, and a DCP for OH… ROSALINDA!! will also be newly available. All three titles will be released in STUDIOCANAL'S Vintage Classics range in 2024. THE TALES OF HOFFMANN, restored by The Film Foundation and the BFI National Archive, is available to book on 4K DCP and is available as a Vintage Classic DVD/BD release.
The 4K restoration of PEEPING TOM will receive its restoration world premiere at the BFI London Film Festival on:
Saturday 07 October at 12:30 at BFI Southbank, NFT1
Saturday 14 October at 20:00 at BFI Southbank, Studio
Book tickets here: LFF Tickets
PEEPING TOM will be released as a Special Edition DVD, BD and UHD on 29th January 2024
Special Features:
•Visions of Voyeurism: Peeping Tom by Sir Christopher Frayling
•Take Me To Your Cinema: The Legacy of Peeping Tom
•Restoring Peeping Tom
•The Eye of the Beholder
•Intro by Martin Scorsese (2007)
•Interview with Thelma Schoonmaker (2007)
•Audio Commentary by Professor Ian Christie
•Original Theatrical Trailer
•MORE TBC
Cinema Unbound: The Creative Worlds of Powell and Pressburger (16 October – 31 December) is a major UK-wide celebration of the legendary writer-producer-director team Michael Powell and Emeric Pressburger, one of the greatest and most enduring filmmaking partnerships in the history of cinema, with a retrospective programme at BFI Southbank, including restorations, remasters, cinema rereleases, new prints and a UK-wide programme of screenings and events, funded by the National Lottery and supported in partnership by BFI Film Audience Network (BFI FAN).
True cinematic visionaries, Powell and Pressburger worked with an exceptionally talented creative team of long term collaborators at their production company, The Archers. Together they created some of the richest and most memorable films in the story of cinema, the impact of which continues to be felt today.