Ginger Snaps 2: Unleashed (2004)
Directed by: Brett Sullivan
Written by: Karen Walton, Megan Martin
Starring: Brendan Fletcher, Chris Fassbender, Emily Perkins, Janet Kidder, Katharine Isabelle, Pascale Hutton, Tatiana Maslany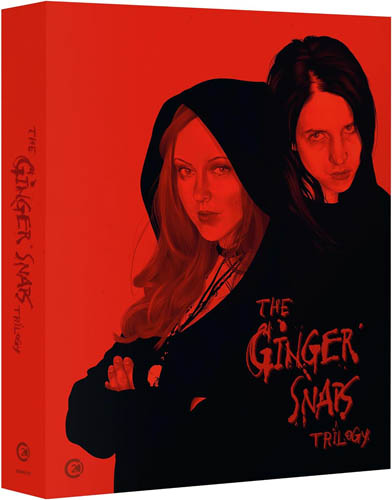 GINGER SNAPS 2: UNLEASHED (2004)
Directed by Brett Sullivan
Trilogy available on Limited-Edition Blu-ray Box Set from Second Sight Films

After the death of her sister Ginger, and having been infected with the lycanthropic disease that claimed her, Brigitte Fitzgerald is trying to outrun her fate but it turns out that's not the only thing she's fleeing. After coming close to death, Brigitte wakes up to find herself locked inside an institute for addicted women and is forced by the practice head honcho, Alice, to rehabilitate herself from the "drugs" she's been taking. What they don't realise is that the whilst Monkshood (Woflsbane), which she's been injecting, may be poisonous to most, it helps delay the inevitable transformation Brigitte is experiencing. With her life and those around her at risk, Brigitte must escape the prison she's found herself in before it's too late.
GINGER SNAPS 2: UNLEASHED is a thrilling sequel to 2000's GINGER SNAPS and continues the story of the Fitzgerald sisters, with the deceased Ginger, played by Katharine Isabelle, making an appearance solely as a figment of Brigitte's imagination, acting as a guardian angel to Brigitte who is struggling with the inevitable. After Brigitte killed her beloved sister at the end of the first film, due to her having turned into a werewolf and gone on a murderous rampage, Brigitte knows full well what the future has in store for her.  Having voluntarily infected herself to get closer to Ginger in a failed bid to save her sister, Brigitte is against the clock. It's only a matter of time before she grows fur and an insatiable taste for blood, but a shot of Monkshood helps to keep the transformation at bay for another day. Unfortunately, Brigitte's luck is running out…
In this sequel, events take an unexpected turn as we see Brigitte struggling to battle her fate. Her best friend and confidant are dead, and she has no-one she can trust in or turn to. Anyone who sticks by her for too long winds up dead, which is why she keeps on the move. However, once she finds herself locked inside the prison-like cells of the local treatment facility, Happier Times Care Centre, she's unable to access the Monkshood she so desperately needs. She's a ticking time-bomb and, as we discover, a sitting target. No matter the words of advice she receives from her visions of Ginger, she's screwed unless she acts, and quickly!
Unpredictable and exciting, GINGER SNAPS 2: UNLEASHED takes the story in a more serious direction than its predecessor that both surprises and enthrals. Blending horror with action, the movie switches tempo into a film that's all about pushing back and fighting the system and what's expected of her, and how that plays out for a young woman who's fully aware of the consequences of her disease yet whose hands appear to be tied to do much about it. Emily Perkins steps up to a more demanding role and delivers a captivating performance, finding a balance between fight and flight as trouble inches ever closer to her door. Finding herself in a completely new setting which is alien to her, yet is a familiar environment in horror films, it's interesting to see how Brigitte's sane perceptions of events are deemed quite the opposite by those in authority and what she's forced to do to ensure she stays in control as a result.
There's more going on here than what appears on the surface, which I won't spoil, but adds a new dimension to the bigger picture, and is perhaps the only film to have tackled such an idea within the werewolf genre. This, coupled with the addition of new characters, each with their own agendas, makes for an unusual yet intriguing story that keeps the viewer questioning as to where it could possibly all lead.
Like the first film, the FX are tremendous and give the film its gory nastiness, creating a tangible consequence that sparks fear for those in the vicinity. The makeup effects are also put to great use for the slow transformation taking effect on Brigitte, as she struggles to avoid the changes her body is going through. From pointed ears to hairy hands, her fate becomes more evident day by day.
When not fighting against the curse of lycanthropy, GINGER SNAPS 2: UNLEASHED embraces a bit of wicked humour in the same vein as the first movie which lightens some moments, whilst the rest of the movie is presented as an action survival hybrid horror. We also have the addition of child character Ghost who adds her own brand of oddball humour and quirkiness to the proceedings, often told in third person. At first, she comes across as a kid who gets under the feet of the other characters, but she slowly worms her way into being a favourable supporting player, performed with gusto by Tatiana Muslany. This character is in stark contrast to the sleazeball care centre worker Tyler (Eric Johnson) who delights in offering the patients their drug of choice in exchange for sexual favours – once again the trilogy exploring the idea of women's sexuality and how that's often used against them.
As a sequel, I found GINGER SNAPS 2: UNLEASHED to be a totally unexpected experience which brings something fresh, smart and alternative to the genre, continuing the edginess delivered in the first film yet being a more refined, mature offering. This isn't some lazy sequel to cash-in on the popularity of the first film. This is a story that stands up for itself and isn't afraid to run with its ideas, proving there's more to the werewolf genre than meets the eye.
Rating:
Second Sight Films have released this incredible Limited-Edition Box Set of the GINGER SNAPS TRILOGY with all three films on Blu-Ray, and each disc bursting at the seams with extras. The trilogy comes packaged in a rigid slipcase featuring new artwork by Michael Dunbabin, along with five collector's art cards and a 112-page book with new essays on the film from Meredith Borders, Kat Hughes, Dr Rachel Knightley, Mikel J Koven, Jolene Richardson, Zoe Rose Smith, and Caelum Vatnsdal.
Ginger Snaps 2: Unleashed Blu-Ray Special Features (Second Sight Films)
Audio Commentary with Director Brett Sullivan, Executive Producers John Fawcett and Noah Segal, and Producer Paula Devonshire
In this audio commentary for Ginger Snaps Unleashed, the four get stuck into commenting straight away, starting with the opening credit sequence, giving background to the ideas, the stand ins, and who shot what. There's a casual feel to the commentary as the four work well together, each providing different insight and stories from the shoot and production of the film. They talk about how scenes were shot, working with the cast and how they approached the sequel. A terrific audio commentary that gives so much juicy background info to what was filmed.
Girl, Interrupted: A New Interview with Director Brett Sullivan (24 mins 10 secs)
Director Brett Sullivan talks about his involvement in the first Ginger Snaps movie, in which he was the editor for the film, which then led to him directing Ginger Snaps Unleashed. He also talks about working with John Fawcett and the concept of the Ginger Snaps trilogy.
The Bloody Lunar Cycle: A New Interview with Writer Megan Martin (20 mins 32 secs)
Megan Martin, like the other filmmakers and writers involved in the first Ginger Snaps film, went to the Canadian Film Centre. It was there she got her first film writing job, Ginger Snaps Unleashed. She talks about the experience writing the film and the ideas she incorporated, such as the links between the hunger and addiction. She also discusses the introduction of supporting character Ghost and what she brought to the film in a story where Brigitte finds herself flying solo for the first time. An interesting watch that provides great insight into what Megan wanted from the story.
Behind The Scenes: Beast is Built (1 min 9 secs)
This featurette showcases the conceptual design of the werewolf, as well as the workshop scenes of the robotics and costume work involved in making the creature, with footage of the team member wearing and walking on all fours in costume.
Behind The Scenes: Locations (5 mins 53 secs)
Behind the scenes look at the locations in the movie, including Ghost's house, the abandoned hospital and the vents, from the small scale models to the full size design.
Behind The Scenes: Special Makeup (5 mins 25 secs)
Footage of Howard Berger doing makeup for Brigitte's transformation, Jeremy's death, Beth-Ann post-attack, and the animal creations.
Behind The Scenes: Practical Special Effects (1 min 44 sec)
A look at the blood splatter and fire tests from the film.
Behind The Scenes: Stunts (3 mins 56 secs)
Behind the scenes of the stunt work with stunt co-ordinator Kirk Jarrett, for scenes involving Beth-Ann and Brigitte being thrown about.
Behind The Scenes: Fun on Set (4 mins 16 secs)
Fun moments captured from the shoot of Ginger Snaps Unleashed.
Deleted Scenes (12 mins 35 secs)
A series of deleted scenes, including Brigitte's Introduction, Ginger Appears, The New Girl, Nice To Meet You Brigitte, Trapped and Carnivore, amongst others.
Deleted Scenes with Director's Commentary (12 mins 35 secs)
Same deleted scenes as above bu the director's commentary from Brett Sullivan.
Audition Tapes (12 mins 19 secs)
Various audition tapes, featuring Tatiana Maslany (Ghost), Emily Perkins and Tatiana, Janet Kidder (Alice), Eric Johnson (Tyler), Pascale Hutton (Beth Ann), and Patricia Idlette (Dr Bruckner).
Storyboards (3 mins 55 secs)
In this featurette, the various storyboards from the film are scrolled through automatically as a video.