London Boulevard (2010)
Directed by: William Monahan
Written by: Ken Bruen, William Monahan
Starring: Anna Friel, Colin Farrell, David Thewlis, Keira Knightley, Ray Winstone, Stephen Graham

[youtube]https://www.youtube.com/watch?v=Uu-zIrTliEk[/youtube]
London Boulevard (18)
Running Time: 103 mins
The classic, great British gangster flick gets a real kick up the ass in this superb offering from writer and director William Monahan. Featuring a relative who's who of British movies, the cast list is massive with many familiar faces popping up to join in to support Colin Farrell's simply incredible turn as Mitchell, a hard as nails ex-con who has just come out of prison after a three year sentence for GBH. Wanting a proper life for himself, he wants to distance himself from his gangster mates and get a proper job but nasty, violent and heavy swearing Crime Lord Gant (Ray Winstone on fantastic, brutal form) will have none of it. Mitchell stays in a flat with his so-called pal Billy (Ben Chaplin) and likes to keep a close eye on his alcoholic sister Briony (Anna Friel) who reminds us numerous times that she is not drunk! Mitchell is offered a job 'protecting' top model and film star Charlotte (Keira Knightly) by her bizarre 'agent' Jordan (David Thewlis loving every minute). The job is to keep the horrible press away, but love soon blossoms.
The plot, in all honesty, actually becomes a tad confusing as the movie picks up pace to it's predictable but satisfying ending. There are double crossings, twists, turns and emotional moments all centred around Mitchell and his want to 'get out'. Farrell gives one of his finest performances, and considering the wealth of acting talent on offer, commands the screen. This tight gangster film is superbly delivered with a raw energy that manages to keep an old fashioned story fresh and appealing and offers up just the right amount of love story to keep both men and women happy. I would no way recommend this as a first date movie, but you can certainly sit down with your beloved and enjoy it together. Knightly gives her usual pout, but looks extremly stunning throughout, she is almost seductive in her mannerisms and men watching this will find themselves wanting to be in Mitchell's shoes often, even when the violence breaks out (strangely enough).
Yes, this movie contains plenty of violence before you go thinking this is a love story disguised as a gangster film. Witness Farrell casually force someone's face onto a pint glass in a scene reminiscent of the Joker's classic pencil trick in The Dark Knight, there are stabbings, glorious shootings and fisticuffs, but the main violence on offer is machoism, who can scare the other best. In a shouting match, Mitchell and Gant shout at each other face to face and they get louder and louder to the point it looks like one might explode before Gant asks the question "what are we shouting for?". Indeed, but it is a scene that is both fearsome and comical. Farrell walks around the streets of London with a fearsome reputation, and he knows it and uses it. In another comical scene he is having an arguement with a van driver who has just been fired from looking after Charlotte. Knowing Mitchell has taken his job, the van driver is all mouthy and threatning until Mitchell tells him his name, and then things turn comical as the van driver stalls! Thats not to say the film is a comedy, but director William Monahan blends a viciously serious film with brief moments of brilliant comedy that never for a second feel out of place. Farrell has a natural cheeky look about him, and brings this deservedly to his character.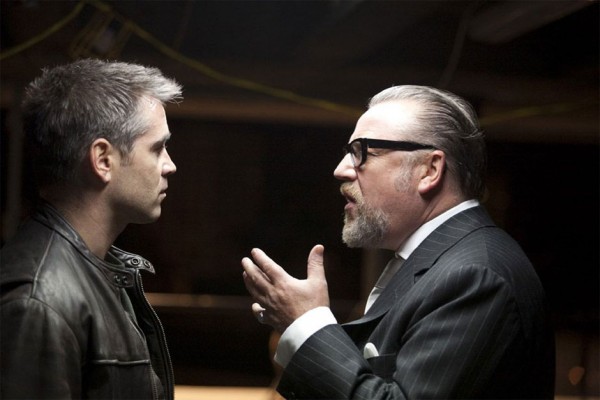 Winstone even manages the odd bit of comedy, however his character is not pleasant, and usually his laughable moment is met by fearsome violence, or the suggestion of it. Gant will make you feel on edge, and in a brilliant scene where Gant and Mitchell go for dinner, you can almost feel Gants anger at being turned down yet again by Mitchell to join his crew. See, Gant knows what Mitchell is capable of, and wants him as his top debt collector to help his business, but Mitchell wants nothing to do with him and makes it clear in a brilliant display of script writing. I will say now that the script to this film is stunning,the kind of brilliant writing that has you hanging on ever word and getting really involved with the characters. A side-story is superbly added to the mix which runs adjacent to the whole story right the way through, and that is of Mitchell's Big Issue selling homeless friend. The less said about this story the better, but it provides some real, true emotion from Farrell and really tests his skills as an actor.
So, the film has a great script, brutal violence, a love story, emotions and comedy, could it have anything else? Well, yes, two more things in fact. There is real eye candy in both the forms of Keira Knightly's Charlotte who likes to walk around in often open tops, and also Anna Friel's turn as Mitchell's sister Briony, always drunk and wearing tiny little skirts and tights, if Knightly doesn't float your boat, then Friel will. Finally, the film has one of the finest soundtracks I have heard in a long time. It has a sixties vibe but is made incredibly current by a mixture of old, new and unheard bands. Kasabian's Sergio Pizzorno was in charge of the music and a fine job he has done indeed. The soundtrack gives the film an added energy and likeability and helps make certain scenes more memorable, or adds emotion to scenes which ask for that little extra.
The film also paints a dangerous portrait of what it is like to be a celebrity as Charlotte has become a complete nervous wreck as the Press hang out on roof-tops opposite her house desperate for th next photo. Screaming filthy things about her past and making up stories about her present, it looks like a lonely, awkward world. A truly powerful scene see's Charlotte attempt to venture out to the shops without anyone to look after her, and the simple task of buying something quite literally destrys her confidence. So, quite simply London Boulevard covers all the aspects of a great movie and delivers them incredibly well. This really is one of the finest Gangster movies Britain has ever produced, it is fresh, appealing, moving, violent, involving, thrilling and funny. The cast are shockingly brilliant, both in choice and in performance, and Farrell has proved yet again that he is one of the finest actors of his generation. Classic!
Rating:
[pt-filmtitle]London Boulevard[/pt-filmtitle]