Bride of Chucky, Child's Play, Child's Play 2, Child's Play 3, Seed of Chucky




SPOILERS!
In Los Angeles, cop Mike Norris tracks down notorious serial killer Charles Lee May and wounds him during a shoot out in a factory. The dying killer transfers his soul into a 'Good Guy' doll. Soon after, six year old Andy Barclay really wants a Good Guy for his birthday and is somewhat disappointed when he doesn't get one. His mother Karen cannot afford one, but when her work colleague notices that a peddlar has one for sale at a very cheap price, she goes and buys it.  Andy is now very happy with his doll, who is called Chucky, but Karen has to go back to work to cover a shift and her friend Maggie comes round to babysit. Someone or should I say something in the house doesn't like babysitters….
I'm going to admit something. I'm a little scared of dolls. Something about them just isn't right to me, maybe it's the way they sort of approximate human looks but don't quite get there, maybe it's their freaky eyes that seem to look right at you, I just don't know. Therefore, I can't really understand why it took them till 1988 to make a major horror film about a doll, although there was the odd example before such as two episodes of The Twilight Zone and the terrifying third part of Trilogy Of Terror, and the previous year had seen the low budget but seriously frightening Dolls. This is of course if you don't count the vaguely related and possibly even scarier ventriloquist's dummies of Dead Of Night and Magic. Child's Play, though certainly not a great horror movie, is certainly a very good one, and without a doubt exploits superbly the scariness of dolls.
Don Mancini's original screenplay was called Blood Buddies [he wanted to call it Batteries Not Included but a certain Steven Spielberg beat him to it], and it was a much more psychological story then the one that ended up in the film. Chucky, who was brought to life by blood during a wrist-slitting 'blood pact' with Andy, was intended to be possibly a manifestation of young Andy's id [think Forbidden Planet] and maybe not exist at all, allowing for the possibility of Andy as the killer, dispatching people he is scared of. This is still a great concept and I'd like to see it filmed one day, maybe when they do the obligatory remake. This script was also more satirical and had interesting details like Andy's mother being the marketing head of the toy company that makes the Good Guys. Producer Don Mancini though wanted a simpler and more obviously 'commercial 'movie  and hired John Lafia and director Tom Holland, who had just come off Fright Night, to rewrite much of the script, most importantly adding the idea of the serial killer possessing Chucky. Initially conceptualised by David Kerschner, his design was inspired by a range of dolls called The Cabbage Patch Kids [and I remember them, they were freaky too!], and Chucky was a great leap forward in animatronic special effects, with designer Kevin Yagher and his team able to have Chucky use different expressions. The initial cut was over two hours and was drastically tightened, in the process removing  much mother and son footage exploring their background, relationship and why Andy is the way he is.  Still, the movie was a big hit, despite some protests by people claiming the film could incite children to violence.
Child's Play begins with some brief chasing and shooting until Lee May is cornered in the factory. Via some voodoo-type mumbo jumbo, replete with shoddy looking clouds forming in the sky, he transfers his soul into one of a shelf-load of Good Guy dolls, before dying. It's not a great start, and this whole sequence would have worked better as a flashback about half way through, so that at first we don't have a clue what is up with Andy's new toy.  Still, once we switch to Andy and his mother the film quickly becomes much better. Nothing much happens at first, but having the doll just in a room like sitting on a settee in the background makes you begin to get on edge and expect Chucky to move or say something besides his greetings of "Hi I'm Chucky, wanna play?" and "Hi, I'm Chucky, and I'm your friend to the end, Hidey Ho".  Soon he starts to do things like move on his own, though still off camera, and then we get a superb suspense sequence, aided immeasurably by really unnerving, dissonant scoring by Joe Renzetti, of Maggie the babysitter being stalked by Chucky with lots of POV shots and no actual shots of Chucky except a positively freaky glimpse of the doll running in the background behind Maggie from one room to another. Finally she's dispatched with a hammer in the face, but after this the film continues its leisurely, masterful suspense building, right up to when Karen discovers Chucky has no batteries. After this, the movie changes and becomes a thrilling rollercoaster ride, with constant rushing around, Chucky causing much mayhem and a fantastic thrill scene with Chucky stalking Andy in a hospital. There's also one of the best "pointed object stabbing at someone through a car seat" scenes ever filmed. The climax, which is in that great Halloween fashion [and possibly a little influenced by The Terminator too] where the monster just won't die, is truly exciting stuff. Even when burnt to a crisp this doll won't lie low. The film amazingly resists the urge to leave things open for a sequel, instead finishing with a rather sad shot of Andy looking back at Chucky's remains through a crack in a door.
Now Child's Play isn't really a gory movie, it doesn't try to be, but Maggie does fall after being hit with the hammer through a window and into a car, and Chucky also blows up a house with someone in it, fries a guy's face with an electric shock machine [this was cut from the UK cinema and video versions to obtain a '15' certificate, though the DVD is uncut], and, in the nastiest scene, causes a man's arms and legs to snap using a voodoo doll. The actual voodoo element of the story is rather muddled, in fact much of the [added] back story comes across as a little silly, but never mind, you have Chucky, who immediately is a classic movie menace.  Some have said he moves awkwardly, but I think it adds to his uncanniness, and, though I'm sure they will have a CG Chucky if they remake this movie, it won't be nearly as effective in my opinion. What also adds to the chill factor is the fact that Chucky becomes more human-like as the films goes on, which really leads to some gruesome possibilities! Ed Gale, who hadn't long played Howard The Duck, played Chucky in some scenes, such as when he's set on fire. Brad Dourif probably isn't too happy that his most famous role is as the voice of Chucky, but never mind, he's brilliant, adding a terrific black humour to some of the lines. For some reason, at one point they removed Dourif's voice and had a woman doing Chucky, but supposedly the doll sounded gay and Dourif was called back to all the lines again. He would speak the lines to Vincent first, allowing him to react to them properly, before recording them for the film.
Tom Holland, though not a 'showy' director, is superb at building tension and stages the thrill scenes expertly. It's a great shame that after this he mainly found himself directing TV movies, as I think he could have been a great horror [or action] director. The acting in Child's Play is mostly very strong, with Chris Sarandon making a convincing cop [he trained with the LA police for a while], though Alex Vincent is odd as Andy. Sometimes he's brilliant, especially when displaying fear, but at other times he's a bit robotic in his delivery. Still, it's a very difficult role for a six year old boy to play, and kudos to the filmmakers for actually using a six year old and not a kid who's considerably older. Joe Renzetti's score, all done on a synthesiser, might be basically lots of dissonant meandering about, but it works so well with the movie really adding that extra layer, that it doesn't matter. With film music, the major questions are, is it right for the film, and does it add to it, and I would say yes on both counts for Child's Play. As I said before, the film just misses being a true classic of the genre, but does almost get there, especially during some sections of its first half, and remains a great deal scarier than many other horror movies of the time which get less frightening with age. Then again, maybe I would say that, as I'm a little scared of dolls.
ORDER OF SERIES SO FAR
1/ Child's Play
Two years have passed since Chucky was destroyed and the newspapers are full of bad publicity about the 'Good Guy' toy line. The company has Chucky reconstructed for analysis, but as they put the eyes in, a worker is mysteriously electrocuted and the killer doll escapes. Meanwhile Andy Barclay is placed in a foster home after his mother is taken in to undergo psychiatric treatment for supporting her son's story about Chucky. Andy has trouble settling in, which is made worse when Chucky comes looking for Andy to transfer his soul into him, and first of all destroys the family's Good Guy doll with a priceless ornament, something Andy is then blamed for….
Basically setting out to give you more of the same, Child's Play 2 is faster, gorier and also funnier – and almost as good a film as the first one. In fact I think I used to prefer it, but watching these films with [I hope] more mature eyes has led to realise that the original film does have the edge, though of course the sequel can't help but lack the first film's freshness.
The success of Child's Play got MGM/UA to quickly plan a sequel, but the company then decided that it wanted to concentrate on family friendly films, so they sold the franchise to a delighted Universal, who ended up making all the other Chucky adventures. Promoted to director was original screenwriter John Lafia, and this time Don Mancini was allowed to write a script which would not be subject to serious alterations. It was planned that Chris Sarandon would return, but due to scheduling problems this ended up not being possible and his part was just removed from the script. Like the first movie, it was filmed in Chicago and, also like the first movie, the first cut was considerably longer than the version that was eventually released. Most of the cut footage was just dialogue but it would have been nice if the movie had retained a couple of scenes introducing the foster parents, Joanne and Phil, and an additional bit to the ending showing Chucky being remade by the machines and his eyeless, nose-less face smiling. Actually, it sounds positively freaky [to me anyway], so maybe it was a good thing they didn't use it! All this did turn up on an American TV version, though even that didn't have what sounds like a really effective opening scene of two men picking up Chucky's charred remains, and this scene certainly exists and can be seen if you look hard enough for it. Still, the film was another major hit in cinemas, despite getting a mediocre critical reception.
Unburdened by any out of place cop shootouts or voodoo, the script doesn't waste any time reviving its star, with Chucky being remade by workers and one guy getting electrocuted. I'm not really sure how this happens, it's something to do with Charles Lee Ray's souls being awoken I suppose because we see the clouds forming in the sky again, except that here they look a little better. Anyway, Chucky is now alive and heads for where Andy is living. Now you'd think that this movie wouldn't be able to have the creepy build up of its predecessor because we see Chucky running around and killing people right from the offset, but there are a few chillsome moments in the house, especially a night sequence set during thunder and lightning where there's a nicely startling shot of Chucky illuminated by light from the lighting, plus a repeat of the first film's gag of Chucky running in the distance behind somebody, except he's now in silhouette.  There are some nice scenes between Andy and Kyle a troubled teenage girl also living with Joanne and Phil, showing their growing friendship, but even the first half of this movie is far quicker paced than the first, with Chucky constantly doing nasty things, whether it be writing obscenities on a teacher's notebook or killing people. There's little respite, and before it seems like much time has passed we get to a wonderful climax set in a toy factory, with lots of brightly coloured machines and freaky Good Guys being made. I doubt any factory looks like this, but never mind it's a great setting, and the climactic chasing and climbing around is even more nail biting then the ending of the first film. It's also more gruesome, with Chucky becoming more and more human, allowing us to enjoy all the more seeing Chucky dismembered, melted by hot plastic and exploding like John Cassavetes in The Fury.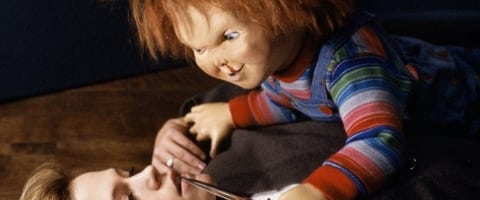 Child's Play 2 has a nastier edge than Child's Play and is closer to being a slasher film, with the devil doll killing seven people and quite viciously too, including a stabbing on a paper copier, a beating to death with a ruler, suffocation by a plastic bag and a face slicing followed by the victim's eyes having fake eyes forced on. Despite being more graphic though, this one was not cut in the UK and still got a '15' certificate. Perhaps oddly, Child's Play 2 also has more humour, the funniest bit in my opinion being where he bashes to death another Good Guy doll, but it's mostly of a suitably dark kind and never becomes too prominent. For this second movie Chucky was required to do a lot more than he did in the first, where for the first half he basically just sat still, but more advances in animatronics allowed Kevin Yagher to rise to the challenge. Chucky's movements are much more fluid [though I rather like the stiffer movements in the first film too, they are somewhat creepy] and he has many more expressions on his face, some of them really subtle, but adding to the illusions that you are watching a doll move and talk. Apparently Brad Dourif was rarely on set, he would record the lines in advance so they could match up Chucky's mouth with the words, then the recordings would be played back for Vincent to go by.
John Lafia's direction is mostly very similar to Holland's, helping the film work as a straight sequel, but occasionally he's a bit more experimental, with some nice lengthy tracking shots during certain scenes, as with Holland it's a shame he never really became very successful as a director. As always, the stunning Jenny Agutter shines in a part, that of Joanne, which here looks very truncated. She sadly went on to make mainly TV movies after this. At least her and her co-star Gerrit Graham must have been pleased that their character's names were changed from George and Mildred! Dourif is even better as the voice of Chucky – just listen to the slight hint of pathos he brings to the scene where he finds out he's doomed to be trapped in the same body forever. Greame Revell took over scoring duties for this movie and provides an appropriately dark and menacing score, though for me it lacks the edge of Joe Renzetti's more unconventional efforts in the first movie. I really like Child's Play 2, there's no doubt that it backs off from exploring the more interesting possibilities of the concept in favour of ramping up the thrills and chills, but it ramps up those thrills and chills very well, has the courage to be a little nastier [in a film with a young boy as the main character] while still remaining extremely entertaining, and is really about as good as you could expect.
ORDER OF SERIES SO FAR
1/ Child's Play
2/ Child's Play 2
Eight years after the destruction of Chucky, a group of people working for the Play Pal Toy Company enter the warehouse where he had met his end and rebuild him from the mass of melted plastic that they find. The head of the company decides to progress with a new line of Good Guys and takes Chucky home, but the evil doll kills him and finds out that Andy Barclay is a new recruit at Kent Military School. Andy makes friends with two other misfits there but is targeted for bullying by Lieutenant Colonel Brad Shelton, who seems intent on making his life a misery. Then a package arrives for Andy, but is opened by young Harold Whitehurst.  Inside is Chucky, and he wants to transfer his soul into Harold's body………..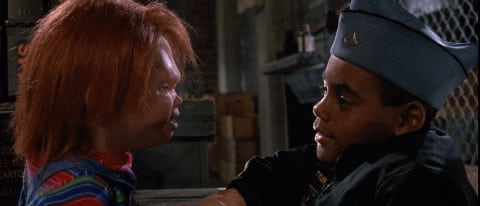 Child's Play 3 is generally considered the worst of the first three films, and often the worst of the series. It is without doubt a definite notch or two down from the first two movies, but to my mind it's nowhere near as bad as many say and remains an enjoyable horror movie, it's just that it has a slightly uninspired feel, as if they didn't try very hard. If the second film was both more humorous and more brutal [two things that shouldn't automatically go hand in hand but obviously do with Chucky!] than the first, this one is more humorous and brutal again, going for easy crowd pleasing stuff rather than trying to take things in a different direction, and it still just about works.
It was a very rushed affair, with screenwriter Don Mancini asked to write it while Child's Play 2 was still in production, and the film beginning shooting immediately after the release of the previous one. Peter Jackson was originally asked to direct but turned it down. Despite things proceeding without hiccups, there's no doubt that the hurried making of the film led to corners being cut and the overall quality becoming not as good. Released eight months after Child's Play 2, it was just too soon – the film was a big disappointment at the box office and in the UK went straight to video, where it was the centre of controversy when a young boy called James Bulger was tortured and murdered by two slightly older boys. They smeared him with paint and dragged him along a train track, things which supposedly imitated scenes from the film, so one of those ridiculous tabloid panics started up, with The Sun newspaper even demanding copies of the film be burned.  As it turned out they had never seen the film and one of them didn't even like horror movies! there was a lesser-known murder that was linked to the film. Suzanne Capper was tortured before being set on the fire. During the torture, she was forced to listen to Hi, I'm Chucky (Wanna Play?) by 150 Volts at maximum volume through headphones. One of those found guilty, Bernadette McNeilly, would commence each torture session with the phrase "Chucky's coming to play" and soon the words themselves were enough to make Capper scream.A couple of years later, a TV version was shown in the US containing many bits of dialogue which had been trimmed from the cinema release, though nothing of great interest was restored.
We open with Chucky being found in the now cobwebbed factory and then go into a terrific title sequence, where, behind the credits, swirling wax is seen to form Chucky's hands, face, etc. Soon after, we have one of the best Chucky stalking sequences ever, where the head of the company has taken Chucky to his house.  First of all he sees that Chucky is out of his box, then when he sits down, a golf club appears, as if by magic, beside his chair.  As he gets up, Chucky's legs are seen running in the distance, then, when the old man has lost his TV remote control, Chucky, who is clearly playing with his victim, passes it to him from under the bed!  Then all the toys in the house start moving about, reminiscent of a scene in Close Encounters  Of The Third Kind. The mixture of drawn out suspense and dark humour is really good here.  Eventually Chucky throws a load of marbles over the floor, causing his victim to trip up, and then, after throwing some darts at him, he strangles him. Now in the previous two films, apart from a few quick shots, you only saw Chucky when other people did, but here we see him in a computer finding out where Andy is, and this approach is carried out for the rest of the film. Obviously Chucky was the real star, but, as with when Jason Voorhees was shown too much, he's less and less scary the more you see him, with the result that this movie just doesn't have the edge of the first two.  The military school is a reasonably interesting locale, replete with obligatory cruel drill instructor, but, as Chucky prowls the corridors and barracks, there's little fear used from this setting. Still, whilst considerably slower moving than the last one, the film is never dull as it alternates between Chucky's antics and Andy's troubled time at the school, until we get to the climax set inside an elaborate fairground haunted house. They obviously tried to better the factory finale of number two and failed – for a start despite the setting there's not many scares – but we do get to see Chucky having part of his face sliced off by a Grim Reaper's scythe, being carried off by a 'dragon', having an arm and a hand cut off and being minced into bits.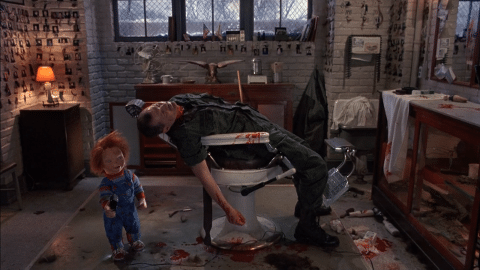 There is less killing in this one but it is mostly more graphic [though a garbage truck death is disappointingly tame], especially a strangulation by string and a razor throat slashing which was initially trimmed in the UK. Hand in hand with this comes the increased humour – the throat death comes after the guy has tried to cut Chucky's hair, another victim just has a heart attack before the doll can stab him, and Chucky replaces fake bullets with real ones just before a paint balling excursion, though not enough is made of this and only two soldiers die. Chucky is given more amusing lines such as "Don't fuck with the Chuck" and at least two bits of dialogue cribbed from other movies [The Terminator and The Thing] whilst the fact that most of his victims are nasty pieces of work who you want to die, means that, despite being as vicious as ever, he's actually more likeable. Sadly the often rushed effects work isn't too good this time round despite computers being used to aid the puppetry for the first time. Chucky's movements are stiff and his words and mouth movements don't match. He also looks different too, being chubbier of face, but I suppose they did rebuild him from scratch. Mancini does put some interesting characters in the film though, such as the barber Major Botnick who is so obsessed with cutting people's hair that it seems like he gets a sexual thrill out of it, and there's a rather touching first romance for Andy with another recruit. Their first 'getting to know one another' scene, as she shows him how to hold his gun properly, is rather sweet. I would have liked to have more scenes between Chucky and little Harold, who believes he's found a wonderful friend in Chucky.  These scenes have a slightly twisted feel to them and have a slight element of actual nastiness that the rest of the film, despite the violence, doesn't really have.
TV director Jack Bender resolutely fails to give the film much personality, and really adds to the straight-to-video feel. I rather like Justin Whalin as Andy though – he doesn't look much like Alex Vincent, and certainly isn't much of an actor, but his awkwardness actually works for his character, who just doesn't fit in anywhere and is constantly in fear. Andy Robinson does a great fun turn as Major Botnick, but it must be said the acting is quite weak overall. Gary Busey, Charles Durning and Antony Michael-Hall were initially considered for various parts and it would have really helped the film. Of course Brad Dourif still puts his all into voicing Chucky, though he's funnier and less menacing. Then again, he was just going along with the direction of the script. The score by John D'Andrea and Cory Lerios is strictly your standard mediocre synthesiser warbling that was for ages a requisite of cheap horror movies. Child's Play 3 wasn't that cheap a movie, but it sure does look and feel like one, from the flat TV movie lighting to the cardboard looking sets. If you like this kind of thing though, it's hard not to gain enjoyment out of it and certainly has some great bits of black comedy and grisly nastiness which shows that, if more time had been taken making it, the film could possibly have been very good indeed.
ORDER OF SERIES SO FAR
1/ Child's Play
2/ Child's Play 2
3/ Child's Play 3
Tiffany, a former lover and accomplice of murderous serial killer Charles Lee Ray [whose soul is inside Chucky], obtains Chucky's remains, stitches him back together and brings him back to life using a voodoo ritual. The doll kills an admirer of Tiffany but doesn't return the feelings she has for him and insults her so she first locks him in the playpen, then jokingly brings him a female doll as a present. Chucky eventually escapes and electrocutes Tiffany in the bath, then uses the voodoo ritual to put her soul into the female doll. Chucky plans to retrieve the body-switching amulet Ray was wearing the night he died and Tiffany, reluctantly deciding to help Chucky, bribes a neighbour Jesse, who wants to elope with his girlfriend Jade, to help them on their mission……….
It's always a danger that a horror franchise may eventually start going more for laughs rather than scares, and it's easy to do. After all, it's quite hard to keep making a monster or villain scary, he/she is never going to frighten people as much in, say, the fourth series entry as he/she is in the first film. Both Child's Play 2 and Child's Play 3 were a bit more humorous than the film that had preceded them, and Bride Of Chucky carries on the tradition. It has a very different approach from the first three films and is really more of a black comedy then a straight up horror film. Still, it's a total blast, a really entertaining movie, the kind probably watched best with some alcohol, and very, very funny, in fact funnier than most actual 'comedies' of its' year. There are fans of Chucky that don't like the way this movie was handled and that it doesn't carry on the tale of Andy Barclay but I really think that story had ran its course.
Bride Of Chucky was made seven years after Child's Play 3, probably because that movie had been a failure at the box office. Producer and writer Don Mancini had spent ages thinking about how to re-invent the series, including having a female doll and the film being a road movie, and the success of Scream gave him the idea of what direction to now take it in as well as incorporate some of the ideas he'd had. Bride Of Chucky isn't that much like Scream though – yes it has more laughs and lots of film references but there's less of the self-reverential stuff that made up much of the Ghostface movie and the comedy is also a lot darker. Since horror films were now 'in' again, this one was given a slightly bigger budget and an interesting director in Ronny Yu, who had made some very good and stylish Hong Kong films such as The Bride With The White Hair. The script wasn't followed to the letter though because Brad Dourif and Jennifer Tilly were encourage to improvise, and much of that made it's way into the film. What didn't was most of a sub plot featuring a cop in pursuit of the dolls, though some of his dialogue was given to a couple of swingers who make the mistake of stealing from Tiffany. The film was reasonably successful at the box office and actually got some good reviews, but then again critics often tend to prefer horror movies of the humorous kind because they tend to look down on horror films anyway, so enjoy them more when the films are laughing at themselves.
After we are introduced to our 'normal' boring couple Jesse and Jade, the film quickly moves up a notch with the introduction of Tiffany and the terrific scene where Tiffany has a Goth admirer in her trailer, a sequence which brilliantly combines tension and black humour. When Tiffany realises her attempt to revive Chucky has succeeded, she makes him look for something in places that she thinks Chucky may be, such as under the bed, and you keep expecting Chucky to pop out and kill him, but he doesn't, so Tiffany invites the guy to a threesome. She chains him to the bed, sits Chucky on top of him and does a sexy striptease, hoping it will arouse Chucky to do something, which he eventually does. You know if you're going to like this movie or not by this sequence, which is funny and a little twisted, and it carries on in the same fashion. Personally I find the movie hilarious at times. "I think I prefer you like this" Tiffany says to Chucky after she's brought him to life with her ex-boyfriend's soul trapped inside him and locked him in the playpen, "You're kind of cute, just like a little baby".  Or there's when the doll Tiffany talks about driving a car and Chucky says "How we going to do this, I'll steer and you could work the pedals?  We're DOLLS, you dope"!  The sight of Chucky crawling around like a commando as he tries to blow up a car had me in stitches.  Don Mancini's script is full of laugh-out-loud lines and absurd situations, such as the two dolls having sex [believe it or not, a scene which is done very tastefully!]. As Chucky and Tiffany go on the road, the film starts to resemble a surreal version of something like Bonnie And Clyde, until we get to the graveyard climax where it's dolls versus humans. This is actually the weakest part of the film and doesn't ramp up the excitement in the way even the ending of Child's Play 3 achieved.
Bride Of Chucky isn't scary at all, but it doesn't really try to be. Perhaps I miss the fear factor a bit, but they had trouble making the last movie frightening so this was probably the right route to go down. There's still loads of gore though, this being a much bloodier film then the first three put together, with a guy splattered by a moving truck, another victim impaled in the face with loads of pins, a nose ring pulled out, vicious stabbings [despite Tiffany saying to Chucky "Knives went out with Bundy and Dahlmer"] and the film's most creative death – which would have been a real tour de force moment if the computer effects hadn't been so poor – Chucky throwing a champagne bottle at a mirror in the ceiling, causing shards of glass to penetrate a couple in bed.  Unsurprisingly, many of the effects are done with CGI, though most of the time they're okay and the doll effects are fine, with the advances in animatronics between the third movie and this one plain to see. Chucky and Tiffany have a variety of different expressions and move, well, as convincingly as living dolls probably would have. Some don't like Chucky's new look,with stitches all over his face because Tiffany has sown him back together – I like it as much as, though not better than, the original look.  Now Mancini peppers this film with references to other films, from showing the masks of Jason Voorhees and Michael Myers, the chainsaw of Leatherface and the glove of Freddy Krueger in an evidence locker room, to having Chucky say, after he has covered a victim's face with pins: "Now why does that look so familiar"?  As I said before when I reviewed Friday The 13th Part 6: Jason Lives, I think this kind of stuff often pulls you out of the movie, but it's generally well managed in this one because it's not allowed to take over the film, and the whole movie, including its title, is really a variation on Bride Of Frankenstein anyway.
Ronny Yu keeps things visualy interesting with lots of shots from unusual angles and brings a really glossy look to the movie.  Chucky, voiced again by the wonderful Brad Dourif, is even more evil in this one because he's often cruel in a psychological way as well as physically. In some ways though it's Jennifer Tilly as Tiffany who dominates the film, she helps create a really rounded character from a part which could have just been parodic. She might be' white trash' who kills people, but she's genuinely in love with Charles Lee Ray/Chucky, and has a slightly sweet side to her which becomes more prominent as the film progresses. Against her, none of the other cast members really stand a chance and aren't really allowed to shine, though I liked Gordon Michael Woolvett as David, a very cliched 'gay best friend' part in which he tries to be a little different with and not go down the obvious route. Graeme Revell writes a considerably better score than his work on Child's Play 3, and even composed some lighter music for some of the more comical scenes, though as usual his work lacks memorable themes. I'm not the greatest fan of heavy metal music but I cannot deny that the songs by White Zombie, Rob Zombie, Slayer and others go with the film very well; this kind of music is perfect for this kind of movie. I still think the first Child's Play is a superior film, but for sheer entertainment Bride Of Chucky easily bests it, and after viewing it for the first time since it's cinema release, I reckon it'll be the one in the series I will most often put in the DVD player when I just want to relax!
ORDER OF SERIES SO FAR
1/ Child's Play
2/ Bride Of Chucky
3/ Child's Play 2
4/ Child's Play 3
Six year old Glen, the son of Chucky and Tiffany, lives a life as a ventriloquists's dummy but retains the voodoo amulet which Chucky dropped when he was killed. He sees his parents on TV and tracks them down to Hollywood where they are now dummies in the latest film to star Jennifer Tilly. It's based on the real life Chucky and Tiffany killings. Glen uses the amulet to bring his parents back to life, but while Tiffany is happy, Chucky isn't glad to see his child at all, especially when he has no genitals. Chucky calls him Glen, Tiffany calls him [or her] Glenda. Meanwhile Jennifer is after a part in rapper Redman's directorial debut and goes round his house to sleep with him for the part.  here, Chucky and Tiffany embark on a crazy plan-to impregnate Jennifer with Chucky's sperm, wait for the kid to be born, then Chucky, Tiffany and Glen will possess the bodies of Jennifer's love struck chauffeur, Jennifer, and the new child respectively………
Seed Of Chucky is one strange film, there's no doubt about that. Like Bride Of Chucky, it's basically a black comedy, but if anything it goes even further in that direction.  It's basically a twisted family drama mixed with film-within-a-film stuff a la Wes Craven's New Nightmare, and is sometimes pretty funny, but for me goes too far from the original conception of the Chucky series, and this time totally overloads it with film references. It's still widely considered the worst of the series, though I think it's a better film than Child's Play 3, and certainly deserves credit for its inventiveness and bravery in being the way it is. It just doesn't really come off.
Writer Don Mancini actually wrote the script for this one after just completing the script for Bride Of Chucky, though even after that film's success Universal weren't sure about making the movie until Focus Features, a division of Universal, picked it up in 2003.  Mancini stepped up to direct this one, which was shot in Budapest on sets which actually doubled quite well for Hollywood. Most of the floors were built six feet high because of the huge number of technicians that were needed to work the dolls. After completion Focus didn't want to release the film, as it was different to their usual, 'respectable' fare, so Rogue Pictures was formed specifically to distribute films like this. Rumours circulated that, because of a gag in which Chucky kills her, Britney Spears was in the film but it wasn't true so disclaimers were put on the TV adverts. The movie did okay business but was considered a commercial disappointment and didn't even get a cinema release in the UK.  It was later released in an alternate 'unrated' version, though surprisingly there's no extra violence, just some more shots of dead bodies and…..um….Chucky masturbating.
After a funny credit sequence showing Glen's conception and growth from inside Tiffany – replete with sperm – which partly spoofs Look Who's Talking, we begin with a pretty good scene where 'we' are Glen being taking out of packaging [how do these dolls constantly manage to pack themselves?] by a man and a woman. Glen then proceeds to kill them, all in one great steadicam take, reminiscent of the opening of Halloween and, in the death of the man who is stabbed and falls down the stairs while the camera follows him, Psycho.  However, it's really a dream by Glen, who we next seen at the Glastonbury Festival as part of a ventriloquist act. Then we switch to Hollywood and we see that the film isn't making much attempt to follow on from the last fil – for example there's no explanation of how Tiffany is no longer burnt. For a short while the main in-joke is Jennifer Tilly playing herself and complaining about not getting good roles  [I share her dislike of Julia Roberts!], but soon the tale becomes bogged down with Chucky and Tiffany having arguments and totally drowned by verbal and/or visual references to everything from Rebel Without A Cause to The Shining to Raiders Of The Lost Ark. Whilst film fans may congratulate themselves on spotting all this stuff, artistically it's a dead end and almost prevents involvement in the plot, which gets more and more confused, with little tension of any kind, until a really stupid coda.
There are some interesting aspects of the story though, such as Chucky and Tiffany deciding to give up killing and Tiffany phoning a helpline. Here, the black humour is very well judged indeed, and it shows signs of a much better film buried in there. Like Bride Of Chucky the gore flows thick and fast, with decapitation by piano wire, some especially bloody stabbings, and sulphuric acid on a face, though the latter is a deliberate copy of a scene from Female Trouble because i's director John Waters is in the movie, playing a sleazy tabloid journalist.  As a huge fan who owns a Chucky doll and actually said in interviews he wanted to be in a Chucky film, they obviously felt obliged to cast him and he is actually very good. With typical Waters subjects like gender confusion and the poking of fun at the traditional family in the movie, it's quite appropriate him being in it. Though the gore is mainly mediocre CGI, the doll effects, done by Tony Gardner [who has a walk-on part] taking over from Kevin Yagher, are the most complex in the whole series, the way they move and act being so lifelike, though I'm not sure about the Glen [or Glenda, see, another movie reference right there] doll.  Looking like a cross between David Bowie and Pinnochio, he's positively freaky, but too freaky to get much audience sympathy, and considering the film opens with him having a nightmare, I expected more of the film to be about him/her and it wasn't. The script constantly throws up interesting things and then refuses to do anything with them.
As a director Mancini is actually rather good, with lots of Brian De Palma-type camera movement and even a few scenes using colour schemes in the manner of early Dario Argento. He may be copying favourite directors of his, but does it with solid skill and I'd like to see him direct another film and develop his own style. The De Palma feel extends to the music by De Palma's favourite composer Pino Donaggio, who almost seems to be revisiting earlier compositions without actually copying them, in a enjoyably melodramatic score. Jennifer Tilly, somehow very different to how she is in Bride Of Chucky despite again playing a part which is very parodic, is again really good, relishing the opportunity to bite the hand that feeds her, or not as the case may be. Of course Brad Dourif is again terrific doing the voice of Chucky and I think it will be very hard indeed to find someone who can do it better. Like it or loath it, and I do quite like the movie despite it having all sorts of problems, it's doubtful that any further Chucky films will follow on from Seed Of Chucky. I think they will start things all over again, as they have done with several franchises, and try to make Chucky scary again.  A plea to any executive reading this though – please don't go down the normal route for films these days and make Chucky CG!
FINAL ORDER OF SERIES
1/ Child's Play
2/ Bride Of Chucky
3/ Child's Play 2
4/ Seed Of Chucky

5/ Child's Play 3