Shark Attack 3: Megalodon (2002)
Directed by: David Worth
Written by: Scott Devine, William Hooke
Starring: Jenny McShane, John Barrowman, Ryan Cutrona

SHARK ATTACK 3: MEGALODON
Directed by David Worth
Written by Scott Devine and William Hooke
Starring John Barrowman, Jenny McShane and Ryan Cutrona
After finding a shark's tooth stuck in a fibre optic cable in the ocean near the resort of Playa Del Rey, Mexico, beach patrolman Ben (Barrowman) is contacted by paleontologist Cat Stone (McShane) who suspects the tooth belongs to a giant pre-historic shark species called Megalodon. Their worries are confirmed when the shark starts attacking swimmers and people in boats, so the pair decide to stop the killer shark once and for all.
Shark Attack 3 is one of those budget movies that are so bad they are good. This one though is quite a cut above the rest, using real life stock footage of sharks to create a real threat to the viewer. Whilst some scenes can be laughable (the shark eating the boat), the CGI effects are quite tasteful and are much better than other B-movie shark films that I've seen in recent times.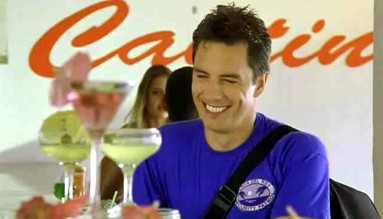 Most people watch this film for the lead star, Torchwood's John Barrowman, and his ad-libbed line that has made the film infamous. When asked to make his co-star, Jenny McShane, laugh during a scene, John remarks, "I'm really wired. What do you say I take you home and eat your pussy". To John's utter surprise, the director decided to keep the line in the film and this is the main reason why the film has a cult following. It certainly didn't do John any harm, for since the film's release in 2002, John's career in the UK and USA has flourished.
There's not much to say about Shark Attack 3: Megalodon except that it's one of those movies that you can happily enjoy and have a laugh at with your mates on a Saturday night with pizza and beer. The acting is adequate and the script laced with humour to create a light hearted, fun experience.
Rating: