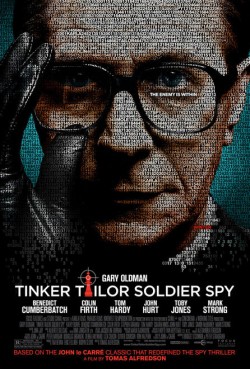 [youtube]https://www.youtube.com/watch?v=LPKhWXhiMSw[/youtube]
Tinker, Tailor, Soldier, Spy (2011)
(15) Running time: 127 mins
Director: Tomas Alfredson
Writers: John le Carre (novel), Peter Straughan
Starring: Gary Oldman, John Hurt, Tom Hardy, Colin Firth, Toby Jones, Mark Strong, Benedict Cumberbatch, Ciaran Hinds, David Dencik
Reviewed by: Matt Wavish, official HCF critic
Make no mistake, Tinker, Tailor, Soldier, Spy is not an easy film to watch, and that is meant as a compliment by the way. The director of Let the Right One In has returned with amazingly only his second mass appeal film after a twenty year career of smaller films and TV episodes. Tomas Alfredson proved he had talent and was one of those special and unique director's that only comes along every now and again after giving us Let the Right One In. With Tinker, Tailor, Alredson has now moved into the big leagues, at the very top of his game and here is a film that requires you, the viewer, to do all the figuring out for yourself. Alfredson simply creates a stunning jigsaw puzzle, lays it on the table for you and pretty much says "there you go, work out where all the pieces fit and you will have the answer" The question is, are you willing to put in so much effort? I would hope the answer to that question is a great big "yes" because if you are fed up with easy to follow, spoon fed crap that may entertain but can easily have you nodding off, then Tinker, Tailor is exactly what you need to prove that "yes, my brain does still work", but there is a good chance it may need a much deserved rest once the final credits role.
Based on both a novel of the same name, and a TV series from the 80's, the film follows a shady bunch of MI6 agents during the Cold War and the hunt for a mole within the team. Gary Oldman plays George Smiley, an agent called back in from retirement to uncover who exactly the mole is. A year earlier, an agent was gunned down in Czechoslovakia and suspects of a mole feeding information back to the Russians became apparent and now Smiley has to suspect everyone as he, and we the viewer, attempt to figure out who it could be. The stage is now set for a beltering film that drifts along at its own pace, never rushing but always engaging as stories unfold, and twists and turns make it hard to work out who exactly it could be. In all honesty, you may guess from the start who it is thanks to some very clever and (hopefully) intended casting choices. See, Alfredson leaves nothing to chance here in this stunning intelligence thriller featuring quite possibly the greatest British cast you will have seen in decades. Alfredson's direction is inch perfect, and his realisation of the time frame of the film, ranging from the early seventies (in flash back) to the very late seventies, is a work of genius, and added to that, some wonderful and, at times, very haunting music,  and a cast of new and old giving career best performances, this all adds up to quite possibly the finest thriller you will see all year!
Oldman steals the show, and commands every frame he is on screen, apart from the director, this is Oldman's show. I have loved Gary Oldman from his early days of Meantime, Sid and Nancy, and Prick Up Your Ears, and then in more larger roles in films like Leon, Dracula, Romeo is Bleeding, The Fifth Element and a stunning cameo in Tarantino's True Romance, and finally as Sirius Black in the Harry Potter series, and Jim Gordan in Christopher Nolan's Batman world. Gary Oldman is a legend, and in a stunning piece of screen presence, he controls every scene for the first twenty minutes without uttering a word, when he finally speaks, in a strong but delicate English accent, it actually made me smile and feel very proud to be British, his performance is THAT good! If Oldman does not win the Oscar next year for best actor, I am giving up on all this film business and may actually become a Vicar! But thats not to say the rest of the cast do not give it there all, and the quality of acting here is without doubt some of the finest acting you will have seen all year, and it is very hard to pick a stand out supporting role, every one of these guys should be up for Best Supporting Actor nods at the Oscars. Tom Hardy proves he can act with the big boys, and Benedict Cumberbatch may just have stolen it from Hardy as the youngest and best actor here. However, Hardy's role is quite small, while Cumberbacth has the job of being Oldman's support in the film. Playing Peter Guillam, Cumberbatch is the new agent on the block, and has been hand picked by Oldman's Smiley to assist in his investigations. Not an easy job to share the screen with all these older, wiser and incredibly talented older chaps, but Cumberbatch holds his own and does himself proud.
And speaking of older chaps, just seeing the MI6 agents sat around their sound proofed room is something to really admire. Oldman, John Hurt, Ciaran Hinds, Colin Firth, Toby Jones and David Dencik, these are a fearsome bunch and not the sort of guys you'd want to get on the wrong side of. You never see them fire a gun or use violence, it is simply their characters and personality which grip you, and knowing one of these is the mole makes you look at each one, judging, trying to figure them out. Speaking of action, there is very little of it, and yet the film moves along at what feels like a relentless pace. There are many standout scenes, but for me the shooting of the agent in Czechoslovakia is one of the most heart pounding, on the edge scenes you will have the pleasure of seeing all year, and another more delicate scene where Oldman recalls meeting the Russian spy by the name of Karla. Oldman's Smiley recalls exactly what he said to him in order to try and make him defect, and as if acting out a play, Smiley recounts word for word what he said, drifting into a state of mind far away from the here and now. It feels like he has made this speech to other spies, and that he knows it so well he just 'gets into character' just like that. It is actually a beautiful and haunting scene, camera fixed on Smiley with expert use of lighting and shadows to give a powerful effect.
There is also a scene early on where Oldman and John Hurt's character 'Control' share a moment, nothing is said but seeing these two legendary actors on screen together is something to cherish. In fact, there is barely a scene in this film not to cherish. Alfredson's awe inspiring recreation of the seventies era is something to really admire, the telephone boxes, the restaurants, the party which is shown in flashback, the shops and the greengrocers selling cigarettes, the cars, the fashion, it is all here and you could argue that this film WAS made back then. Hell, even the haze of being in a bar filled with cigarette smoke, the film simply looks stunning. The plot is intense and involving, and I really appreciated the way nothing is spelled out and if you 'get it' then you get it, and if you don't, well God help you because there are no easy answers spelled out for you. The actual mole is just the tip of a complicated and engrossing story that draws you in, and keeps you there. This is serious drama, for the serious film fan and gosh darn-it this is just the sort of film that once it finishes, you want to watch it all over again. This is one of those films that gives you a tingling, makes you want to shout from the rooftops how much you loved it. It's one of those rare films that you simply don't want to finish, you don;t want the reveal because that would mean the film is over. This is quite simply a masterpiece, and a sure fire bet to run away with the majority of next years Oscars.
Rating: