The Messenger (2009)
Directed by: Oren Moverman
Written by: Alessandro Camon, Oren Moverman
Starring: Ben Foster, Jena Malone, Samantha Morton, Steve Buscemi, Woody Harrelson

Directed by Oren Moverman
Written by Alessandro Camon and Oren Moverman
Starring Ben Foster, Woody Harrelson, Samantha Morton, Jena Malone and Steve Buscemi
[youtube]https://www.youtube.com/watch?v=AtjQWhybCJ0[/youtube]
Ben Foster stars as Staff Sergeant Will Montgomery who's recovering in America after being caught in an explosion whilst serving in Iraq. With 3 months left of his enlistment, he is assigned to the Casualty Notification Team under Captain Tony Stone (Woody Harrelson). Will has concerns due to his lack of training in counselling but is instructed, by Tony, the official procedure when informing the next of kin of their loss. Will goes through an emotional journey, dealing with breaking the sad news to families and coping with the families reactions, which can sometimes get violent. After informing a widow, Olivia Pitterson (Samantha Morton), about the death of her husband, Will has the urge to help out both her and her son. The young soldier starts to fall for the grieving widow as she starts to develop feelings too but struggles to overcome her loyalty, grief and love for her late husband.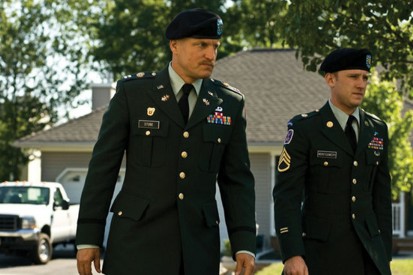 This film is a rather emotional one but is as raw and truthful of any war film out there. Dealing with the aftermath of war and the effects it has on everyone, the film shows how nobody comes out a winner in the end. The families lose a loved one, the soldiers die, injured soldiers must cope with their afflictions and the mental torment which haunts them long after the war. Ben Foster's bold Will Montgomery returns to America where his ex-girlfriend, childhood sweetheart Kelly (Jena Malone), who left him before he was drafted out to war, is engaged to someone who he knows. Despite this, Kelly meets up and sleeps with Will which gives him hope in that they may still be able to be together, but as she leaves he knows it's the end. With his dreams shattered, he must keep his courage to deliver the heartbreaking news to the families of fallen soldiers, but he struggles to maintain a 'no touch' policy in dealing with the next of kin. Tony, the strong willed, three times married ladies man, reinforces the harsh protocol but divulges his inner demons to Will regarding his past alcoholism and the fact he feels resigned to the army having been on the frontline but never receiving fire. Tony ribs Will as he starts to help out Olivia Pitterson, but Will finds a kindred spirit in Olivia, who's own loss had started when her late husband was drafted for his tour of duty.
The film deals with these sensitive matters in a very delicate and beautiful way, but the point is strong throughout. Every single actor in this film performs at the top of their league, each of their characters dealing with their own upset which war has brought their way. This film is very neutral in it's opinion on war itself. It in no way glamourises war but doesn't emphasise negatives either. It merely shows the reality and effects it has on people, whether the war is one with purpose or not. The Messenger will hit you hard and you will appreciate life more because of it.
Rating:
[pt-filmtitle]The Messenger[/pt-filmtitle]