Terra Nova: Episode 8 – 'Proof' (contains spoilers)
Creators: Greg Silverstein, Kelly Marcel
Director: Bryan Spicer
Writers: David Graziano, Brynn Malone
Starring: Shelly Conn, Jason O'mara, Landon Liboiron, Noomi Scott, Stephen Lang
Reviewed by: Matt Wavish, official HCF critic
Well this was unexpected, another much higher quality episode after the previous episodes series high. Terra Nova has pretty much hit rock bottom, with only one episode up until now really delivering anything worthy of actually remembering (episode three's memory erasing virus), but what has just happened, not one but TWO episodes that actually had me wanting more, not actually wanting them to end. Granted the last two episodes are not quite the classic TV we were all expecting, but they are definitely a step in the right direction, and the series has finally taken on an identity and characters other than Taylor are finally starting to make an impression.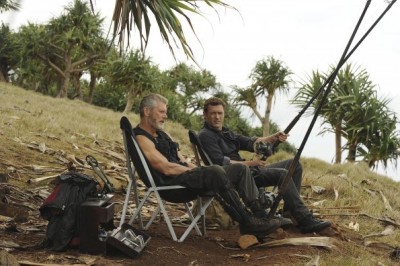 As ever Taylor steals the show here, and seeing him fish at the beginning with Jim shows a real human side, a kindness as opposed to the usual stiff, almost barbaric robot personality he has shown off so well. Here we see him away from running the colony, human like and almost normal, and it is without a doubt Taylor is the key reason people are still tuning in week after week, and in these opening scenes it is really nice to see a slightly different side to him. The pair joke and laugh as Jim tries to catch a fish, but sadly the whole thing is ruined when he does catch a fish and a giant swordfish like creature springs from the water and is one of the worst examples of CGI the show has yet produced. Did they run out of budget?
Taylor further excites later on as he hunts down the banished soldier Curran, injured and being hunted by a Komodo dragon, Taylor makes Curran an offer he can't refuse. With the Komodo stalking Curran and waiting for his injuries to wear him down, Taylor springs into action and faces off with the dragon and scares him off by screaming, standing up to it and brandishing a very large knife. This is classic Taylor, and cheesy as it might be, suddenly we realise just how much of a fantastic character he actually is.
In other news, the explorer Dr Ken Horton returns to a hero's welcome and we're suddenly introduced to a new scientific lab and some rather tranquil fields where apples are grown. Being a huge fan of his work, Maddy starts to work with Dr Horton, although certain events lead her to believe he may not be who he says he is. Horton as a character is a welcome addition, and hides a dark secret the promises to lead to a decent climax. Maddy has not had an awful lot of screen time, but she does get her time to shine here, as does Josh, a character I really cannot stand but does well in this episode. Here he makes a deal with Mira and the Sixers to get his girlfriend Kara back, steal some hard to get medicine and the Sixers will get Kara back once they make contact with the future. Josh ponders for a while as to the right choice to make, and ends up stealing the medicine and Boylan steps in to help cover his tracks. Josh is given a glimpse of the future and speaks to Kara in a touching scene, but is there a more sinister agenda by the Sixers?
This episode builds on stories, characters and drama and is easy to get involved in and the plots do all play out as expected, but there is a sense of something bad on the horizon. The Sixers continue to hang around in the background, but there is something going on which promises to come to a head soon. Taylor continues to be a joy to watch, and Jim and his family are splintering out into their own stories and finally becoming a bit interesting. The show is still far from perfect, but it is showing signs of improvement, to the point where I now actually look forward to the next episode!