Tyrannosaur (2011)
Directed by: Paddy Considine
Written by: Paddy Considine
Starring: Eddie Marsan, Olivia Colman, Peter Mullan

[youtube]https://www.youtube.com/watch?v=nvyqXFmV-LI[/youtube]
Tyrannosaur (2011)
(18) Running time: 93 minutes
Reviewed by: Matt Wavish, official HCF critic
When Gary Oldman tried his hand at directing, the results were the astonishing but brutal Nil By Mouth, and now some fourteen years on, I still hope that one day the legendary actor will direct again. Paddy Considine has built up a bit of a cult following, largely thanks to his impressive and frightening role in Shane Meadows' Dead Man's Shoes, much like Gary Oldman did with edgy, challenging roles: and like Gary Oldman, Considine has tried his hand at directing and, like Oldman, has created something very special indeed. Best British film of the year? Quite possibly!
Tyrannosaur is a challenging, thought provoking, gritty and disturbing journey of two people's lives and how they come together. One is of Joseph (a towering performance by Mullan), an angry alcoholic who's temper takes over his life and has ultimately destroyed it, a man on a downward spiral of drink, anger and violence. His one saving grace is a fragile and comforting relationship with his neighbours son, a relationship which will be tested to the limits by the neighbours chav boyfriend and his Rottweiler. The other main character is Hannah (Colman in an Oscar worthy role), a charity shop worker who puts on a brave face to her customers but has a disturbing relationship with a bullying, rapist husband called James (Marsan in his usual cruel form) and looks to God for a way out. Joseph meets Hannah one day after a fight in a pub leaves one lad unconscious and Joseph running away from his problems. He runs into Hannah's shop and hides behind a clothes rack, Hannah offers to help and even prays for the troubled stranger who is too ashamed to show his face. The pair eventually come to terms with the others character, but it is not an easy ride. Let's make one thing clear about Tyrannosaur, it is not a film that will cheer you up, and it most certainly is not a film to enjoy. What it is though, is the perfect example of British realism cinema at its most dramatic and gut wrenching best.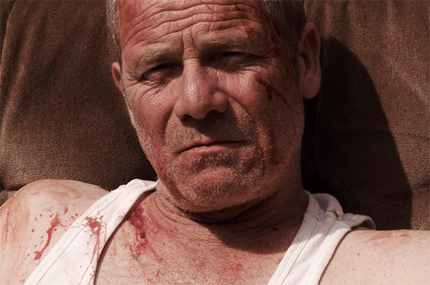 Considine has created one of the most important British films in years, and one of the most moving films I have seen in a very long time. The set up is bleak as they come, without any promise of redemption or happiness, but  little trickles of sunshine break through every now and then causing moments of warmth to be made all the more powerful and heartbreaking. Mullan commands the screen as Joseph, and you will not see a finer, more intense portrayal of a broken man all year. You want to hate him, but there is something about him that is likeable, there are hints every now and then of a good man trying to get out past all the rage and brutality. Witness a conversation in Hannah's shop as Joseph tells her what a spoilt, horrible, ridiculous woman she is living in the upper class part of town with their five bedroom, double drive houses. Telling her she doesn't know what it is like to eat shit, you are shocked at how a person could speak to someone in such a cruel tone and the look of Hannah's face says a thousand words as she holds back the tears, unable to tell a man she just met of her own problems. We later see Joseph shouting at himself in his local pub, with the landlord asking him of he is OK. A regular occurrence it would seem. Witness Joseph boil over with anger time and again, resulting in him smashing a post office window and, in a sickening and upsetting opening scene, killing his beloved dog.
Joseph is a bad man, but there is good in him, like his wanting to protect his neighbours son from the bullying boyfriend, or how he reacts when he finds out about Hannah's troubled marriage. Considine perfectly blends the good and the bad and doesn't force judgement on his characters, he leaves it well and truly for the viewer to decide, and that is the mark of a skilled, caring director. The setting is bleak, rain washed and full of greys and faded colours, there is very little brightness to lighten the mood, and there is some superb choice of music to carry the emotions in some of the more beautiful scenes, and believe it or not there are some. Joseph's best friend dies, and after the funeral they hold a wake at the local pub with one friend declaring "let's not all sit around sad faced, let's give him a proper send off" Singing and dancing follows and, with a terrific choice of song, we finally see Joseph smile as he drinks to his best mate and remembers good times past. It is a moment that brings tears to the eyes, a beautiful, moving and heartwarming scene which is, thankfully, played out to its fullest by Considine. It doesn't feel rushed and it doesn't feel too long, it is inch perfect.
Colman as Hannah does what Kathy Bates achieved in Nil By Mouth, and somehow steals the show from the towering male lead. Colman is sincere and incredibly honest in her role, holding back tears until she can have a moment to herself and trying to escape a violent marriage by working at her charity shop all day. A horrific moment comes when her husband comes into the shop and after seeing her with Joseph, savagely threatens her that when she gets home she is in trouble. I defy anyone not to be moved close to tears as we watch poor Hannah not go home and hit every bar and club she can find to try and do something, anything to get away. It is filmmaking like this which does not come along often enough, raw, real and intense and, sadly, all too familiar for some.
Considine not only directs with passion, but writes as if he has been doing it all his life, and even manages to add some gentle comedy into his script, although it is not sure if you should laugh or not. Listen as Joseph explains why his dead wife was called Tyrannosaur, due to her size, and then decide whether to laugh at his reasoning for it "I thought it was funny, but I was being a c**t" You cannot help but be moved by the look of regret on his face. This is masterful filmmaking and writing by Considine who clearly has a very bright future, and what he has somehow managed to do is get a performance out of Mullan which is better than any previous performance he has done, and that is an achievement in itself. The director has given Colman a chance to shine, and if she is not noticed for big things after this then the world has gone mad. Tyrannosaur is a tough film to watch, make no mistake, but if you can get through it and come out the other side, damaged as you may be, you will feel something rewarding from watching this, something special and suddenly you realise that you have just watched a work of brilliance. The film will leave you thinking about it long after the credits role, and you will also ponder Joseph's words "people think and say of doing it, I just do it", words to both frighten and rejoice to. I am not saying the world would be a better place if more people were like Joseph, far from it, but you certainly got to admire his honesty. Fantastic stuff!
Rating: