Scrooged (1988)
Directed by: Richard Donner
Written by: Charles Dickens, Michael O'Donoghue, Mitch Glazer
Starring: Bill Murray, Bobcat Goldthwaite, John Forsythe, John Glover, Karen Allen

Bill Murray stars in the final entry to HCF's Xmas movie advent calendar, as mean spirited, and all round bastard Frank Cross. He's an executive for fictional New York TV station, IBC, and is in charge of pulling in the ratings on Christmas Eve, with a live production of Charles Dickens' 'Scrooge' (or A Christmas Carol to everyone else). After sacking an oddball subordinate for questioning his methods of advertising for the event, he is visited by the zombie ghost of his former superior. After a warning that he must change his ways or spend his afterlife like his since expired mentor, he is told that he will be visited by three ghosts on the stroke of midday on Christmas Eve.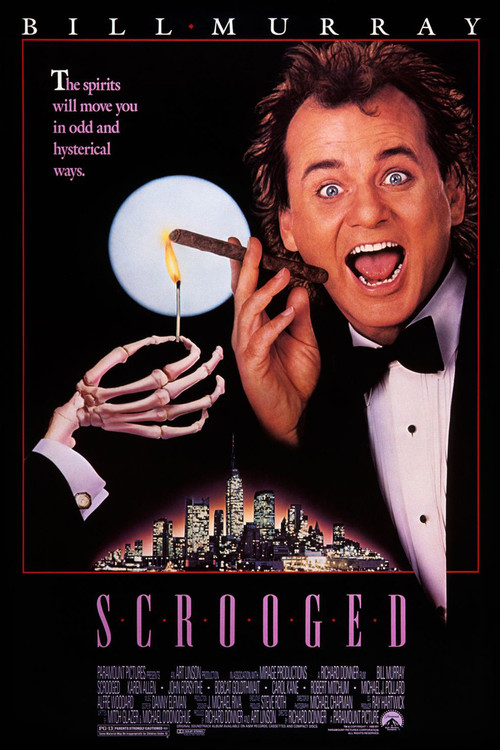 Scrooged is a great adaptation of the most reinterpreted Christmas story ever. There have been many screen versions, in many different styles, but this is probably the most unique (disregarding the classic Muppet retelling, of course). Bill Murray is on fine form as the ruthless executive, with the very dry sense of humour. From his cynical point of view, he makes the scenes with ghosts very funny, although the slapstick seen with the ghost of Christmas present does get somewhat overbearing – though I am someone who is less than fond of that physical form of comedy. There are various other twists to the story,such as Frank hallucinating in one particularly amusing restaurant scene, involving a waiter catching fire. As with every other 'Scrooge' tale, it goes through the motions of the past, present and future, but in this film there is a gap between each visitation, setting up more of story for the characters, including a romantic plot involving Karen Allen. It ends with a fantastically zany monologue from Murray, who is the man who has seen the error of his ways, promising to change from the heartless executive he's become. Yes it's the same old Christmas Carol, but with the fun had on the way through this particular version of the journey, it makes it a much more hilarious, entertaining one.
Rating: