Moonrise Kingdom (2012)
Directed by: Wes Anderson
Written by: Roman Coppola, Wes Anderson
Starring: Bill Murray, Bruce Willis, Edward Norton, Tilda Swinton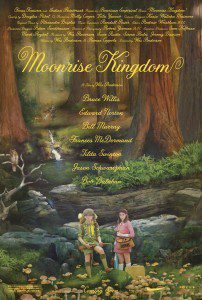 [youtube]https://www.youtube.com/watch?v=_eOI3AamSm8[/youtube]
Running Time: 94 mins
Rating: 12A
Reviewed by: David Gillespie – Official HCF Artist
Having seen most of Wes Anderson's back catalogue of whimsical and quirky yarns, it is fair to say that if you are not a fan of the director/ writer this far then Moonrise Kingdom is not likely to change your mind about his work.  Since his first full blown feature, Rushmore in 1998, Anderson delights in creating eccentric characters of eccentric families based in eccentric locations involved in eccentric scenarios. As with his previous work, Bill Murray and Jason Schwartzman appear alongside 'newbies' including Bruce Willis, Edward Norton, Frances McDormand and blink-or-you'll-miss, Tilda Swinton.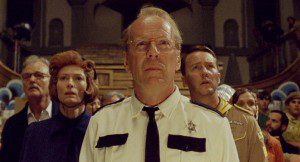 When Scout Master Ward (Edward Norton) summons his troops for breakfast one morning, he finds that one of his group, Sam (Jared Gilman) has abandoned them. He immediately summons the small island's law enforcer, Captain Sharp (Bruce Willis) to contact the child's adopted parents and gather a search party. Sharp discovers that Sam's guardians are unconcerned with his disappearance and confirm that they will not want the boy returned early should he be found.When Walt Bishop (Bill Murray) and his wife, Laura (Francis McDormand) report their troubled daughter, Suzy (Kara Hayward) missing also, it appears that the two youngsters have pre-planned the whole situation to be together. What ensues is a pursuit across the 12 mile long island with a whole host of cameo performances thrown in from the likes of Tilda Swinton and Harvey Keitel to keep things moving along.
Moonrise Kingdom might not rate up there with Anderson's finest work but it is another charming and heart warming yarn of unconventional families and strange situations.  He films the movie using his worn, aged colours while taking pause to focus on strange, dated products, furniture and clothing. Some viewers might find this tiresome but this is something I've always found endearing about his work. Sometimes it is refreshing to watch a film that stops to draw breath from time to time. I also enjoyed the background narrative that we receive regards the island's weather and geography. It almost becomes a character in it's own right.
The performances are spot on with Edward Norton shining in particular as the scout leader who is truly concerned for his missing boy. It seems to have been years since Norton has featured in any worthwhile projects and this performance will do him no harm at all. Bill Murray and Frances McDormand are bizarre and comical as the married lawyers that reside in the island lighthouse. Bruce Willis is his usual reliable self as a potential father figure for Sam. Finally both young leads are amusing and captivating in their roles as the runaways. Kara Hayward is particularly striking as the unhinged redhead that proves a formidable opponent when one boyscout attempts to capture her.
Wes Anderson continues to release work of an impressive standard. His only drawback is his ability to create something ther than quirky comedy yarns. Perhaps it might be argued that the Fantastic Mr Fox was that departure? Yet as much as I enjoyed his version of the classic children's tale, it was more Wes Anderson than Roald Dahl. One of my friends who watched Moonrise Kingdom without having seen any of the director's previous work, commented that it was excellent. I would have to agree with that assessment.
Rating: