Avengers Assemble (2012)
Directed by: Joss Whedon
Written by: Joss Whedon
Starring: Chris Evans, Chris Hemsworth, Jeremy Renner, Mark Ruffalo, Robert Downey Jr, Samuel L Jackson, Scarlett Johansson, Tom Hiddleston

Avengers Assemble (2012)
(12A) Running time: 142 minutes
Director: Joss Whedon
Writers: Joss Whedon, Zak Penn
Starring: Robert Downey Jr, Chris Hemsworth, Scarlett Johansson, Chris Evans, Mark Ruffalo, Jeremy Renner, Samuel L. Jackson, Tom Hiddleston
Reviewed by: Matt Wavish, official HCF critic
It is finally here, Joss Whedon's ultimate superhero movie, the biggest assemble of hero's you will see, well, until the next Avengers Assemble, the superhero film which has become one of the most highly anticipated films of 2012. So, the questions are: was it worth the wait? Am, yeh!! Does it deliver the goods? Hell yeh!!! Does it live up to its enormous expectations? No,no its doesn't, it blew my expectations out of the water and was far far better than I ever thought it would be! The Avengers Assemble is quite possibly the most fun, the most exciting and possibly the most thrilling film you will see all year this side of Prometheus and The Dark Knight Rises. Joss Whedon has done himself, and Marvel, and Disney proud, and the early stories today of the Avengers Assemble breaking box office opening records all over the world, is very much deserved.
The plot for the film, in all honesty, could not really have been any simpler, but then a film this big, and this extravagant, you don't really want a complicated plot to have you needing to use your brain. This is the sort of perfect popcorn film where you, the viewer, are required to simply sit back and enjoy the ride, and let me tell you it is one hell of a ride! Loki (Tom Hiddleston), that vicious, horrible brother of Thor (Chris Hemswroth), has come to Earth with a plan to steal a weapon which would allow him to bring an army to Earth to destroy it. Nick Fury (Samuel L. Jackson) has to put together the Avengers Initiative where he finds all our heroes from around the world and somehow try and control them to work together to stop Loki and his evil plans. It really does not get any more complicated than that!
However, Whedon manages to give each and every character their moment to shine, and somehow manages to give each character a fair amount of screen time. No one appears to have been favoured, which shows Whedon's respect for the characters on screen. Granted Robert Downey Jr playing Tony Stark/Iron Man steals much of the films one liners and comedy, but this is the character that Downey Jr has made his own, and we have come to expect this. Chris Hemsworth as Thor, who amazingly just suddenly appears, fits in perfectly after a ropey start with the team and a fantastic battle with Iron Man, and again Hemsworth brings to the role everything that made his film so much fun. Chris Evans is great as Captain America, and while I did not care for his film, and found his character a tad irritating here, he did grow on me as the film went on. Jeremy Renner is superb as Hawkeye, showing off some terrific action acting skills, which makes The Bourne Legacy feel much more like a safe bet.  Here he also gets the chance to show off a slightly darker side, and Renner brings some serious intensity to the role. Mark Ruffalo shines as possibly the best Hulk to date, and from the moment he appears on screen, people talk of his 'other' side, and Tony Stark hilariously baits him to free the beast. With such a build up to the inevitable, when the Hulk does rear his big green, grumpy head, it is jaw dropping and fists in the air magic as you will have no option but to cheer him on. Samuel L. Jackson is terrific, if a little wasted as Nick Fury. He has his moments, and isn't left to simply 'talk' here as he gets in on the action too, but sadly the banter between the rest of the Avengers is just too good, and for me, Jackson was a little too serious and it felt like he was left out of all the jokes, a minor complaint mind.
However, for me the two show stealers were Scarlett Johansson as Black Widow and Tom Hiddleston as Loki. Naturally, Johansson had the edge because she is just undeniably sexy in her tight fitting leather, but with her stunning looks comes an intriguing, almost mystifying character that finally gets the screen time she so rightfully deserves. She oozes confidence, she seduces, she has a wonderful introduction and Johansson appears to be eating up the role, so here's hoping of a future film just for her! Hiddleston as Loki, on the other hand, is terrific as the villain. He is cold, calm, collected and with his gorgeous British accent, brings some real power to his role, and utterly convinces. He too has moments of brilliance and heart stopping awesomeness, like when he bellows out to a sorry bunch of civilians to "NEEL!!!!", or when he creates numerous copies of himself, his banter with Nick Fury while caged, and his delightfully creepy conversation with Black Widow. For a villain, he also manages some moments of genius humour, like a scene where he has an unfortunate meeting with The Hulk!
Speaking of humour, the script here is terrific! What I have enjoyed about many of the previous Marvel films, especially Iron Man and Thor, is the playful humour which almost borders on childish, but holds on to a good level of clarity and 'grown up' style jokes, if you like. Here the script takes the comedy from previous films and maximises it, but does it perfectly as to not become too cheesy. It is the comedy, and the reliable characters which make it very hard to dislike this film. Whedon allows you to totally connect with the stars, and you will enjoy every god damned second they are on screen. There is barely a dull moment here, it is a full on adrenalin rush from start to finish, and while the characters, comedy, playful banter, fall outs, ego's and talky bits will delight and keep you glued to your seat, the action is something else entirely.
Whedon expertly puts together one of the most thrilling action films in years, and has quite simply created something magical. How he ever managed to get this film so right is beyond me, but when it comes to big budget spectacle, I can't think of anything better in recent months. The special effects are flawless, and at times simply put, they are jaw dropping. There is skill here, passion and utter brilliance, and the effects are so incredibly well developed, you come very close to forgetting that what you are watching on screen is CGI. Loki's opening attack on S.H.I.E.L.D, is short, sweet and edge of your seat stuff, a mid film spectacular on a flying submarine will quite simply take your breath away, The Hulk looks better than he ever has before, and the final, thrilling, pulse pounding battle has to be seen to be believed, and it simply MUST be seen on the biggest, loudest screen you can find.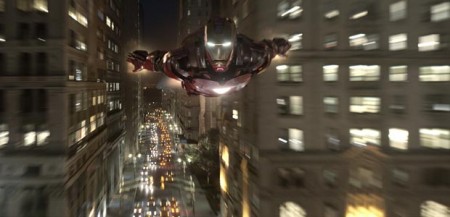 The Avengers Assemble is destined to be one of the year's biggest films, and is a must for fans of not only superhero films, but big budget spectacles in general. If you are not Marvel's biggest fan, you will still find tons to enjoy here, and while there is plenty for the fanboys, Whedon opens up the film to a much wider audience by playing it just right, with the perfect amount of "come in and join the fun, whoever you are" attitude. Cleverly though, he does not forget who this film is primarily for, and I can't imagine a single Marvel fan on the planet not finding something to enjoy here. The Avengers Assemble is very very close to being a perfect action film, a perfect superhero film and a perfect trip to the cinema. Staggering, relentless, rollicking fun, and then some!
Rating:
You can read Doc's review here