Alien Infiltration (2010)
Directed by: Colin Theys
Written by: John Doolan
Starring: Adrienne LaValley, Ashley Bates, Cuyle Carvin, Hilma Falkowski, Jeremy London, Roddy Piper

Alien Infiltration aka Alien Opponent (2010)
Directed by Colin Theys
After killing her abusive older husband and junkyard owner, Tom Mazurski (Kevin Shea), blonde bimbo Meghan (Ashley Bates) and her mother decide to cash in on his wealth and life insurance, but there's one big problem stopping them. In order to reap the rewards of a dead, wealthy spouse they need to retrieve his body from the barn where an alien crash landed shortly after the murder. Determined to get rich, her mother Rita broadcasts to the town that whoever can destroy the alien and bring back her son-in-law's body in one piece will walk away with a $100,000 reward. Unable to resist the big bucks reward, every wacko within 100 miles turns out to defeat the space-suited, uninvited guest but it isn't long before the junkyard becomes a full blown war zone with each man (and woman!) for themselves in a Man vs Man vs Machine vs Alien battle.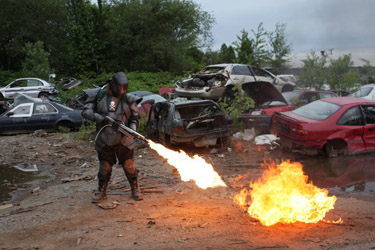 Alien Infiltration is a hard film to categorise as it covers so many genres. From bloody horror with horrific, varied deaths to action packed scenarios where the self styled Rambos equip themselves with an arsenal of weapons including rifles, shotguns, scythes and tonfa.  The sci-fi element comes into play with the mysterious alien who's a dab hand at mechanics and surrounds himself with hand built machines along with small, slug-like alien critters which become the ultimate weapon as they crawl underneath their victims skin. The film hits the high notes with it's humour which is subtle and absolutely fantastic. The black comedy moments slice through the scenes like a knife and will bring a devilish smile to your face. My favourite in question is when a group of unarmed, white and yellow belt karate kids led by their Sensei enter the junkyard battlefield whilst other residents of the neighbourhood are gun-toting, knife wielding lunatics. You just know something bad is going to happen, especially when heavily armed mercenaries are being wiped out by the alien creature and it's machina. However you think the scenarios will play out, think again as director Colin Theys has made it as far from predictable as possible. The wicked dark pace is kept up throughout this enjoyable romp.
The characters in the film are very likeable, from muscular, dumb but kind helper, Bradan (Cuyle Carvin), to gun wielding Priest Father Melluzzo, played in a sin-tastic cheeky turn by 'Rowdy' Roddy Piper. The comedy even stretches to names in this film with a dizzy Southern lass, who's previously seen being kicked out of a car dressed as a French maid, going by the name of Deborah Dallas, giving a wink and a nod to the infamous Debbie Does Dallas porn film. There are big personalities on display in the film with a confident, kickass pole and lap dancer named Linnea Gold (Adrienne LaValley) and a scheming, opportunist rat of a man called Brooklyn Davis (Jeremy London) just to name a few. Meghan's mother Rita, played by Hilma Falkowski, starts off as a quiet, shy loner but soon reveals a bolder, cunning side after she rids her daughter of her burden of a husband. One of the characters we don't really get to know is the alien itself, who remains a mystery throughout the film. This doesn't hamper the film by any means, but those looking for a full on sci-fi fest would be better off looking elsewhere. Alien Infiltration examines the people rather than the alien aspect as the characters fight it out between them whilst surviving the deadly alien foe in a bid to win the $100,000 reward.
Alien Infiltration is a well shot film with a truckload of action and ingenious bloody deaths that are enhanced by the dark wit and black humour thrust upon it. If you're looking for an action-adventure-horror comedy then look no further as Alien Infiltration ticks those boxes with conviction and a sly grin that will leave you thoroughly satisfied.
Rating: