Crows Zero 2 (2009)
Directed by: Takashi Miike
Written by: Hiroshi Takahashi
Starring: Haruma Miura, Meisa Kuroki, Shinnosuki Abe, Shun Oguri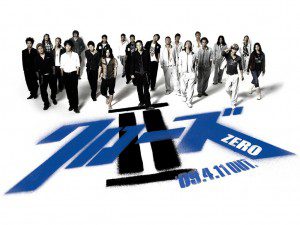 [youtube]https://www.youtube.com/watch?v=MqXtvE9DAH0[/youtube]
Running Time: 133 mins
Rating: 15
Reviewed by: David Gillespie – Official HCF Artist
Takashi Miike first came to my attention with the romantic gorefest, Audition (1999). Having sat down to watch the film late one Friday night with no prior knowledge to the story other than it was about a widower who gets involved with a woman with some personal problems, I couldn't quite believe how twisted the yarn would turn out to be. The movie shifts the viewer into a false sense of security before dropping them into the depths of hell itself. Never will you look at a roll of chicken wire and feel the same way again.  Like any excited film fan I wanted to know more about Miike's work and was surprised by how many projects the director had released in such a small period of time. In addition to having a punishing work ethic, Takashi Miike has delved into a wealth of genres (horror, thriller, action, family, comedy etc) and still seems to deliver the goods. With Crows Zero 2, he continues the dramatic and epic drama of two conflicting youth gangs called the Suzuran and Hosen.
Crows Zero 2 opens with a brief retread of the first installment, focussing on the murder of the Hosen (Army of Killers) leader by Suzuran member, Sho Kawanishi (Shinnosuki Abe). Since that time the two gangs have made a pact of peace and the Suzuran ranks have seperated into individual units due to the general disinterest of troubled leader and Yakuza son, Genjii (Shun Ogura). When Genjii protects Sho from the  hands of the avenging Hosen gang on his release from jail, Hosen boss, Taiga Narumi (Nobuaki Kanuaki) announces war on the rival boy's college. The Suzuran leader must unify his gang before the skinheads of Hosen take over. This means recruiting Serizawa (Yamada Takayuki), Tokio (Kiritani Kenta), Mikami brothers (Hisato and Yusuke Izaki), Shoji (Kamiji Yusuke) and Tokaji (Kaname Endou) and finally defeating inhuman nemesis, Rinda-man (Fukami Motoki). With the two gangs at full strength, a final confrontation takes place at the Hosen campus.
You can't help but be drawn into the action and drama that unfolds throughout Crows Zero 2. We are introduced to a whole host of bizarre, psychopathic and narcisstic characters in the space of two hours, in which the final 30 minutes involves one hell of a bloody punch up with superb editing and some memorable pummelling.  The action is split into Genjii's attempts to gather his army and Sho's ambitions to become a member of the Yakuza. The latter subplot being a lot less interesting than the former.
The soundtrack is fairly cringeworthy unless you are a fan of Japanese rock music yet it is probably relevant to this type of movie. It is rather irritating when the action is held up for some low quality live act to promote their song.
The acting is as good as this genre of movie requires. The young cast spend a lot of time standing about in crumbling urban areas, looking tough and mumbling, laughable macho lines.  Although the movie is based on a series of Manga cartoons, I couldn't help reminisce to the classic urban actioners like The Warriors and Band of the Hand.
Miike delivers a fast moving and stylish live action cartoon with larger than life characters and uber violent action scenes. The final punch is exciting and really worth waiting for. Order your curry, get your six pack out the fridge, sit back and enjoy.
Rating: