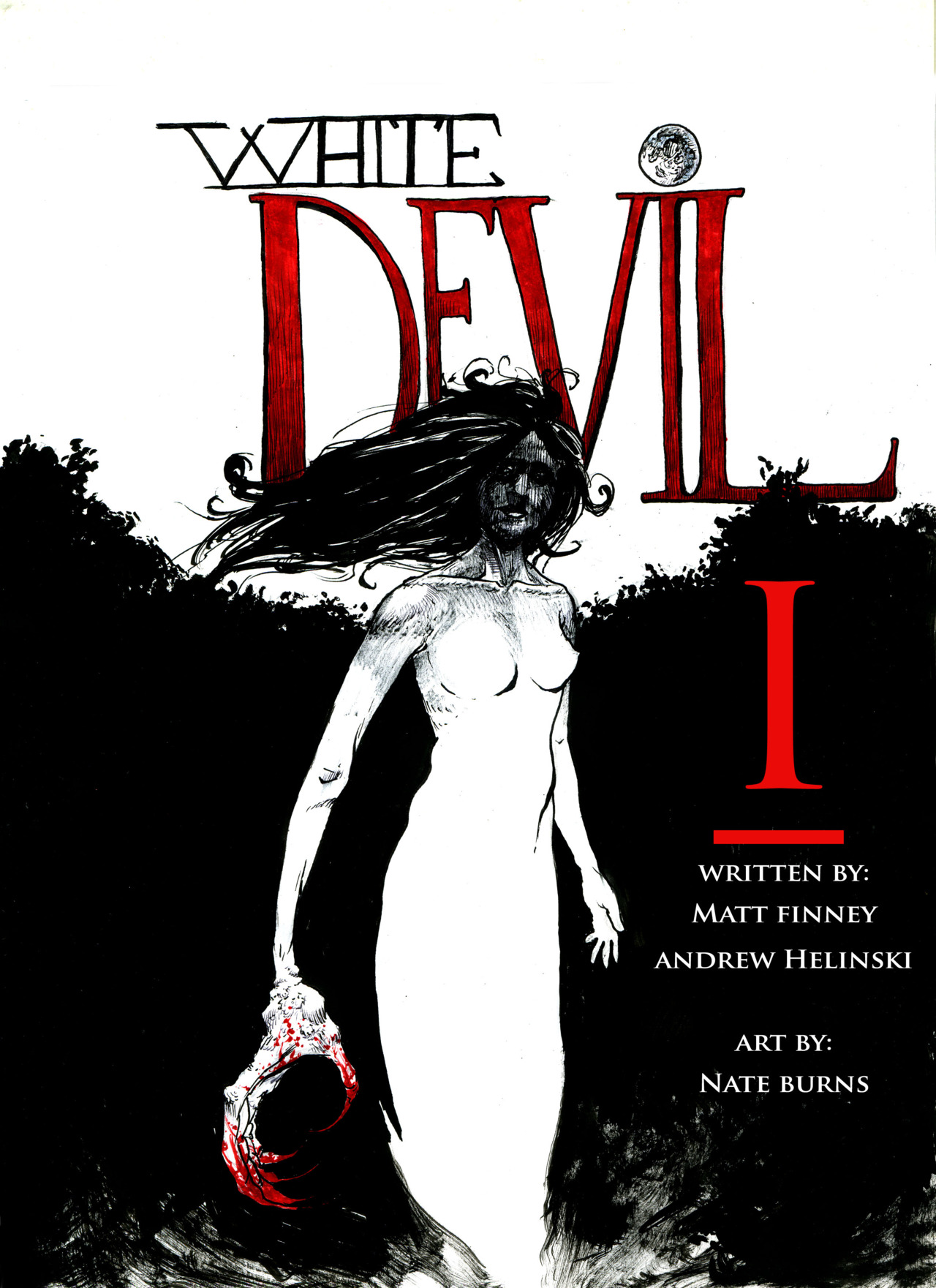 Written by Matt Evans & Andrew Helinski
Art by Nate Burns
Reviewed by Juanvasquez
Set in the small backwoods town of Wetumpka, Alabama, where literally nothing ever happens, White Devil follows bored home maker Judy Harper. Judy leads a routine life, with mundane housewife duties such as the usual cooking, cleaning and shopping. We're introduced to her, with her musing upon her current situation and the advice she was given by her mother when she was younger. Her only means of escape is the book club she attends with her friend, Betty. Or at least that's what she leads her family to believe. What starts out as domestic tedium soon takes a surprising turn, as Judy's book club isn't that at all, and she is in fact meeting up some of the townsfolk in the middle of the woods, in some kind of Satanist cult, requiring its members to attend in their birthday suits.
Despite the comic's title and cover image, these things are soon forgotten as you get involved in Judy's story, and her home life, with the interactions with her husband and children. She's a woman who seems to have had the life sucked out of her, until she's given the exciting prospect of doing something different with the cult. It's an involving story that seems to suck you in from the first frame (despite some of the text being a little difficult to read in its PDF format), and one that soon takes a turn towards the macabre. It's definitely a story for the more mature reader, with strong images of animal sacrifice and ritualistic sex and nudity. Evans and Helsinki's writing and story work is structured extremely well and really gives an insight into how the protagonists mind works, coupled with some fantastic art work.
The art itself is very well drawn and finely detailed. There are a few interesting moments where every now and then what you're looking at changes from what we're following in the story, to some kind of religious imagery, be it that of a crucifix, or some sort of demon. The style and layout of the comic is somewhat unique (in contrast to a lot of others I've read) in some places, particularly in scenes where Judy is seemingly alone with her thoughts. Nate Burns' art style is something special, with each frame filled with as much care and attention as the next.
While the first issue of White Devil sets things up in a stunning fashion, the manner in which the story is rolled out is in such a way that the reader is almost none the wiser to what's going to happen next as when starting the comic. It's an intriguing tale of the occult, set in a small town, and with the cliff hanger at the end, like all good comics, you can't wait to dive straight into the next issue. White Devil #1 is the first a run of 4 issues, and frankly, issue 2 cannot come quickly enough.
White Devil #1, by Matt Evans, Andrew Helinski & Nate Burns, is free comic available for download by visiting their site https://whitedevilcomic.blogspot.co.uk/