Paura 3D (2012)
Directed by: Antonio Manetti, Manetti Brothers, Marco Manetti
Written by: Antonio Manetti, Manetti Brothers, Marco Manetti
Starring: Claudio Di Biagio, Domenico Diele, Francesca Cuttica, Lorenzo Pedrotti, Peppe Servillo

Paura 3D (2012)
(18 TBC) Running time: 104 minutes
Directors: The Manetti Brothers
Writers: The Manetti Brothers
Starring: Peppe Servillo, Francesca Cuttica, Lorenzo Pedrotti, Domenico Diele, Claudio Di Biagio
Reviewed by: Matt Wavish, official HCF critic
The Italian Manetti Brothers really impressed audiences at festivals this year with their sci-fi horror flick, The Arrival of Wang (read David Gillespie's review), and inbetween getting that film completed and its release, the horror enthusiasts made another film while 'testing' some special effects, Paura 3D. Taking some influences from the classic Italian Giallo, the film uses those strengths and leads off into more modern torture porn horror as the film progresses, leading to a terrific climax full of suspense and terror. Paura, by the way, translates into English as "fear", and that is exactly what the Manetti Brothers wanted to show us, fear beyond our wildest imaginations. At times they really do succeed, the aforementioned climax is unbearably tense, taking the viewer from one level of terror to the next, and an earlier scene showing one of the main characters spying on a young woman for the first time shows the Manetti's skills for creating nail biting tension. However, does Paura 3D live up to the Brothers promise of "fear"?
Well, the film opens in spectacular fashion as a P.O.V of a woman killing a girl tied up in the basement is testament the Manetti's have good intentions. The opening credits follow as some truly dark, haunting and slightly disturbing music plays as a montage of paintings get increasingly darker, with 3D adding a marvellous layer of creepiness. We then quickly run through the cast as we meet mechanic Ale (Diele) and his two mates: the "you're boring" Simone (Pedrotti) and skint stoner Marco (Di Biagio). We even get a hint of the director's influences as we enter a classroom where Simone goes to college, with the teacher talking about the great Mario Bava. Some could argue this was a desperate attempt to appeal to Giallo fans, I think it is a nice touch. Ale has overheard one of his clients talking about going away to a car rally for the weekend, and since he has been working on the guys very expensive cars, he also knows his way around the guys house and decides it is time for him and his mates to have some fun. The owner of the house is the rich Marchese Lanzi, played by Italian singer Peppe Servillo, he appears normal enough, good natured, but what secrets is he hiding in his massive house?
Well, the three friends find out as they begin a weekend of drinking, smoking, swimming in the pool, raiding the fridge and playing guitar hero. With the party planned, there is no stopping them until Simone goes down in the basement and finds a naked girl tied up. Not only that, Ale has done some dodgy work on Lanzi's car, and he has to return. The film then leads to a game of cat and mouse as the three friends attempt to hide from Lanzi, and also try to save the naked girl from the returning Lanzi. The relentless pace of the final third is terrific stuff, with the Manetti Brothers offering up a number of twists and turns, and the odd shock moment that arrives totally unexpected. The Manetti's said at Frightfest that Servillo was a chance choice, and they were not sure how well the well known singer would play the role of a villain, but he embraces it a little too well and totally convinces. The fear truly comes into play in these later moments, with a rather nasty torture scene announcing the moment the film turns from casual party with owner coming home thriller, to something much darker. Granted the violence never really pushes to the limits I was expecting, with a painfully restrained sense of not allowing things to become truly horrific (a shaving of pubic hair had me thinking of a certain scene in Antichrist, but sadly we never go that far), however there are a few terrific kills, one in particular which received a round of applause from the eager Frightfest audience.
The scripting here could have been better, with the interaction between friends a little staged, and some of the later dialogue feeling quite forced. The naked woman, although pleasing on the eye, sadly will test your patience as he struggles to deal with being outside, or even out of the basement for fear of a monster getting her, and while Paura 3D does crank up the tension, it could all have been fixed had the three friends done what any normal person would have done and "got the fuck outta dodge" As Simone insists on saving the girl, you really do start to believe that they are getting what they deserve, and you start to side with Lanzi (is this a good thing or not?) However, for all the errors of script, judgement and actions, Paura 3D is a white knuckle adventure into pure terror. The film was shot in 3D (not converted), and this adds a great depth and realism to the horrors on display, especially in some of the more claustrophobic moments. The pacing is pretty spot on, with character development just right, and not too much time wasted on unnecessary waffle, and when the terror kicks in, it really kicks in! The music by Pivio is also key to this film's success, with some beautifully arranged, dark and intense musical numbers adding a real sense of menace to the film.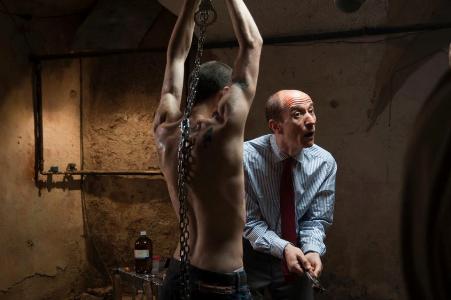 It never quite lives up to being a new Giallo, but then I don't think it wanted to be. Paura 3D wanted to show, I believe, how horror has evolved from those early thrillers into what we see today. The Manetti's wanted to pay homage to horror of the past, while embracing the sadistic world of today, and Paura 3D really delivers. Scary, intense and incredibly satisfying, this is white knuckle horror at its best.
Rating: