American Mary (2012)
Directed by: Jen Soska, Sylvia Soska
Written by: Jen Soska, Sylvia Soska
Starring: Antonio Cupo, David Lovgren, Jen Soska, Katharine Isabelle, Paula Lindberg, Sylvia Soska, Tristan Risk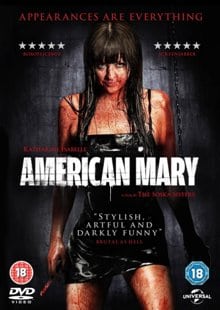 American Mary (2012)
(18) Running time: 103 minutes
Directors: Jen & Sylvia Soska
Writers: Jen & Sylvia Soska
Cast: Katharine Isabelle, Antonio Cupo, Tristan Risk, David Lovgren, Paula Lindberg
Reviewed by: Matt Wavish
After giving the horror world a Dead Hooker in a Trunk, The Soska Sisters are back with what just might be one of the finest horror films of the year. American Mary is a stunning step up in quality after the sisters first feature length film, and here is proof that women directors can be just as twisted and brutal as the men. The Soska Sisters delve into body horror, madness and revenge as their sexy star Mary (Isabelle)chillingly shows us blokes that if you pick on the wrong female you'll be in a whole heap of trouble!
Mary is a medical student who is broke, and no one seems to want to help her. Her lecturer Dr Grant (Lovgren) is a bully, and constantly shouts and swears at Mary and continues to remind her that she will achieve nothing. Mary is pestered for outstanding bills, and basically her life would appear to be a bit rubbish. Desperate for cash she goes to a strip club where she meets owner Billy Barker (Cupo), and while auditioning for her job, Mary is suddenly thrown into a situation where her surgical skills can be of use. Billy's resident surgeon has run off, and Mary is asked to "clean up" a victim, with the offer of plenty of cash, of course. Agreeing, Mary soon heads on a downward spiral of horrific surgery and madness. Word gets around of what she did that night, and she is tracked down by the strange, yet playful Ruby (Lindberg), and she wants Mary to perform surgery on her friend who basically wants to be made into a doll (you figure it out!). Desperately trying to not get too involved, Mary soon becomes hooked and creates a website and performs all sorts of body enhancements on an ever increasing clientele. However, during her journey into underground surgery, Mary is invited to a party by Dr Grant, and here is where the film turns really dark.
Mary is drugged and raped, and comes out the other end a changed woman, and here is where the Soska's let rip on a truly chilling journey of cold, calculated revenge. To go into any detail will spoil things, but let's just say Mary embraces the revenge, she embraces and becomes increasingly violent in her new found profession, and she fully gets her sex appeal. Mary changes from a victim of circumstance and a hideous crime to a sadist and a tease. She knows exactly what she wants, and what Mary wants, Mary gets. This film could arguably be a trophy film for women victims everywhere, and you could argue that it is The Soska Sisters sticking two fingers up at the largely male dominated world of horror. Personally, I just think the Soska's love their horror, and who better to take you on this journey than a seriously hot Katharine Isabelle. When I say hot, I mean this is something else! Dressed in leather, short skirts, heels, tights and everything sexy in-between, Mary is dressed to impress and it is extremely difficult to take you eyes off her.
Isabelle is clearly relishing playing such a twisted role, and while she is quite possibly the sexiest female you will see in a horror all year, she not only brings twisted menace to her character, but also some delicious dark comedy. The script in this film is top notch, and full respect goes to the Twisted Twins for not only directing with absolute perfection, but also writing one of the best horror scripts I have heard in ages. The lines are delivered with quirky moments of absolute genius, and more darker moments that will chill your very soul: a scene where Mary reads out a list of surgeries she will perform on a victim is strangely comical, but extremely disturbing. That is the brilliance of American Mary, not only can the film survive on its body horror and many look-away surgical moments, but the style, music and script all scream out pure class and very high quality with bags of skill.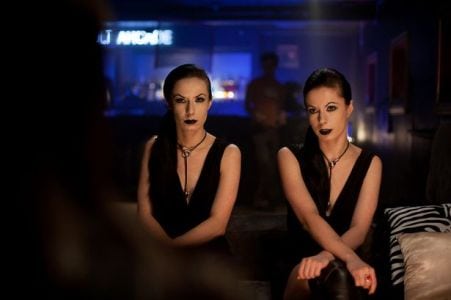 I am worried that I will get carried away and start revealing too much of the film, so I should wrap this up before I do. There is just so much good stuff here that it is very difficult not to want to share it, but American Mary is a film that will benefit by going in to see it without knowing too much, and please keep an open mind. There is brilliance at work here, and the Soska's working with Isabelle is a match made in heaven (or Hell is actually a better description), and I really hope they join forces again. The Soska's even appear in a hilarious cameo that could not have been played by anyone else. The Sisters appear as two European body enhancing addicts, and what they ask Mary to do you could almost believe the sexy twins doing for real. I will not spoil the surprise, but it is a lot of fun and a welcome moment of light hearted comedy as the film continues to get darker and darker.
American Mary is incredibly sexy, superbly written, directed with class and a sheer admiration for the horror genre, and it has plenty of well crafted violence to keep the sicko's very happy indeed. In all honesty, this film is unlike anything you have seen before, and can stand proud as a fairly original and intense experience that horror fans will cherish for years to come. It is not often we get to see a true cult classic in the making, but here is one of them!
Rating: