Tower Block (2012)
Directed by: James Nunn, Ronnie Thompson
Written by: James Moran
Starring: Jack O'Connell, Ralph Brown, Russell Tovey, Sheridan Smith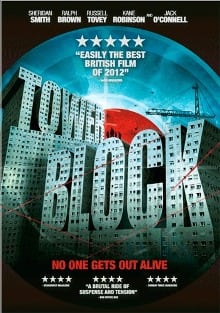 Tower Block (2012)
(15) Running time: 90 minutes
Director: James Nunn, Ronnie Thompson
Writer: James Moran
Cast: Sheridan Smith, Jack O'Connell, Ralph Brown, Russell Tovey
Reviewed by: Matt Wavish
Making their directorial debut, James Nunn and Ronnie Thompson have burst onto the British urban drama scene, and added a nice, almost horror like touch to the genre. With Tower Block the pair have made a film that will not only make a connection with a lot of viewers, but it will also terrify in equal measure. Part horror, part thriller and part social commentary, Tower Block is exciting, riveting and also very relevant with today's fans hungry for gritty urban drama. James Moran (Severance) also delivers a blistering screenplay which allows the talented directors to get the best out of their cast.
Set in a rundown block of council flats, the film's opening scene sets the tone as we see a resident youth chased into the block of flats and beaten to death by two masked attackers. Becky (Smith) eventually opens her door and attempts to stop the violence, which only results in her too getting attacked. When the police arrive to question the residents, the chilling vow of silence by all those living there infuriates the police who can't bring anyone to justice without witness statements. A sorry state of affairs, but one which sadly rings very true. The block of flats itself houses the last of a group of residents who refuse to move out after being told the building is being rebuilt. The residents are given the chance of being re-housed and even paid for their efforts, but the final group will not budge. Sadly their refusal to leave puts them in a tricky situation when a ruthless sniper takes up position opposite the flats, and begins shooting through the windows.
After a short trip round the flats, we get to meet the residents, and each has his or her story to tell. We get to know them, and even if we don't much like all of them, it does make the proceedings all the more frightening once you know the characters by their first names. The shooting comes unexpected and had me jumping out of my seat! Terrific sound effects, editing and visual effects mean you actually feel the bullets as they fly through windows and into the rooms of the residents, and panic sets in. All internet connection and phone lines have been cut off, and it is left to the last few survivors to find a way out. The battle for survival begins now…
The rest of the film should have run out of ideas very quickly, but the directors and writer keep things fresh and interesting by throwing in all sorts of ideas, problems and dramatic twists to keep you guessing just who the hell is shooting at them, and just who will die next. Special mention has to go to the star in the making Jack O'Connell (Eden Lake, This Is England, Harry Brown, TV series The Runaway). He gives a mesmerising and chilling performance as the resident, take no shit bully. Residents pay him both for protection, and to not smash up their flats. O'Connell is remarkable in the role, and while he will frighten with ease, he also brings some terrific dark comedy to the film, and in all honesty, it is O'Connell who takes this from a very average film to a very good one. A good lead character can save a film, and while Tower Block is actually very good on its own merits, you have to question if it would have been as much fun without O'Connell commanding the screen.
Tower Block is a lot of fun for a night in with some beers, some pizza and likeminded friends who enjoy a safe, slightly predictable but constantly exciting and riveting thriller. The film does not hold back on the violence or the "street talk" so those who enjoy dark, gritty urban dramas will find plenty to enjoy. The horror crowd should enjoy the nastiness on show, and those who just like a good beer movie that you can just go along with and enjoy the ride will also find Tower Block very satisfying. It doesn't break or bend any rules, it doesn't bring anything new to the genre, but is does deliver exactly what is advertised and the film a thrill ride from start to finish.
Rating: