We Are the Night, Wir sin die Nacht (2010)
Directed by: Dennis Gansel
Written by: Dennis Gansel, Jan Berger
Starring: Anne Fischer, Jennifer Ulrich, Karoline Herfurth, Max Riemelt, Nina Hoss

We Are the Night (2010)
(18) Running time: 95 minutes
Director: Dennis Gansel
Writers: Jan Berger, Dennis Gansel
Cast: Karoline Herfurth, Nina Hoss, Jennifer Ulrich, Anne Fishcer, Max Riemelt
Reviewed by: Matt Wavish
I love a good vampire flick, and even though many films come out which may make the genre feel like it's becoming stale, films like We Are the Night continue to show up to remind us the vampire flicks can still be a lot of fun. Very much like a ladies version of Joel Schumacnher's classic 1987 vampire flick The Lost Boys, We Are the Night predominantly shows the fun side to being a vampire. While The Lost Boys had a generation of horror fans wanting to "never grow old, and never die", it is unlikely We Are the Night will generate quite as much interest, but I guarantee a cult following over the years as people will watch and no doubt recommend to other horror fans. We Are the Night is definitely worthy of cult status, and should be seen by all fans of vampire flicks.
Oddly enough, the word 'vampire' is never actually used in the film, but we know from the beginning we are in vampire territory. A trio of sexy vamps arrive as they slaughter a plane full of passengers and crew, then jump off and land in a new city, Berlin. Lead by the seductive Louise (Nina Hoss), the group is made up of the 'moody' one called Charlotte (Jennifer Ulrich) and the fun loving Nora (Anna Fischer). If ever there was a group of vamps who could seduce you, then here they are! These vampires are sexy as hell and like to party. They arrive in Berlin and quickly take over a nightclub where they put on all night parties, and it is here that streetwise Lena (Karoline Herfurth) first meets Louise. Hunting for a new member of her crew (Charlotte has become too withdrawn and Nora is too extreme), Louise is looking once again for love, and she sees it in Lena. She seduces her and bites her, and Lena runs off. However, she wakes the next day to find that the sun burns and she has no reflection, and so she heads back to the club to find out what has happened to her. Reluctantly, she joins the vampire girls…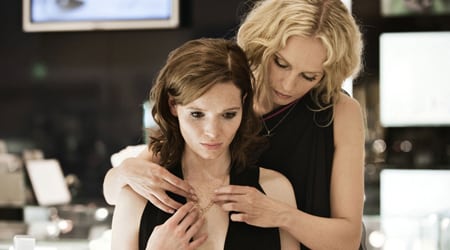 With a cop (Max Riemelt) already on her tail and falling in love with her, Lena enjoys her new found friends and unexpected powers. She enjoys the vampire life, and why wouldn't she? These girls can go shopping in closed malls at night, they drive (stolen) fast cars, they hold parties regularly, stay at fancy hotels and play dare on balconies as the sun comes up. They also enjoy climbing and mucking about on walls (some excellent visual effects by the way!), yet there is also a sinister side to this new lifestyle. Lena first learns it as she is initiated into the group and has to murder a sexual client. Yes these girls are a lot of fun, but they are dangerous, and it is not long before Lena grows weary of the groups way of life. Two security guards at a swimming pool are patrolling at night and find the girls in the pool having fun. They are asked to join them, seduced and one is bitten by Nora while the other has his throat cut in spectacular fashion by Charlotte (she uses a page from a book!). This is the last straw for Lena, and she begins looking for a way out, all the while falling for the advances of Tom (the cop tailing her), and struggling to deal with her feelings for Louise (yes there are a few lesbian clinches!).
The film is less complicated than it seems, and We Are the Night is a fairly straight forward vampire romp with a lot going for it. The production looks clean, crisp and professional, the settings and cinematography are, at times, breathtaking, and the girls dress seductively and flaunt their good looks. The film is enjoyable on almost every level. There is some dark comedy thrown in for good measure, and while the plot is not exactly challenging, it is familiar and incredibly rewarding. The acting for this type of film is terrific, and each of the girls provide their own unique charisma and appear very natural and sure of themselves. The action scenes are well shot, and the odd fight scene is stylish and perfectly choreographed. The often pounding techno soundtrack lends to the films European and up to date feel, and with a relatively  short running time, the film never feels boring. The pacing is perfect, and in fact there were a number of scenes I would like to have stayed around for a little while longer.
However, with no real new ideas, We Are the Night feels a little too safe and too familiar at times, and while this is a really good fun vampire flick, the lack of originality or ideas does not make it a great one. That is not really a complaint, but sadly while this will no doubt achieve a small cult status, it is not one that will be remembered in years to come. There is nothing here that really makes it stand out, but for vampire enthusiasts and horror collectors, We Are the Night is an essential addition to your collection. For what it's worth, I loved it!
Rating: