Curandero: Dawn of the Demon (2005)
Directed by: Eduardo Rodriguez
Written by: Robert Rodriguez
Starring: Carlos Gallardo, Gizeht Galatea, Sergio Acosta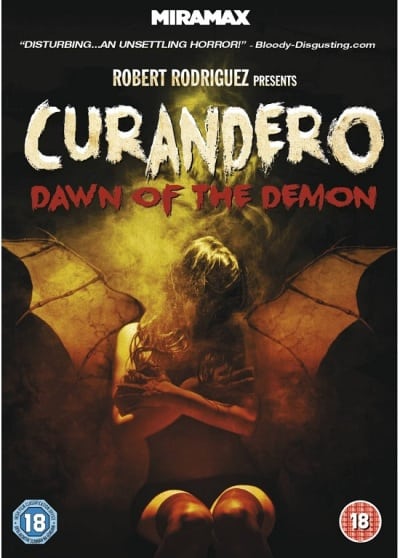 Running Time: 92 minutes
Certificate: 18
Reviewer: David Gillespie – Official HCF Artist
[youtube]https://www.youtube.com/watch?v=Lzwjv99HkYg[/youtube]
The Horror Cult Films website is often keen to point out if a film falls into the 'beer movie' category. Namely a feature that's natural habitat is to be shoved into a DVD player on a Friday night with the viewer enjoying a beer and a curry during the viewing. Curandero: Dawn of the Demon falls into this category as it finally makes its way to British shores come May 20th. El Mariachi and From Dusk Till Dawn director, Robert Rodriguez pens the yarn and his namesake (but no relation) Eduardo Rodriguez directs the film.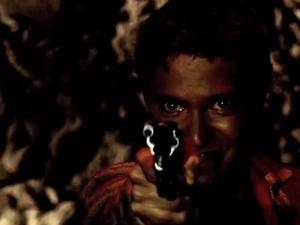 The story begins with police detective Magdalena Garcia (Gizeht Galatea) visiting a local curandero (a Mexican healer/ exorcist) called Carlos Gutierrez (Carlos Gallardo). When Magdalena was a child she was successfully purified of evil by his father and calls upon Gutierrez to lift a suspected curse at her precinct after a feared drug runner and Satanist named Castaneda (Gabriel Pingarrón) is freed by his minions. Although doubting the powers at his disposal, the young curandero agrees to assist the detective in respect of his father's legacy and goes through the motions of purifying the station. During the exorcism process he encounters horrific visions of human mutilation and disembowelment. Gutierrez is worried that not only does he possess the same powers as his father but that he is cursed with the horrific visions that resulted in his father's eventual madness and death. Soon Castaneda is visiting Carlos to torment and warn him of the consequences of continuing to aid the attractive detective in her investigations.
Curandero: Dawn of the Demon is a confused but entertaining beast. Blending drama, horror and action into the first two thirds of the movie's running time, the action transforms into creature feature in the last third. It reminded me of Clive Barker's Lord of Illusions (1995) with a handful of El Mariachi style action sequences thrown in for good measure. Rodreguez has shot his project in a colourless and gritty format perhaps to give the feature a documentary or realistic feel. The two leads are unremarkable but likeable in their roles.  Galatea in particular is very attractive but does not seem to bear any emotional depth in her depiction of a woman that still harbours the emotional scars of her childhood. Pingarron probably comes out best in the acting duties as the vociferous and sneering villain.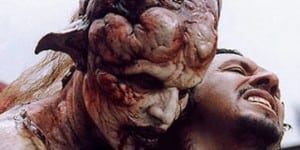 The film works best when exploring the different methods Carlos can use to exercise evil.  These range from charms to chicken eggs.  Amusingly he throws all these intricate and clever techniques away for a trusty revolver in the violent and hilarious final act when he becomes a kick-ass, monster killing, action hero.  The gore effects look impressive but are often obscured by darkness or poor editing. The best sequence is when Carlos chases the movie's main demon through a busy Mexican marketplace. There are no ropey CGI effects during this scene and the action takes place during the day so the demon is shown in its full glory.
Curandero: Dawn of the Demon is an insane but fun beer movie. It is fast moving, loud and tries hard to squeeze as many ideas as it can into its lean running time.
Rating: