From Dusk Till Dawn: The Series (2014)
Directed by: Robert Rodriguez
Written by: Diego Gutierrez
Starring: DJ Cotrona, Don Johnson, Eiza Gonzalez, Jessie Garcia, Wilmer Valderrama, Zane Holtz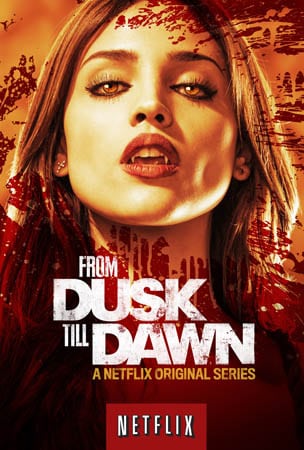 FROM DUSK TILL DAWN: A Netflix Original Series
Pilot episode
When infamous bank robbers Seth and Richie Gecko make a run for the Mexican border, a pit stop at a liquor store turns into a deadly standoff. During the siege, Richie becomes haunted by visions of demons – and a mysterious woman who beckons him from beyond.
In the FROM DUSK TILL DAWN Netflix Original series, which has been adapted from Quentin Tarantino and Robert Rodriguez's film of the same name, we follow the story of criminal brothers Seth and Richie Gecko as they attempt to cross the Mexican border to meet with a contact of theirs after a bank heist. Fans of the film will be familiar with the whole story, which is replicated in the TV series but of course, they couldn't leave it as an exact copy of the movie. From the offset, we know that there's going to be an extra layer to the series with the opening shot of a woman being chased through the jungle and thrown into a pit of snakes by Mesoamericans. Nice!
Now, our two leads, Zane Holtz as Richie and D.J. Cotrona as Seth, have an aura of Quentin Tarantino and George Clooney about them, but neither succeed at hitting the personalities which the original two actors did. Granted, Holtz can definitely do unhinged, but Tarantino crazy? Hmmm…. not so much. Where Tarantino's Richie was a bit of a perv combined with a loopy psychopath who loved to kill people, this version of Richie sees things… otherworldly creature sorts of things. This is what sets this series apart from it's feature length counterpart.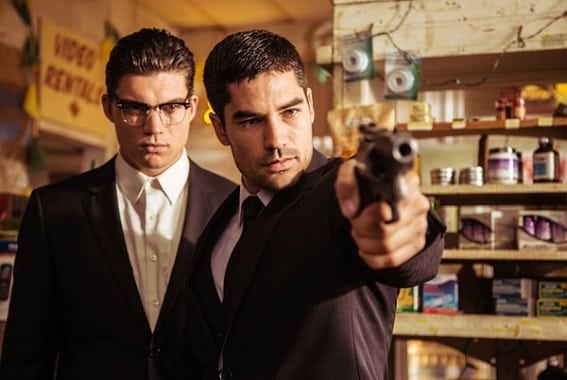 Don Johnson does a terrific turn as Sheriff Earl McGraw and Jesse Garcia as his Texas Ranger partner Frederico is equally as impressive despite his character never appearing in the film. Lane Garrison as Pete Bottoms, owner of Benny's World of Liquor makes a good impression too and is different yet memorable towards John Hawke's original Pete.
The entire pilot episode takes place in Benny's World of Liquor. You'll be surprised at how they managed to stretch a 10 minute scene from the film into a 44 minute one here, but they used it to introduce the different characters and their backstories. Rodriguez uses flashbacks to flesh out the characters of Earl and Frederico and their families, as well as spending time with Seth setting up the rendezvous with Carlos, which indicates the latter is into some shifty things indeed, things he definitely knows about and which the duo will eventually find themselves involved with.
Lines from the film and certain things are replicated in the pilot, albeit with its own twist. New threads are created to flesh out the series and judging from the pilot, this is going to be a tale of revenge as well as survival. The pilot ain't half as witty as the movie but it's an interesting start, even if the opening pilot drags its heels slightly.
It's hard to make a judgement on something based on one episode and having been adapted from a movie, it's always going to have comparisons made against it. However, the series looks to have promise and fans of both the movie and horror genre will no doubt find something to enjoy. Count me intrigued as to what will unfold, particularly with the snake girl from the beginning who is no doubt the series' version of Salma Hayek's iconic character, Santánico Pandemonium.
Catch the first episode on Wednesday 12th March 2014 only on Netflix in Sweden, Norway, Denmark, Finland, UK, Ireland, Netherlands and Canada. New episodes will be available to Netflix members each week, within 24 hours of US linear broadcast.
Rating: