Warm Bodies (2012)
Directed by: Jonathan Levine
Written by: Isaac Marion
Starring: John Malkovich, Nicholas Hoult, Rob Corddry, Teresa Palmer

[youtube]https://www.youtube.com/watch?v=07s-cNFffDM[/youtube]
Running Time: 98 mins
Certificate: 12A
Reviewer: David Gillespie – HCF Official Artist
Dating movies are usually big business and pretty awful. Nearly every fella out there has had to suffer the boredom and torment of sitting through a Maid in Manhattan or The Holiday in the name of love. You just have to keep remembering that in most cases these films have relatively short running times. Every now and again a director will try to bridge that wide chasm and deliver a film that will appeal to the boys and girls out there. Warm Bodies is Jonathan Levin's attempt at solving this conundrum by delivering a retelling of the Romeo and Juliet story and blending it with the zombie genre.
The story opens with much of the world having been overrun by a zombie epidemic and the last of the living scavenging around the cities for food and supplies. Our narrator is a young and somewhat sensitive zombie called R. Along with his best buddy M (Rob Corddry) they shuffle around a Los Angeles, city airport with the second stage and more vicious, undead horde called the Bonies. During one feeding trip, R, M and their cohorts stumble across a team of human scavengers that are searching for elusive, medical supplies. Among the soldiers is the pretty but resourceful, Julie.  R is instantly attracted to her and not in a 'bitey' way. The flesh eaters overrun the humans but the young corpse rescues Julie by smearing his dark blood on her face and smuggling her back to an aeroplane that he resides in. After spending some time together the couple bond with R indicating signs that love might be the catalyst for him finding a way back to humanity in a mental and physical capacity. However true love never runs smoothly with Julie's comrades intent on blowing R's brains out on sight and R's friends wanting to chomp Julie's grey matter.
Much of the success of Warm Bodies is down to the casting of Nicholas Hoult in the leading role. After great performances in About a Boy, X-Men: First Class and the successful channel 4 drama, Skins, the young English actor continues to rise up the popularity rankings as Britain's hottest export. Unlike Robert Pattison, Hoult seems to have range with some great comical timing in his portrayal of a corpse with a soul. The first third of the story involving R's daily routine is the best part of the film and features the biggest laughs. It's not that Teresa Palmer does not do a good job as the love interest but the movie moves into a more conventional plot when she enters the fray. John Malkovich makes his usual camp turn as the savage leader of the human survivors and Corddry is charming as R's best buddy. Although the romantic aspects of the plot overtake any of the gore on offer, the bonies are strangely chilling as the screaming villains even though their CGI effects are fairly lame. There is also a fascinating and rather morbid subplot involving R becoming more connected to Julie after munching her boyfriend's brains and subsequently inheriting his memories of their time together. There is always that uncertainty as to whether his true love will turn against him when she realises what he has done. Unfortunately the makers avoid any form of emotional or dramatic confrontation to resolve this matter.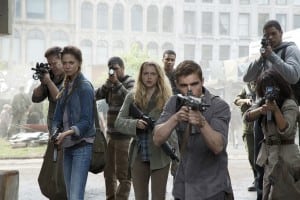 Warm Bodies is an appealing, if lightweight, black comedy with fine performances from the two leads. Fortunately even with one of the characters playing a corpse, they have more emotion and chemistry between them than many a couple that have appeared in the romantic comedy genre in recent years. Although the film is never enthralling, it remains consistently entertaining and wraps things up with a gratifying and heart warming climax.
Rating: