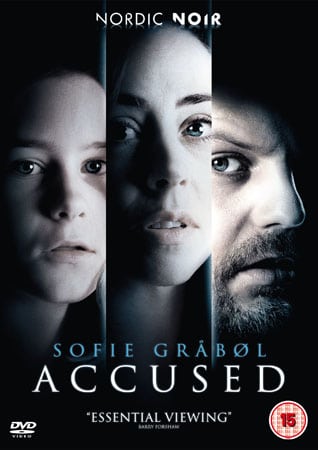 Arrow Films' Nordic Noir label is pleased to announce the UK DVD debut of ACCUSED, a brand new feature film starring the original heroine of the Scandi-crime genre, Sofie Gråbøl.
Set for release on Monday June 17th, ACCUSED unsparingly portrays the ugly side of a family's life – how a normal and happy middle-class couple's world is torn apart by their troubled 14-year old daughter.
As lead detective Sarah Lund in The Killing, Gråbøl single-handedly kick-started the UK's love-affair with Scandinavian television. Kicking-off what has become a full blown Nordic cultural invasion, Gråbøl found herself as the poster girl for gloomy Saturday evenings, stylised Danish landscapes, terrible social skills, and Faroese knitwear…
First shown on BBC4 in early 2011, The Killing has since paved the way for many more top Nordic television shows and feature films to find an emphatic audience in the UK. The likes of Borgen, The Bridge, Wallander, The Hunt, and most recently A Hijacking have all experienced massive UK success, and are also available though Arrow Films.
Henrik and Nina are an ordinary couple. Henrik is a swimming instructor, and his wife Nina a secretary. The only glitch in their comfortable family lifestyle is Stine, their 14 year old adolescent daughter, who is gradually becoming more and more difficult to be around.
Stine is going through a difficult phase and it's not easy for Henrik and Nina to get through to her. As time goes by she distances herself yet further from her parents, so much so that it is recommended that Stine visits the school therapist. 
During one therapy session, Stine accuses her father of something truly horrific, something that will go on to shake the very foundations on which their family life is built…
As Henrik and Nina's world starts to unravel, and the authorities remove Stine from the family home, Henrik is arrested and taken into custody.
In spite of enormous psychological strain, and the fact that their friends begin to turn their back on Henrik, Nina stands by her husband throughout, and he is finally acquitted.
Months pass before Stine is finally ready to meet her parents and talk it over – this time without the authorities. It's high time for reconciliation, and an explanation – during the course of which the dark side of this ostensibly normal family truly begins to emerge.