Foxy Brown (1974)
Directed by: Jack Hill
Written by: Jack Hill
Starring: Antonio Fargas, Kathryn Loder, Pam Grier, Peter Brown, Sid Haig, Terry Carter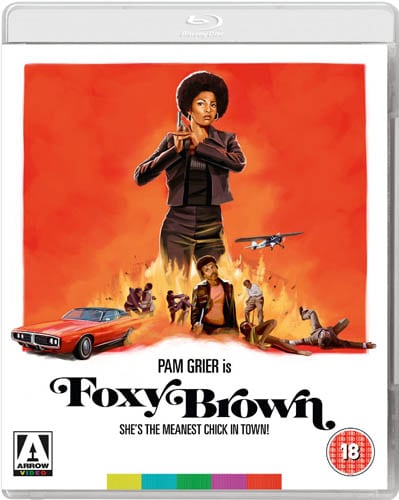 FOXY BROWN (1974)
Written and directed by Jack Hill
After the murder of her boyfriend, young and sassy Foxy Brown works her way through a deadly crime empire to seek revenge and justice against the drug syndicate responsible for his death.
Y'all know my love for exploitation movies, particularly Ilsa, in which we're presented with a strong female character that is both sensual and kicks ass. Well, Foxy Brown too has a 'whole lotta woman' in this tremendous Blaxploitation flick from Spider Baby director, Jack Hill, whose titular role, played by Pam Grier, inspired Quentin Tarantino to create his film Jackie Brown for the actress.
Action-packed, sexy and straight-talking, Foxy Brown gives you a ringside seat to the inspiring spectacle that plays out. The film tackles drug pushers, loan sharks, gangsters, rapist sex slavers, and much more  – such a vast enemy for the good hearted Foxy to tackle all on her lonesome. With the police and the law paid off by the gangsters, corruption is rife. This is all too clear when Foxy's undercover cop lover, Dalton Ford (Terry Carter), has to have surgery on his face to change his appearance and identity after a court case fell through and the criminals he'd charged, acquitted. At the top of the crime empire is Miss Katherine (Kathryn Loder), another strong but stern woman who's ruthless in her treatment against women, and her lover Steve (Peter Brown), who organises the drug deals and manages the heavies. Running a female escort service to woo the town's elite in their favour, Miss Katherine is used to dealing with ladies but she's never met a woman quite like Foxy Brown, who's guts and determination make grown men look like weaklings.
The woman who creates such an iconic female character is the talented Pam Grier. She takes Foxy Brown and moulds her into a force to be reckoned with, yet retains her soft feminimity, something which she can use to her advantage. A curvacious young woman strutting the streets in her flared trousers, brightly coloured blouses, large loop earrings and sporting a wicked afro, Foxy is quite the iconic hero of the movie. Her brother, Link, is the opposite of his sister. Tall and scrawny, he finds himself involved with drugs with the mobsters and becomes a name on their hitlist after failing to pay back $20,000. Link is played by Antonio 'Huggy Bear' Fargas and is perfect as the weedy, untrustworthy sibling who relies on his kind-natured sister to get him out of scrapes.
It's impressive to find the main antagonist of the film is actually a woman, in the form of Miss Katherine, played by Kathryn Loder. Pitting two strong women against one another in a film is enjoyable to watch, especially in a film as fun and bad ass as this. Peter Brown and the rest of the cast do a brilliant job as the supporting characters, adding a depth to the film that shows the story is more than just Foxy versus Katherine. Even Jack Hill film regular Sid Haig puts in an appearance in the latter end of the movie as bearded light aircraft pilot, Hays, who shares some comical scenes with Pam Grier's Foxy.
Soundtracked with groovy Motown inspired tunes from Willie Hutch, there's plenty of inventive on-screen action to witness, from the lesbian bar brawl in which Foxy has a black belt in Barstool, to her ingenious burning of her captors at Miss Catherine's twisted sex ranch. In true 70's fashion, the fight scenes lack obvious contact, but when an object is used as a weapon they're often gloriously smashed over someone's head. As much as a I like to watch real/realistic fight choerography, this particular style of fight scene always holds a special place in my heart, mainly because it's such a blast to watch! Unlike the Ilsa films in which Ilsa is the antagonist and a character you're meant to despise, you can whoop and cheer Foxy Brown on as she fights the good fight for all the honest people out there.
Already a cult film for many genre film lovers out there, Arrow Video have given Foxy Brown the Blu-Ray treatment and I got to say, the transfer is impressive. As with all the latest releases, the transfer is crisp with crystal clear sound. The disc comes packed with special features including commentary with the director, interview with Sid Haig, 'Back To Black' featurette on the popularity of Blaxpolitation films, as well as a collectors booklet featuring a new interview with Pam Grier and much more. For die-hard collectors, Arrow are releasing a sweet steelbook version of the Blu-Ray too.
Foxy Brown is a terrific feel-good film, a real thrill from start to finish with an exciting plot that explores many genres, from comedy, drama, action and thriller. Visually-pleasing in every single way, Foxy Brown will make you wish movies were still made like this today. A true classic blaxploitation flick that's not to be missed.
Rating: