STUDIOCANAL haved announcedthe next releases in their Studio Ghibli blu-ray series, part of their ongoing plan to release the entire Ghibli catalogue in high definition for the first time in the UK. July 1st sees the releases of KIKI'S DELIVERY SERVICE and GRAVE OF THE FIREFLIES, both in double play editions, with newly created extras supervised by Ghibli.
KIKI'S DELIVERY SERVICE
It's witch meets world, as teenage Kiki chooses to live on her own in a new town, using her magical powers to get by. But Kiki is poor with potions and second-rate at spells- instead, she sets up a courier service, using her broomstick to deliver everything from pies to pets. At first with only her sarcastic cat Jiji for company, she soon discovers that she has more friends than she ever thought possible.
Adapted by Hayao Miyazaki from the children's book by Eiko Kadono, KIKI'S DELIVERY SERVICE is one of the best-loved animated features in Japan and elsewhere.
Featuring the voices of Kirsten Dunst, Janeane Garofalo and Debbie Reynolds, Kiki's Delivery Service is superb entertainment from start to finish.
Extras: Complete Feature Length Storyboards / Ursula's Painting / Creating Kiki's Delivery Service / Kiki & Jiji / Flying with Kiki & Beyond / Producer's Perspective: Collaborating with Miyazaki / The Locations of Kiki / Behind the Microphone / Original Japanese Theatrical Trailers / Studio Ghibli Trailer Reel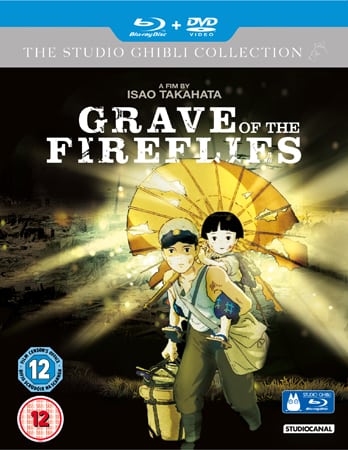 GRAVE OF THE FIREFLIES
Set in Japan during World War II, the film focuses on Seita and his little sister Setsuko. After their mother is killed in an air raid and with their father serving in the navy, they are forced to fight for survival in the devastated Japanese countryside. Food and shelter are scarce, and even their own relatives are too concerned with their own survival. All they have is each other and their belief that life must carry on.
Takahata and his team, including character animator Yoshifumi Kondo (who has subsequently worked on other acclaimed Ghibli films from director Hayao Miyazaki) have created a visually stunning and emotionally powerful film and that meditates on the devastating consequences of war and has rightly earned a reputation as an anime classic.
Featuring the voices of J Robert Spencer, Rhoda Chrosite, Veronica Taylor and Amy Jones.
Extras: Interview with Director Isao Takahata / Japanese Release Promo Featuring Interview with Director Isao Takahata and Writer Akiyuki Nosaka / Deleted Scenes Storyboards / Interview with Film Critic Roger Ebert / Historical Perspective Documentary / Trailers