To Jennifer (2013)
Directed by: James Cullen Bressack
Written by: Chuck Papas, James Cullen Bressack
Starring: Chuck Pappas, James Cullen Bressack, Jessica Cameron, Jody Barton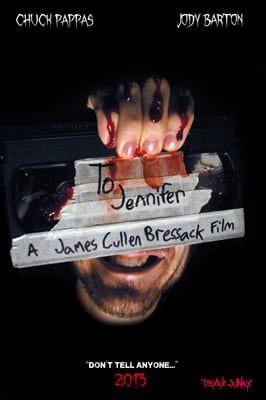 TO JENNIFER (2013)
Directed by James Cullen Bressack
Screened at Grimmfest 2013
Suspecting of his long-time girlfriend Jennifer of cheating after receiving a questionable text message, Joey (Chuck Papas) and his best friend Steven (James Cullen Bressack) decide to make a surprise visit to her home in a bid to catch her 'in the act', whilst documenting the entire heartbreak, roadtrip and final humiliation for her to eventually watch.
James Cullen Bressack returns with another found-footage format feature after last year's HATE CRIME. Shot entirely an iPhone 5, TO JENNIFER documents the upset of a loved up young man who's struggling to come to terms with the fact that his partner of two years, Jennifer, is quite possibly cheating on him. With the aid of Steven, Joey catches a flight to see Jennifer, but after being chucked off the flight during a transfer, the pair must find another means of reaching their final destination. Fortunately for them, Steven's friend Martin (Jody Barton) is eventually convinced to help the pair and the trio set off to catch Jennifer in the act and deliver their little movie.
TO JENNIFER is quite a slow building thriller, spending much of its 80 minute running time developing the characters of Joey, Steven and the high-as-a-kite Martin. Like a good road movie, the trio get up to quite a bit of mischief before arriving at their destination, with Maritn providing most of the laughs with his care-free attitude. The majority of the time the actors come across as real and honest, though the odd piece of dialogue and a couple of small-part characters introduced are less than convincing. The main trio, however, excel in their roles as three buddies – two who are out to get laid at any given opportunity, and one who's mind is constantly on his cheating girlfriend.
The movie takes us to quite a few interesting locations, making sure the viewer is as much a part of the journey as they are. From Joey freaking out mid-flight, complete with a shot of the view of the aeroplane wing outside the window, to Martin's visit to a murder-scene at a derelict motel. Bressack uses the locations well to flesh out the road trip as well as sympathising with Joey who, like the viewer, just wants to reach Jennifer's house and find out once and for all if she's sleeping with another man.
Despite its best intentions, the film struggles with an average and obvious climax, lacking the payoff that the film deserved. The reasoning behind retaining the camera at the end feels forced and unrealistic, and besides what we expect to occur, the film offers very little extra. The film, however, does look fantastic and is well edited together for a film shot on a smartphone, proving Bressack is current and fresh with his approach to filmmaking. To Jennifer doesn't quite hit the heights of HATE CRIME, but proves Bressack is still one to watch.
Rating:
Save