Antisocial (2013)
Directed by: Cody Calahan
Written by: Chad Archibald, Cody Calahan
Starring: Adam Christie, Cody Ray Thompson, Michelle Mylett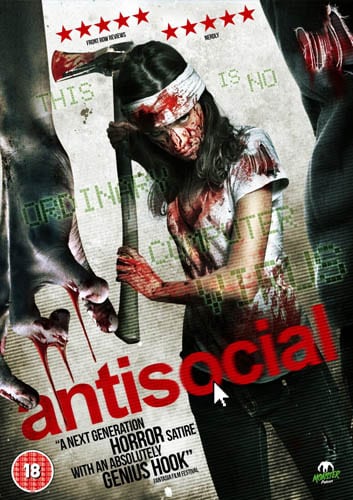 ANTISOCIAL (2013)
Directed by Cody Calahan
Screen at Grimmfest 2013
After breaking up with her boyfriend Dan on social network, Social Red Room, Sam heads for the comfort of her friends who are throwing a house party to celebrate the New Year. When users of the social network seem to randomly start violently attacking each other, the five friends must barricade themselves into their home as the fury epidemic spreads but is it already too late?
Aimed at the Facebook, MySpace and Twitter generation, ANTISOCIAL commentates on our culture's dependency on living out their lives via social media. The whole act of conversating over the internet rather than real life is so much more prevelant today than it ever has been, with users airing their dirty laundry on the public social networks for all to see. Break-ups, flirtations, trolling, arguments, celebrations and even what you had for breakfast all seem worthwhile topics for the users. But what would happen if the social network you loved and logged into multiple times daily was in fact destroying your life…
At its heart, ANTISOCIAL is a zombie horror film – normal human beings suddenly becoming infected by a virus, with bites from the infected helping to spread the virus. The social media angle is quite a novel take on the tired genre, and director Cody Calahan makes a well rounded story of it all, complete with a group of teenagers we can relate to. The script, however, isn't the most inspiring and as the film progresses, the story does seem to weaken causing me to stop caring as much for the characters on screen.
The majority of the film is shot inside the home in which the New Year's Eve house party takes place, particularly so after the outbreak. When that occurs, the viewer is put in the shoes of the teens, not knowing what madness waits outside, with their only reliance on information from mobile phones and the internet. A nice section of the film shows their interaction on videochat with a friend in another apartment block, who's also stuck in his home. Together, they must work out what or who is the source behind the virus and how to stop it.
When push comes to shove, ANTISOCIAL just falls a little flat. It had a good idea but tried to do too much with it at the end, most of which seemed a little unrealistic and fell into the usual run-of-the-mill zombie horror torture scenarios just to get the measure of bloodlust in. ANTISOCIAL does contain some good ideas and hallucinogenic imagery on-screen though, and is worth a watch for the casual horror fan looking for a bit of entertainment.
Rating: