Expose, House on Straw Hill, Trauma (1976)
Directed by: James Kenelm Clarke
Written by: James Kenelm Clarke
Starring: Fiona Richmond, Linda Hayden, Udo Kier

Expose (AKA The House on Straw Hill) (1976)
First Released: March 1976
Director: James Kenelm Clarke 
Current UK Status: Granted an 18 certificate with 51 seconds of cuts
Oddly, being one of the only British films on the Video Nasty list, Expose proved very difficult to hunt down, and even now it is only available as a Blu-ray import (very expensive!). The uncut version of the film was banned in 1984, and had previously been made available in cinemas with an 'X' rating back in 1976 (this version even had three minutes of cuts!). Sadly Expose stayed on the DPP list throughout the panic, and became the only British film to become one of the DPP collectables. It was re-released many years later, in 1997, with 51 seconds of cuts on VHS, but until now has never had a proper DVD or Blu-ray release.
Last year Expose was granted an uncut US release by the MPAA under the alternative title, House on Straw Hill, and this is now the only way to get hold of the film. There is an uncut French version lurking about, also called House on Straw Hill, but again this is seriously hard to find, and quite expensive.
The writer and director of Expose, James Kenelm Clarke, was born in Gloucestershire, here in the UK in 1941. He only directed seven films and three episodes of a TV series, so very little is known about the director. Before directing films, Clarke worked for Anglia TV as a researcher for About Anglia, he did this from 1961-67. He got noticed at the age of 18 when he wrote the music for Michael Darlow's film All These People, and then writing the scores for many of Anglia TV's plays, using the name George More O'Ferrall. It was in 1961 that Sir John Woolf suggested he join Anglia TV full time, and he did.
In 1967 he moved to the BBC and joined the award winning programme Man Alive as a producer, and later produced big name reporters such as  Esther Rantzen, John Pitman, Joan Bakewell and James Astor. He then got into films, working as part of the teams for Braden's Week and That's Life, before directing and co-producing the film Got It Made. He then left the BBC and setup Norfolk International Pictures Limited in London, the company that would be behind all of his feature films except one. Expose was his first feature film with Norfolk International Pictures in 1976, and in 1977 he directed the adult comedy Hardcore, which was a heavily fictionalised story of sex superstar Fiona Richmond (who starred in Expose).1978 came a bizarre comedy called Let's Get Laid involving a returning home soldier and a cigarette lighter that effects all electrical power, and in 1983 came the crime thriller Funny Money. Finally Clarke directed comedy thriller Yellow Pages in 1988.
Clarke also worked as a producer on six films and a TV documentary, including The Thirty Nine Steps (1978), The Music Machine (1979), Paul Raymond's Erotica (1982) and most recently Martin Kemp's directorial debut Stalker (2010). Clarke is now CEO of Norfolk Music Publishing.
Expose, or The House on Straw Hill or Trauma or whatever you want to call it, is a strange film to be on the Video Nasties list, and even stranger being SO hard to find considering it is actually British. It is also far from the usual horror gems found on the list, and the film is more a sort of erotic thriller, with absolutely tons of nudity and exploitation thrown in. For what it's worth, Expose is not half bad, and it baffles me why this notorious film (well, in Britain anyway) has not had the release it deserves. For starters it starred Udo Kier, the go-to guy for the weird and wonderful, and still a cult icon today. It also had British sex symbol Fiona Richmond in it, getting naked (something which gave the film plenty of free publicity in adult magazines at the time), and topping off the cast was the gorgeous Linda Hayden (Blood on Satan's Claw, Taste the Blood of Dracula, tons of British TV series, and still acting today). Hayden famously distanced herself from the film after it was finished though, and again this is strange because her performance is actually quite genius!
Kier plays Paul Martin, a writer who is self obsessed, rude and arrogant, and Kier plays the character delightfully well and you will hate him. He has had a best seller, and the pressure is on for him to write his next book, so his publisher hires him a secluded country house situated on Straw Hill, so he can go and write his next book. An opening scene of ravenous sex between Paul and his go-to girlfriend Suzanne (Richmond) sets up the films darker secrets: Paul is suffering from horrific visions of paranoia. Windows clamber in the wind, doors bang, handles are shook and blood drips all over both him and Suzanne. From the offset we learn that Paul is a bit of a bastard, and ever so slightly unhinged, but why? We learn later on in a rather excellent reveal that he is suffering from guilt, because the book that became a best-seller was actually based on a manuscript written by the recently deceased (suicide) Simon Hindstatt, and Paul stole it.
The opening scene not only shows off Paul's characteristics and the director's intent with his visuals, but we also get an impressive use of piano music which builds a hideous atmosphere of dread, something which is used over and over again (granted, it often becomes forced and unnecessary). Moving on and we also learn that paranoid Paul is afraid of open windows, and blimey does this man panic at the site of them!
To help with his writing (he doesn't like to write, he prefers to dictate!), a typist is hired to come and write down the novelists thoughts. Enter the sexy, seductive and utterly charming Linda (Hayden) who quickly gets to work with Paul. Hunted by two locals who desperately want to have their way with her, we finally see Paul show a little emotion as he beats up both men in an effort to save Linda (or more likely, his car). He then gets to work giving Linda her orders for his daily routine: "I don't like people about, I don't trust them" he tells her, before listing her exact times for writing, coffee, drinks, dinner etc etc. Linda nervously begins what she's been hired to do.
The country house setting serves as a powerful way to create a secluded, almost hopeless atmosphere, with pretty much all the characters (bar the little old lady) being not very pleasant (Linda soon shows her true colours). Keeping the film to pretty much one fixed place allows the viewer to get very familiar with the areas of the house and its grounds, making the story feel probably stronger than it actually is. Expose is, basically, a simple revenge film with lashings of nudity and some violence which, at times, becomes quite nasty. Being away from society allows the characters time to develop on screen with no interruptions, and in all honesty Paul with his paranoia and Linda with her masturbating (oh yes, numerous times!) and dark secrets are plenty for the viewer to get stuck in to. Suzanne simply serves as the person who turns up when Paul wants sex, but later on she is part of a rather raunchy lesbian clinch with Linda, which is hilariously intercut with Paul racing through the country in his expensive car looking for Linda.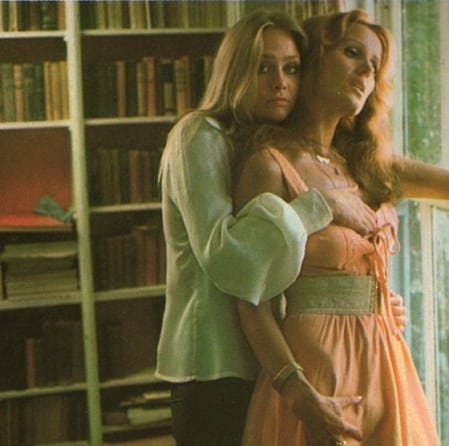 Expose is also filled with some truly bizarre ideas and some excellent camera shots. We see Paul have sex with Suzanne a couple of times, and in a very sinister way, he puts on surgical gloves during the act, something which is never fully explained, but is rather unsettling. He is also pretty lifeless when having sex, and his arrogance shines through when talking to Linda about her relationships. "My husband is dead" she explains, and so Paul makes the decision to follow this up by touching her breasts and trying to have sex with her! Naturally Linda says no. As for the camera shots, Clarke spends a lot of time shooting close ups of strange objects: typewriters, lamp shades and phones are all used to create an otherworldy, almost David Lynch style of mood, and it works to keep the viewer jolted into paying attention. As mentioned before, the creepy music serves these strange shots well. However, the music does slow the pacing at times, and serves to both improve and destroy the films tension.
When the film gets nasty, for its time I guess it was quite strong. Paul's nightmarish visions would not feel out of place in a classic Dario Argento film, while Linda being raped in a field will leave you feeling cold. However, Linda is the one out for revenge, and the rapists will wish they never met her, while people at the house also meet their demise as Linda begins to put her plan into action. Paul was responsible for her husband's suicide by stealing his manuscript, and Linda will kill all those Paul holds close. A bathroom murder is rumoured to be quite nasty, but I found it comical and badly shot (although there is full frontal female nudity!), and another throat cutting is badly timed and looks amateurish, having little impact. The violence lets the film down in a big way as it has been building to its big climax with some well crafted tension, but Hayden's performance will win you over.
Yes Kier is deliciously repulsive in Expose, but it is Hayden's performance which lifts this films into the realms of (at times) brilliance. She is sexy, full of character and switches from innocent blonde bombshell to savage beast quite naturally, and her unhinged performance is worth the cost of hunting this down alone. Seeing Hayden with a shotgun in hand and a split dress revealing plenty of flesh is actually kinda hot, and even more so when she bellows "I want my fun! I want your guts!!" However, the ending does become totally ridiculous, clearly showing the director had no idea quite how to wrap up the story. The music rears its head again, and it will either heighten, or dampen the impact of the finish, depending on your taste.
Expose is a fairly decent revenge thriller, and delivers enough violence and tons of sex and nudity to keep hardcore fans more than happy. Casual horror fans might find the film drags, and it certainly won't win over the arthouse crowd. The film is a mixture of clever use if music, camera shots and scripting and uses the actors perfectly. On the flip side though, the music ruins half of the film, some of the directing (especially the violence) is badly shot, and often the script and actors appear to struggle. Expose is a film of two halves: one half is an exceptionally well made erotic thriller, the other a desperate and hideous attempt at exploitation and violence. Recommended for the hardcore fans only, but I honestly feel it is about time this had a full DVD and Blu-ray release here in the UK, it deserves it.
Should Expose have been added to the Video Nasty List? For its time yes, the sex is strong, and even though the violence is badly shot, the intent is there and can be quite shocking.
Should Expose still be banned today? Technically the film is NOT banned here in the UK, but it is not exactly readily available either, so it is about time the film was granted a proper release as there is NO reason for it to not be available.
Rating: