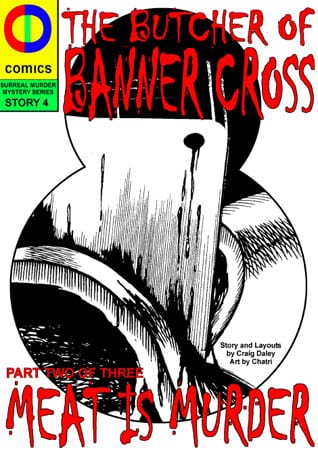 THE BUTCHER OF BANNER CROSS: MEAT IS MURDER [Part Two of Three]
Illustrated by Chatri Ahpornsiri
Written by Craig Daley
After the brutal murder of two men and a young woman, paranormal consultant Punchline is brought in to help the police and detectives track the killer. Punchline and Watkins pay a visit to the coroner to find out some important information about the victims' bodies, whilst a local butcher, Ron Savage, comes to the attention of both Punchline, Watkins and the police.
After the gory part one of CDComic's THE BUTCHER OF BANNER CROSS, we start to get to the heart of the tale in the second issue, attempting to find clues and motives of the mystery killer who's able to drain the blood and hack a body skillfully to pieces, removing all the organs besides the brain, in minutes. Oddball Punchline refuses to give up his ideas of the suspect until the killer has killed 5 people. In his head, killing 5 people makes a serial killer, and only then will Punchline put a stop to it. His partner Watkins is slightly frustrated but knows Punchline is a genius underneath his quirky ways. Even police offer Braeburn has become to appreciate Punchline, though Braeburn's Gov, Bramley, does not trust Punchline one single bit.
Illustrating the series is Chatri Ahpornsiri and his detailed, bleak drawings are wonderous to gaze upon, even if gory at times. The extreme close-ups of DCI Bramley chewing on a veal sandwich, a meat cleaver entering live flesh by the laughing killer or butcher Don Savage mincing meat are some bold imagery to gaze upon and compliment Craig Daley's wonderful, if not a tad gruesome, murder mystery story very well.
The second issue finds Punchline discovering some important clues, thus giving the reader lots to chew on as to who or what the killer is. Daley has a gift at getting the reader involved with his comics and this one is no different. I look forward to the third and final part of the series, Sliced & Diced, which I will review soon.
Chatri Ahpornsiri has produced excellent pen and ink work across all three issues of this narrative. For more of his artwork visit https://chatriahpornsiriinker.blogspot.co.uk
The three parts are all available now on multiple download websites priced $1.99, £1.40 or local equivalent price.
The CDComics digital comics are available to purchase from:
Amazon
Drive Thru Comics
Smashwords
Kobo
Diesel
Barnes & Noble USA
Sony
Apple