A Voodoo Possession (2014)
Directed by: Walter Boholst
Written by: Walter Boholst
Starring: Danny Trejo, Darius Devontaye Green, David Thomas Jenkins, Kerry Knuppe, Ryan Caltagirone, Tomas Boykin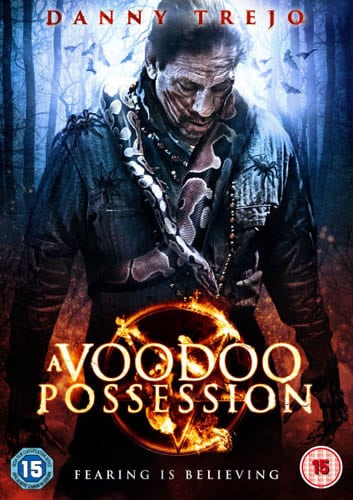 A VOODOO POSSESSION (2014)
Written and directed by Walter Boholst
When his brother Cody, a doctor in Haiti, goes missing, Aiden Chase travels to Haiti with his ex-girlfriend and news reporter Bree and her crew to visit the mental hospital where he was last seen working. Upon arriving at the hospital, they meet a variety of patients including Happy Man, who they later find out was a patient Cody was treating prior to his disappearance. Having dabbled in voodoo, Aiden worrys his brother has been taken to the other side and he must find the courage deep inside himself if he is to save his brother.
A Voodoo Possession opens up with an intriguing concept and gruesome death scene but as the film progresses, the theory of voodoo and it's use within the film gets confusing, with the film failing to deliver a coherant plot for the viewer to follow. Part of the script and screenplay attempts to clarify how voodoo works through recording videos of Danny Trejo's character reading from a book and showing pictures. This is supposedly to explain to Dr Cody and work as a hint to Cody's disappearance to the other characters. The viewer is also to be educated by the history of voodoo and the good and bad spirits, but unfortunately the videos do nothing to help the viewer understand what is going on.
After arriving at the mental hospital and discovering that Cody dabbled in voodoo in order to heal patients, Aiden connects with a voodoo practitioner who explains that they must go through Aiden's memories to find his brother in some otherworldly universe, where he is trapped by his own guilt. Guilt being the main factor of the film and reason as to why crazy things are happening to the two brothers, Aiden must discover the source of the guilt.
Unfortunately, A Voodoo Possession is really hard to like. It's not a terrible film, it's just not a good one either, with a messy plot that does itself no favours by being over-complicated. As you can see from the cover above, Danny Trejo is being sold as a main force of the movie but in actual fact only has about 10 minutes screentime, and even then his character only serves to give backstory on the history and spirits of voodoo.
An average cast with characters that viewers are unable to empathise with doesn't bode well, especially when said characters are fearing for their lives, something we as the viewer are meant to care about but don't. The only decent noteworthy performance goes to Tomas Boykin as possessed patient Happy Man, who's one patient you wouldn't like to be stuck in a dark room with.
A confusing plot, weak script and characters and a lack of tension leaves this viewer unpossessed.
Rating: