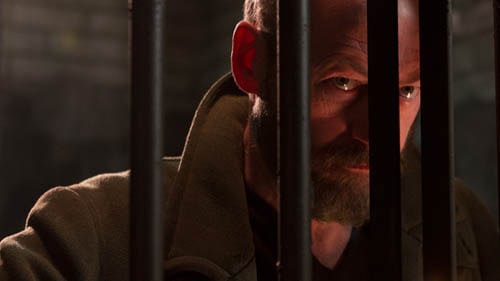 Grimm Up North have announce this years Grimmfest Opening Night Gala Line Up! Their opening night is set to get the festival rolling with two bloody fantastic features, an exclusive short film premiere and some great special guests.
This year's Grimmfest Opening Night will be headlined by the English Premiere of Brian O'Malley's Scottish/Irish Horror LET US PREY starring Liam Cunningham (Game of Thrones) & Pollyanna McIntosh (The Woman).
"We join Rachel (Pollyanna McIntosh), a rookie cop, as she is about to begin her first nightshift in a neglected police station in a Scottish, backwater town. The kind of place where the tide has gone out and stranded a motley bunch of the aimless, the forgotten, the bitter-and-twisted who all think that, really, they deserve to be somewhere else. They all think they're there by accident and that, with a little luck, life is going to get better. Wrong, on both counts. Six (Liam Cunningham) is about to arrive – and All Hell Will Break Loose!"
Joining the crowds on the night will be the stars & director of LET US PREY: Pollyanna McIntosh, Liam Cunningham (TBC), Douglas Russell, Hanna Stanbridge and Brian O'Malley. These very special guests will be with us for a Q&A following the film!
Following
Let Us Prey
will be the UK premiere
SUBURBAN GOTHIC
; the new feature from Richard Bates Jr (Excision) with a fantastic cast featuring Matthew Gray Gubler (500 Days of Summer), Kat Dennings (Thor), Ray Wise (Robocop), Jeffrey Combs (Reanimator), John Waters and The Soska Sisters.
"Raymond has a prestigious college degree, but he can't find work. He can channel the paranormal, but chatting with a cute girl mystifies him. Kicked out of his big city apartment, Raymond returns home to his overbearing mother, his Racist ex-jock father, and old brutish bully classmates. But when a vengeful ghost terrorizes the small town, the city-boy recruits Becca, a badass local bartender, to solve the mystery of the spirit threatening everyone's lives."
Opening the night will be the world premiere of the 'Vegan Feminist Horror' Short film named
THE HERD
starring Pollyanna McIntosh (The Woman), Victoria Broom (Stalled) & Charlotte Hunter (Emmerdale), Directed and Produced by Melanie Light & written by Ed Pope.
"Imprisoned within inhuman squalor with other women; Paula's existence and human function is abused as a resource by her captors. Escape, on any level, is hopeless as the women are condemned to a life of enforced servitude at the whims of their imprisoners for one reason only – their milk. Enslaved, inseminated and abused – every facet of their life is violated. At first the premise seems exaggerated and absurd; but is, in fact, disgusting in its stark normality"
The full line up for Grimmfest will be announced next week.
Tickets for the Grimmfest Opening Gala will be available once the full festival line up has been released.
Make sure to get your FULL FESTIVAL PASS now so you don't miss out on all the amazing events at Grimmfest 2014 in addition to exclusive competitions & the jam packed goody bags. Passes are strictly limited to 100 and get you into everything at The Dancehouse including SUSPIRIA live scored by CLAUDIO SIMONETTI'S GOBLIN.
Grimmfest will run from October 2nd-5th in Manchester, England.