Poltergeist (1982)
Directed by: Tobe Hooper
Written by: Mark Victor, Michael Grais, Steven Spielberg
Starring: Beatrice Straight, Craig T. Nelson, Dominique Dunne, Heather O'Rourke, JoBeth Williams, Oliver Robins, Richard Lawson, Zelda Rubenstein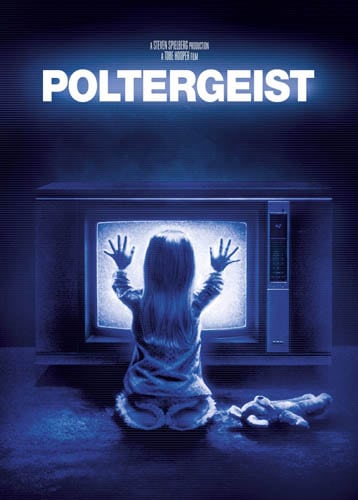 POLTERGEIST (1982)
Directed by Tobe Hooper
Available on Blu-Ray from Zavvi
The Freeling family's world is turned upside down when their youngest daughter, Carol Anne, is dragged into a spiritual dimension within the home by the one of the malevolent spirits that haunt it.
It's been a hell of a long time since I've seen Poltergeist. It was never one that really stood out in my memory but I recalled particular memorable scenes with certain characters and of course, the iconic picture of young Heather O'Rourke on her knees touching the television whilst it is tuned into a blank channel blaring static.
Revisiting the horror classic, this time on Blu-ray, I wondered if it had held up over time. The film's plot is a ghost story, or rather a haunting of the home of the Freeling family. Married couple Steve and Diane Freeling have three children, teenage Dana, 8 year old Robbie and 5 year old Carol Anne. Their youngest, Carol Anne, appears to have conversations with the television whilst tuned to static, seemingly voices only she can hear. Whilst never actually stated, her parents seem to put it down to imagination but when the chairs start to move on their own in the kitchen, they realise that something supernatural is afoot, but what they aren't prepared for is that one of the spririts inside the home has its eye on Carol Anne. When the young girl goes missing, the parents bring in a parapsychology team to help find their daughter and that's when things really get interesting…
Though the film is indeed a horror, it also strikes me as a comedy. From early scenes when Tweety the budgie dies and Carol Anne and her mother discover that a presence in the kitchen will move objects across the floor, to the final scenes of the movie in the girl's bedroom and rain-filled swimming pool, humour can be seen everywhere. If I was to take the movie purely as a horror, I would rate it very average but with the funny moments littered throughout, however unintentional, it raises the score that bit more.
Most of the performances from the cast are fantastic, from the parents, the children and the parapsychology crew, and not forgetting the iconic Zelda Rubenstein as Tangina the medium who cleanses homes of spirits. Despite being rather iconic to the franchise and horror cinema in general, Heather O'Rourke as Carol Anne never really convinces, neither visually or audibly, with her performance. It seems either far too relaxed or forced. Her best moment is probably when she's clinging onto her bed's headboard for dear life. You can see fear in her eyes and so it comes to no surprise that in reality, shooting this scene actually upset the poor girl.
A handful of memorable scenes, including an odd-shaped tree, melting face and creepy clown doll, makes the film worthwhile, but time has not treated the movie kindly. It's hardly frightening, working better instead as a family horror comedy. Despite its classic status, it is one of the weaker films to watch. A younger viewer may appreciate it more than I do, but I'd prefer to watch The Entity, though that film is much more adult in nature and does not contain the comedy elements that Poltergeist does.
The Blu-Ray HD transfer on Blu-Ray is excellent, producing a crisp and clear visual compared to the days when I watched it on TV or video all those eyears ago. The Blu-Ray has two special features, both 15 minute featurettes that discuss poltergeists, the supernatural and how one would go about recording or conversing with the spirits. They're briefly interesting but don't really offer much in terms of value to the actual movie.
Poltergeist may look a little dated in parts but those horror fans who haven't seen it or those who are easily scared may take some enjoyment from it.
Rating: