The Hypnotist (2012)
Directed by: Lasse Hallström
Written by: Lars Kepler, Lasse Hallstrom, Paolo Vacirca
Starring: Lena Olin, Mikael Persbrandt, Tobias Zilliacus

The Hypnotist (2012)
(15) Running time: 116 minutes
Director: Lasse Hallstrom
Writers: Paolo Vacirca, Lasse Hallstrom, Lars Kepler
Cast: Mikael Persbrandt, Lena Olin, Tobias Zilliacus
Reviewed by: Matt Wavish
The Hypnotist is based on the 2009 novel written by Lars Kepler, and no doubt will draw comparisons to The Girl With the Dragon Tattoo. The murder mystery does share some traits with Niels Arden Oplev's masterful thriller, but sadly has not reached the massive audience The Girl With the Dragon Tattoo did, which in my opinion is an absolute travesty. The Hypnotist is equally as brilliant as Oplev's dark, moody and violent thriller, and should be regarded in the same league.
With an atmosphere that echoes another superb Swedish thriller Smilla's Feeling For Snow (1997), The Hypnotist is a terrific, intense mystery thriller that will delight fans of the genre from start to finish, while offering up its own unique personality and design, which only a Swedish film could pull off. The Hypnotist is awash with moody atmosphere, an intriguing and thrilling story, and a cast all giving career best performances. Director Lasse Hallstrom (Chocolat, Salmon Fishing in the Yemen, The Cider House Rules, What's Eating Gilbert Grape) excels here in the almost noir thriller league, and delivers one of the year's best world cinema titles.
The Hypnotist begins as a school teacher is murdered in cold blood in a vicious stabbing, and Detective Joona Linna (Tobias Zilliacus) is called to the scene. Upset and shocked, on the same night while driving home he responds to another call to another murder scene, that of the teacher's family. His wife and daughter are found brutally stabbed to death in their own home, while the Son is barely alive and in a coma. Linna wants answers, and fast, and while at hospital he is told of a former physician who in the past was able to hypnotise people. Although he has been disgraced after a therapy session dug up some unwanted secrets, Erik Maria Bark (Mikael Persbrandt) is considered by one of the hospital nurses to be the best at what he does, and Linna calls The Hypnotist in the hope he can get some answers from the comatose boy.
Reluctantly Bark agrees to help, which leads to threats from an unknown person telling him to stop hypnotising and the kidnapping of his own Son. What now begins is a race to find not only Bark's Son before his life saving medication runs out, but to also find the killer, who may or may not be the same person who did the kidnapping. Bark teams up with Linna, and the pair work together to solve the mystery before it's too late. Bark's is also hoping to save his faltering marriage which has been damaged by an affair two years previous, and the kidnapping of their Son brings Bark's and his broken wife Simone (a terrific Lena Olin) closer together, but will it be at a cost?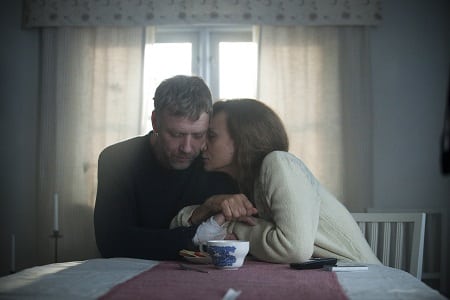 The Hypnotist unravels a familiar but terrific mystery that unfolds taking its time, and doesn't forget to include an immense amount of humanity. The three leads, Persbrandt, Zilliacus and Olin, all give absolutely perfect performances that are heartfelt, emotional and incredibly real. You believe in them, you feel compassion for them, and you want to see them get through this traumatic ordeal safely. However, the power of this film is not just down to the remarkable and highly talented cast, but it is the story that is unrelentless in its whodunnit style and strong emotional ties. While it is the murder mystery that is the key plot point, care and attention are paid to the characters too, especially the Bark's.
While detective Linna is sadly sideswiped in his back story, we do get the impression of a lonely soul gradually coming to terms with the fact one day he will need to love someone more than his job. More spotlight could have been placed on him, but this is a minor quibble for The Bark's and their broken marriage, disgraced hypnotising Father and strong relationships with their ill Son, are easily enough to carry the films emotional core. Olin and Persbrandt nail these roles, and the connection to these two towering performances will be made right from the get go.
Then there is Hallstrom's magnificent direction: he utilizes the cold, clinical Swedish city and countryside to create an almost magical, otherworldly atmosphere. Faded greys, blues and whites are used to enhance the winter backdrop and chilling feel to the film, and the overall mood really adds a haunting feel to the events. Hallstrom's camera drifts in and out of situations, while happily sits at many key moments, simply taking in the events and allowing the viewer to absorb every point without it being thrown in their face. The direction is casual, yet pristine and sharp, and often leads you to become so engrossed that you will lose all track of time. The Hypnotist, to use a terrible cliché, feels like it hypnotises the viewer with its brilliance, and once you are trapped by its stunning power, you will find yourself loving every second, it is that good. The finale is one of the most tense moments I have seen all year!
The Hypnotist is a superb thriller, and I am truly shocked that it hasn't reached greater heights. Hopefully the DVD release will see the film reach a much wider audience as viewers recommend it, for this is one of the most recommendable thrillers of the year, and will leave one hell of a lasting impression. Superb stuff, really, truly great directing, great storytelling and amazing acting, The Hypnotist delivers on all counts.
Rating: