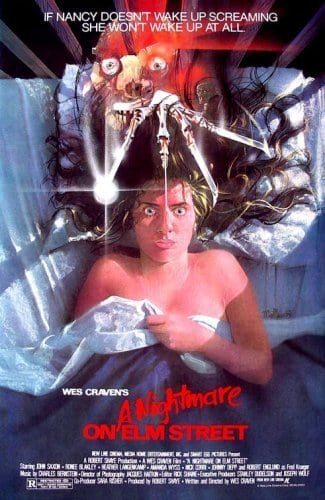 Join Grimm Up North at The Odeon Printworks in Manchester on September 30th 2014 for a special 30th anniversary screening of the iconic A Nightmare on Elm Street as part of the Grimmfest Preview night!
Freddy Krueger's original adventure in scream queen suburbia returns to the big screen for this very special 30th Anniversary screening.

A group of teenagers are terrorized by "Freddy Krueger", an evil being from another world who gets to his victims by entering their dreams and killing them with gloves that have knife blades attached to each finger.
Attend this very special screening to be in with a chance of winning a Nightmare on Elm Street Blu-Ray Boxset signed by Mr Freddy Kruger himself, ROBERT ENGLUND!
The film will screening with Short Film: Tasha and Friends at 7.00pm – 8.45pm. Book your ticket online
Screening after A Nightmare on Elm Street is Northern Premiere the critically acclaimed The Babadook!
A single mother, plagued by the violent death of her husband, battles with her son's fear of a monster lurking in the house, but soon discovers a sinister presence all around her.
The Babadook will be accompanied by short film Let God Sort Them Out at 9.00pm – 10.43pm. Book your ticket online
Tickets for each of the main film screenings are priced separately, so please click the corresponding link.