It's quite a talent, being creepy. In acting terms at least; the real life stuff isn't so much talent as just plain odd, but we digress!
There's a whole raft of actors that have stunned, provoked gasps, and just plain made us shudder with their creepy turns over the years, and we realised that three of the finest in the creepy craft all came together in one film this month – Susanne Bier's Serena.
Forget J.Law and B.Coop – the main attraction for those of us who enjoy a good freaking-out is the absolute tri-force that is Sean Harris, Rhys Ifans, and Toby Jones; all masters of that slightly uncomfortable 'oh god he's been looking at me for a really long time, do I move seats?' intensity that makes mildly unsettling characters linger in your brain for weeks after the credits have rolled.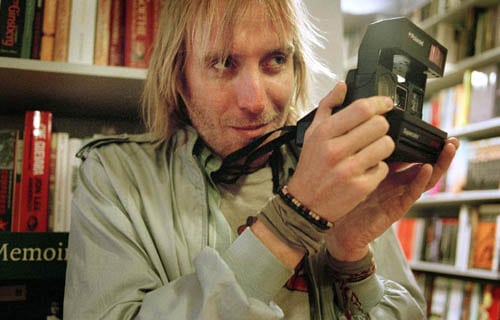 RHYS IFANS
Ifans burst into mainstream consciousness pulling gentlemen's lunges on a front doorstep in an unspeakably grubby pair of y-fronts back in 1999 in Richard Curtis love-fest Notting Hill. He's since embarked upon a rather different path. There were laughs to be had in Kevin and Perry Go Large's loathsome superstar DJ Eyeball Paul, and devilish Adrian in Little Nicky was similar in comedic repulsion, but it wasn't until Enduring Love in 2004 that we truly saw what Mr Ifans had in his spectacularly creepy arsenal. Starring opposite a Bond-less Daniel Craig, Ifans brought an unbearable sense of foreboding to Jed, a connection made as a result of a tragic accident, whose arc begins in a weird place, and ends in an even stranger one. An offbeat Halloween must for those who like a psychological ravaging.
TOBY JONES
Toby Jones is perhaps the friendliest face of the three, but by 'eck does he have his moments. Exhibit 1: The Dream Lord in Doctor Who episode 'Amy's Choice', quite literally a manifestation of the Doctor's dark impulses. Creepy, yes? Berberian Sound Studio saw him lead a perception-bendingly dark slice of cinema, which, visceral and uncomfortable sound engineered to the last, culminates in a horrifying twist, one that Toby's wonderfully nuanced and human performances add so much weight too. Oh, and as if we'd ever forget, his master-race enabling Arnim Zola, enemy of all things wholesome in Captain America has some pretty shady Nazi connections too – a creep in our books! He may not be acting the creep in his current role in Serena, but he's certainly earning the plaudits for his stoic congressman.
SEAN HARRIS
I mean, where do you start with Sean Harris? For a start, he was Craig AKA 'The Creep' in Creep, the 2004 horror that still has most of those who have watched it sprinting out of underground stations like their life depends on it after midnight. His depraved and corrupt policeman Bob Craven in Channel 4's blistering Red Riding Trilogy remains the stuff of kitchen-sink nightmares, and Stretch, his drug-dealing, addict-abusing sidekick in Harry Brown was a show-stealer. It was in The Borgias where he really came to the world's attention as Micheletto Corrella, a particularly terrifying family hitman, and one of his most recent TV appearances (he works so fantastically with Warp Films' relentlessly gritty output) Southcliffe saw him stun as tormented and volatile Stephen Morton, whose killing spree devastates a grimy small town. From the beginning of his career Harris has proved a deeply intense and unnerving presence, across a varied series of roles, all marked by being compellingly difficult to watch.
SERENA is in cinemas UK-wide now