The Well (2014)
Directed by: Thomas S. Hammock
Written by: Jacob Forman, Thomas S. Hammock
Starring: Barbara Crampton, Booboo Stewart, Haley Lu Richardson, Jon Gries, Max Charles, Nicole Fox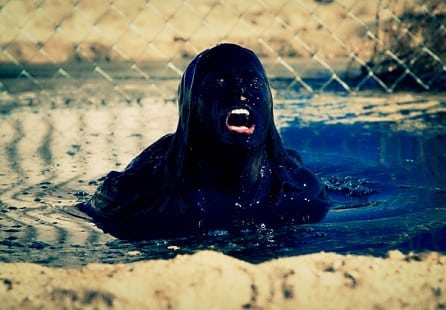 THE WELL (2014)
Directed by Thomas S. Hammock
Screened at Grimmfest 2014
In a post-apocalyptic future, very few people are left in a barren county in California. A lack of water forces the survivors to travel across the deserted landscape in search for a water source, but with a corrupt baron looking to claim all the water for himself, killing anyone who gets in his way, the survivors have more to contend with than just Mother Nature.
Much like the heat, survival drama THE WELL sears into your mind throughout the running time. With a lack of water and little else to do, the characters are forced to live day to day. Our focus is on protagonist Kendal who not only has to survive herself, but also look after her sick boyfriend Dean (Booboo Stewart), who's dying of kidney failure. The importance of water is key to his survival and with the help of a young boy, they hope to find a replacement part to a broken vehicle that will help take them as far away from the isolated land as possible.
Haley Lu Richardson leads the movie as survivor Kendal, who not only has to keep herself alive but feels obliged to help others survive too. Her quest gets her into dangerous territory and often sees her fighting this impossible battle alone, but the girl's heart is strong and she refuses to give up without a fight.
Indie film regular and one-time Ben Linus' father from LOST, Jon Gries plays the antagonist Carson who's greed and need for power sees him stealing all the land and its water supplies until there's no-one left but him and his daughter.
Between the drama, THE WELL plays out like a western, except in this Western hardly anything happens. The dialogue is weak with little narrative to keep the viewer interested. The only saving grace the movie has is its stunning setting which really adds atmosphere to the story the filmmakers are trying to tell. However, the rest of the time is a complete bore with plot elements that are only touched upon at the end of the movie without being fully explained early on. This left me confused a little and I had to ask fellow Grimmlins if I had missed key plot points at the beginning, but no, they had never been shown, forcing the viewer to fit the jigsaw pieces together without a picture for reference.
In a lot of ways, THE WELL reminds me of Wesley Snipes' recent western, GALLOWWALKERS, which too lacked an edge but had a lot more about it than THE WELL has. Though visually rewarding, the lack of real entertainment or depth in the movie until a few action sequences near the end, leaves the viewer unsatisfied. When those entertaining moments do arrive, it's a little too late.
If post-apocolyptic movies are your thing, you may get something more out of this than I did, but as a story, there wasn't quite enough substance.
Rating: