Fantasm (2013)
Directed by: Kyle Kuchta
Written by: Kyle Kuchta
Starring: Chris Behringer, Heather Langenkamp, Justin Beahm, Tom Atkins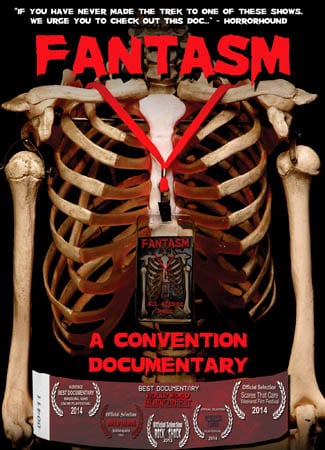 FANTASM (2013)
Written and directed by Kyle Kuchta
Documentary FANTASM follows Kyle Kuchta as he discusses how he fell in love with horror conventions after being a long time fan of horror, and the view of horror conventions from the eyes of the vendors, visitors and stars who attend them.
Kuchta visits Rock and Shock horror convention amongst others to film the scenes where horror fanatics queue up to meet the stars of their favourite horror movies and cheer in the audience of the Q+A's. Various vendors, such as Fright Rags, give their opinion on borror conventions and why they think they're so popular. Actor Tom Atkins and actress Heather Langenkamp, amongst others, talk about their experience doing the shows and the type of people who attend, as well as their thoughts and feeling on the entire horror movie genre and horor convention events as a whole.
At 55 minutes long, FANTASM feels like its only scratching the surface of horror conventions. I expected there to be more variety and behind the scenes activity into how these conventions are planned and set. Longer probing interviews with the public who attend these shows would have been insightful too to see how much of an obsession they actually are for fans.
Clearly shot on a micro budget, the documentary is decent enough to watch but lacks any real depth or insight to what we already know. Kyle Kutcha's on-screen involvement is minimal and I would have liked him to have taken the reigns a bit more and got himself on camera interviewing people and having a general nosey about, probing people from all walks of life about their viewpoints. Though his budget wouldn't have allowed it, a comparison between USA horror conventions and ones across the world would have been interesting to do and maybe this film will open a door for the horror convention to be explored further.
FANTASM allows viewers a glimpse of life at horror conventions but unfortunately doesn't offer any real insight other than what I already know. The interviews with the stars and vendors are enjoyable to watch, listening to their personal stories on how they got involved with the convention scene. Overall though, the documentary feels as though its trying to justify the horror genre and the people who love it. We all know horror fans suffer prejudice with the mainstream media insinuating that there's a correlation between watching horror movies and committing violent crimes, but Fantasm feels like it was trying too hard to prove that's not the case. However, it still makes for an interesting watch, one which may inspire viewers to attend or start their own horror convention in the future.
Rating: