The Reconstruction of William Zero (2014)
Directed by: Dan Bush
Written by: Conal Byrne, Dan Bush
Starring: Amy Seimetz, Conal Byrne, Scott Poythress, Tim Habeger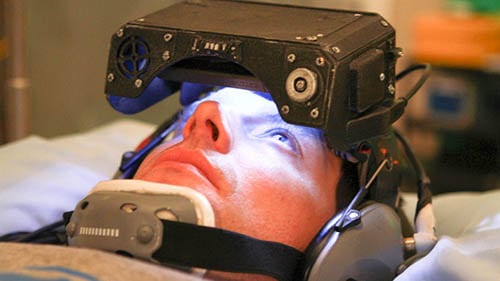 THE RECONSTRUCTION OF WILLIAM ZERO (2014)
Directed by Dan Bush
Screened at Grimmfest 2014
A geneticist awakens from a coma unable to remember much of his life. His twin brother helps him to piece his memory back together but he has a feeling all may be not quite how it seems.
Dramatic sci-fi thriller THE RECONSTRUCTION OF WILLIAM ZERO explores life as we know and understand it and what makes us "us" – is it our soul, our memories, or what we do that makes us who we are? These questions are asked through main character William who's life is mere fragmented memories. With the help of his twin, he begins to rediscover who he is but he can't quite shake off that feeling that he's not being told the truth about his life before the coma.
Conal Byrne stars as William and his twin brother, Edward. Despite their obvious likeness, Bryne manages to give both brothers an identity of their own which enables the viewer to tell them apart, and as we all know, twins don't necessarily share the same personality. The heartbreak of learning of his life prior to the coma, which involved a tragic accident with his son Kevin, fuels William to reconnect with his estranged wife, Jules (Amy Seimetz).
THE RECONSTRUCTION OF WILLIAM ZERO is a tale full of twists but many are predictable. The pace of the film often feels like it plods along and I found myself bored at times due to the lack of action or tension on screen. The main idea of the film is great but the execution feels a little bit jumbled with no clear cut emotion or drive from the characters to separate from the hum-drum of normal day to day life in the movie. It does, however, conjure up ideas that will make the viewer think and in many ways it can be compared to the likes of other sci-fi movies such as Caradog James' The Machine.
Set in a frosty location, the story of William feels as isolated as the huge house on the outskirts of town. There's no-one around that knows William, which leaves him in the hands of his brother who may or may not have his best interest at heart. This cold exterior reflects the life in which William has awoken to – a sombre one. William yearns to change and forge a better life for himself, one that includes Jules but after their past history, will broken relationships be able to be mended?
If you enjoy thought-provoking sci-fi with a dark edge, then it's worth checking out THE RECONSTRUCTION OF WILLIAM ZERO.
Rating: