Annie (2014)
Directed by: Will Gluck
Written by: Aline Brosh McKenna, Harold Gray, Thomas Meehan, Will Gluck
Starring: Cameron Diaz, Jamie Foxx, Quvenzhane Wallis, Rose Byrne

USA
IN CINEMAS  NOW
RUNING TIME: 118 min
REVIEWED BY: Dr Lenera, Official HCF Critic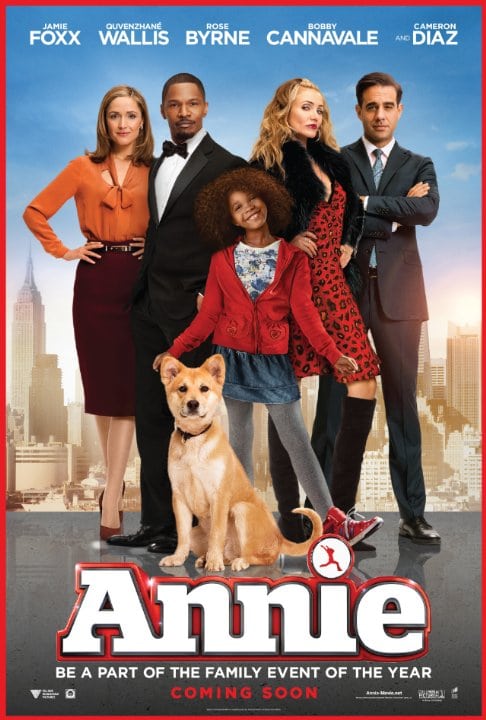 Ten-year-old Annie Bennett is a foster child living in Harlem living with the alcoholic and bitter Colleen Hannigan and four other foster girls. Unlike the other girls, Annie believes her parents will one day return for her. On the other side of the city, cell phone mogul and billionaire Will Stacks is running a disastrous campaign for mayor of New York City, hindered mostly by his general dislike for people which alienates him from would-be voters. Running home from after another failed attempt to discover her parents, Annie is rescued by Stacks from the path of a speeding truck. A video of Stacks' heroism goes viral and his approval rating goes up. His adviser Guy suggests that he invite Annie to his home as a publicity stunt….
I don't think it's widely known that John Huston's heart warming musical from 1982 has actually already been remade once, as a TV movie in 1999. Though hampered by budget and length restrictions, not to mention Disney's obsession with political correctness, it justifies its existence by sticking closer to the stage version and is still a decent watch. Therefore there isn't really much of a point in doing Annie a third time, even if the socio/political commentary underpinning the Depression era-set story can easily be transferred to modern times, something which this version somewhat botches, with this Annie hardly seeming like she has that much of a hard knock life for a start. The biggest problem though, is the rearranging of most of the songs so they sound like today's chart dreck, as if today's kids are unable to enjoy a tune without some heavy bass beneath it. Even worse, some of the more complex melody lines have been grotesquely simplified. Add to that some not inoffensive but totally unmemorable new music of which I couldn't remember a note of when I exited the cinema, a far draggier pace than the first version despite it being almost the same length as the 1982 version and this one trying to be all hip and trendy, and one of 80's cinema's greatest Boo Hiss villains turned into a poor misunderstood thing [played by a totally all over the place Cameron Diaz] who's lost her way a la Maleficent [why can't villains just be villains anymore?] and it's easy to hate this version there and then.
Yet it does have its pleasures. When it's dealing with the relationship between Annie and Will, it's often quite touching, Will's melting and redemption being far more gradual and convincing than that of the equivalent character Daddy Warbucks in the first two versions, and Will's enjoying of a film at the cinema for what could be the first time in decades being one of the sweetest [while still being amusing] scenes of the year. Quvenzhané Wallis is astonishing both as an actress and a singer in the lead role, and director Will Gluck gives it all a slick sheen, his penchant for tight editing and close-ups rather than letting us enjoy the mostly limited choreography not hampering things too much. This could have been a whole lot worse considering it's a film that probably shouldn't have been made in the first place, but despite some of its good aspects its commercial failure is rather reassuring, proving that it probably won't replace the original movie in people's hearts. If you want to treat your little girl, buy her that version on DVD instead of taking her to this largely misconceived remake – you'll both be glad that you did.
Rating: