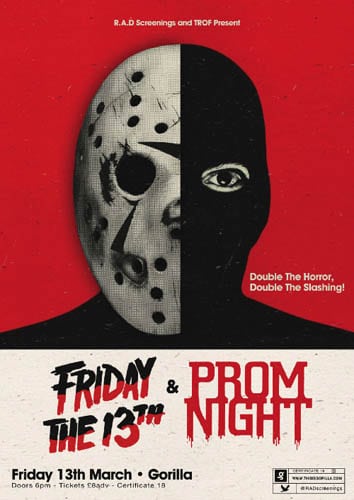 RETRO AND DANGEROUS bring Manchester the best in explosive, awesome and old school cinema; with totally excellent double bills R.A.D is all about delivering the Raddest of Retro Vibes, Iconic one liners and balls out amazing cinema! Join them at Gorilla on March Friday 13th for a blood soaked Slasher Double Bill!
FRIDAY THE 13TH
"One summer at Camp Crystal Lake, a group of young counsellors begin to get ready to lead the new batch of campers. Unfortunately for the former, someone isn't happy about what's going on in the camp and enjoys playing kill the counsellor! As bodies fall to the ground in the camp, no one is safe in this quintessential slasher that spawned a whole army of copycats, sequels and reboots."
PROM NIGHT
"Six years ago, when young Robin Hammond crashed through a broken window and dies, her playmates vowed to keep the accident a secret. They promised that no one would ever know, but someone already does. Now after years of keeping the secret, Robin's sister Kim is about to be crowned Prom Queen, but a chilling event undermines her party plans. Revenge for the six-year-old murder is around the corner as an unknown observer turns maniacal killer stalking the high school halls. Join us for this blood soaked classic featuring Jamie Lee Curtis, Disco and a whole lotta slashing!"
The Slasher Double Bill will be hosted at Gorilla in Manchester on Friday 13th March 2015. Doors open at 6pm and tickets are available in advance online at £8.80 via SeeTickets. Over 18's admitted only.