The Wild Angels (1966)
Directed by: Roger Corman
Written by: Charles B.Griffith
Starring: Bruce Dern, Buck Taylor, Dianne Ladd, Michael J. Pollard, Nancy Sinatra, Norman Alden, Peter Fonda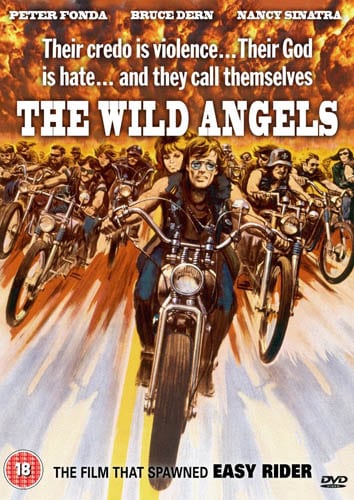 THE WILD ANGELS (1966)
Directed by Roger Corman
50th Anniversary Edition from Amazon
The Angels motorcycle gang from San Pedro, led by chapter President Blues (Peter Fonda) travel to the desert town of Mecca, California, to retrieve chapter member Loser's bike that they believe has been stolen by a Mexican chop shop gang there. When the police arrive to bust up the brawl with the Mecca gang, the Angels make a quick exit but unfortunately Loser (Bruce Dern) isn't so lucky. Critically wounded, Loser is rushed to hospital and guarded by the police. Fearing their friend and fellow gang member may end up in prison when he recovers, Blues and his crew decide to bust him out but not all goes quite to plan.
American International Pictures' film THE WILD ANGELS is a biker drama from legendary director Roger Corman. Telling the story of a group of bikers, based on the Hell's Angels, the film follows their lives as they attempt to retrieve a stolen bike and how they deal with the consequences after. The film features violence, male bonding, drugs, rape and booze-fuelled parties and hijinks, much like other biker movies made during the 60's.
Peter Fonda stars as the Angels' president, Blues. Blues is a serious, brooding type, where the biker club come first and his girl Mike (Nancy Sinatra), second. Whilst Mike accompanies Blues on the road, she feels he's becoming increasingly distant as though he no longer cares about her. Even when Loser (Bruce Dern) disappears and is discovered injured in hospital, it takes Loser's loyal wife Gaysh (Diane Ladd) pestering Blues at a bar before he decides to save his friend and club member. Rather than a biker gang with furious passion and goals, the Angels just seem to loiter around, merely looking for the next opportunity to have a party or brawl. However, the character of Blues looks too straight-edge and uptight to be the leader of a rebellious motorcycle gang, as he unconvincingly sups his tin of ale and snorts drugs.
The problem I have with The Wild Angels is that very little goes on in the movie with a lack of depth in the plot department. I felt the same about Easy Rider and although I'm a fan of biker movies, there's not enough to keep me interested. I will however say that The Wild Angels is a stronger film than Easy Rider in terms of coherance and has a much more rounded plot that is understandable from start to finish. The plot is basic and loose and really demonstrates the approach to life these bikers have. When they're not smoking a joint, they're doing drugs and even if they've got a girl, it's somehow okay to do the business with someone else's and if they refuse, drug and rape them. The bikers talk about having the freedom to ride and have fun but their 'fun' often has serious implications for bystanders such as an innocent nurse at the hospital where Loser is being treated.
The Wild Angels is a half-decent watch as long as you view it with no expectations. It's merely a reflection of a time, place and attitude and even though it doesn't always ring true, it still manages to pull itself together to stick to some kind of narrative albeit a simple one.
Rating: