Late Phases, Night of the Wolf: Late Phases (2014)
Directed by: Adrian Garcia Bogliano
Written by: Eric Stolze
Starring: Ethan Embry, Lance Guest, Nick Damici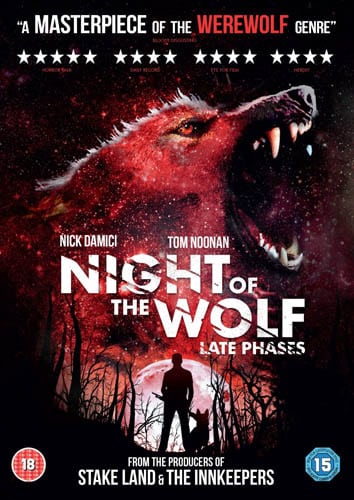 NIGHT OF THE WOLF: LATE PHASES (2014)
aka Late Phases
Directed by Adrián García Bogliano
Available on DVD from Amazon
Blind U.S. Army veteran Ambrose McKinley is shipped off to a gated retirement community by his son. On his first night in his new home, Ambrose and his alsation guide dog Shadow are attacked and his neighbour is brutally murdered. Brushed off as some wild animal attack by the police, Ambrose suspects that one of the community's residents is hiding a terrible secret, especially when he discovers that the maimings seem to occur every month, on a full moon, no less. Can a stubborn, old army vet take on the snarling, blood-thirsty beast in the shadows? The next full moon, we'll find out for sure.
Wow, what to say about NIGHT OF THE WOLF: LATE PHASES? If only more werewolf movies could be like this! From the opening scenes, I could tell that Late Phases was going to be something special. We have a fantastic character in the shape of Ambrose McKinley, played by the mesmerising Nick Damici, who's no nonsense, tell-it-like-it-is attitude and dry humour makes him the perfect protagonist of the movie. When we meet Ambrose for the first time, he doesn't look particularly thrilled to be moving into a gated community though he doesn't make a fuss about it either. Independent and with the help and company of his loyal dog Shadow, Ambrose is happy enough doing his own thing. Plus, after serving in the army and Vietnam, he knows his way around firearms should anyone try to break in. Except, what Ambrose doesn't expect is something supernatural breaking down his door in the middle of the night attempting to tear him to pieces. Nobody would expect that in a gated retirement community… would they?
Although a little shook up from the events in his new home, Ambrose quickly decides to pop his detective cap on and investigate his new surroundings for clues about the beast that attacked him and his neighbour. Unfortunately for Ambrose, he's got the whole desperate housewives of the retirement village trying to keep him restrained to his side of the lane. Could the dolled-up pensioners be hiding something hairy behind those made-up exteriors? Armed with his shovel-cum-guide stick, Ambrose continues to investigate and prepares himself for the suspected rematch come the next full moon.
I'm really pleased that the filmmakers of NIGHT OF THE WOLF: LATE PHASES decided to opt for prosthetics and costumes for the werewolves instead of CGI. Yes, they may look a little obvious at times but they're more real than any CGI could make them and they give a humanistic quality which is important to translate that the beast in front of our eyes is part human, part wolf. This brings character to the villain of the piece – an extra dimension that is otherwise lacking in its CGI counterparts seen in other movies.
The setting of a retirement village is also a brilliant choice for the movie. It's a setting you don't normally see in movies of this genre, especially with an elder character as the hero. Surrounded by elder characters, it's easier to throw in jokes that will entertain the viewer and is definitely an experience I'd like to revisit. Zombie flick in a care home maybe?
Wonderfully shot and slickly paced with a variety of characters to get to know, NIGHT OF THE WOLF: LATE PHASES is an engrossing, colourful, character-driven horror comedy with just enough action to get your adrenaline and fist pumping. This is one film that's a thrill ride from start to finish, delivering something clever, witty and highly original with terrific performances throughout.
An entertaining blast!
Rating: