We Are What We Are (2013)
Directed by: Jim Mickle
Written by: Jim Mickle, Nick Damici
Starring: Ambyr Childers, Bill Sage, Julia Garner, Kelly McGillis, Michael Parks, Nick Damici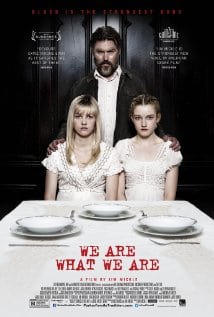 We Are What We Are (2013)
(TBC) Running time: 100 minutes
Director: Jim Mickle
Writers: Nick Damici, Jim Mickle
Cast: Bill Sage, Ambyr Childers, Julia Garner, Michael Parks, Kelly McGillis, Nick Damici
Reviewed by: Matt Wavish
The tour de force team up of writer/director Jim Mickle, and writer/actor Nick Damici, began in 2006 with the excellent Mulberry Street, and then delivered one of the finest vampire horrors in years with Stake Land in 2010. The pair have now teamed up on a re-imagining (it is NOT a remake) of the cult classic Mexican cannibal horror, We Are What We Are, which was directed by Jorge Michel Grau in 2010. Grau has given his blessing to Mickle's interpretation of his story, and has even gone on record to say Mickle's version is an improvement on his original. Grau is so impressed that there are now talks of him directing a sequel to Mickle's version, and there are also plans for a prequel. The praise Mickle's We Are What We Are is getting from both Grau and critics is fully deserved, for this is a top quality film, and Mickle and Damici's best work yet.
Not wanting to go down the shot for shot remake route, Mickle's version is very different from the original film, but follows the same basic set up (although flips the characters). We Are What We Are tells the story of the Parker family, led by the father Frank (Sage). In the opening scene, Mickle already delivers his take on events as we see the Mother of the family have a seizure while out shopping, and with the rain beating down, she collapses, smashing her head on a pipe and eventually drowns. Upon hearing the devastating news, Frank asks his two daughters Iris (Childers) and Rose (Garner) to identify the body, and he stays at home to look after his young son Rory (Jack Gore). If you have seen the original, you will already notice the small differences. Instead of two sons and a young daughter, here we have two daughters and a young son, with Iris set to be the 'meat' provider in her mother's absence. Also, instead of the mother looking after the grieving family after the death of their father, Mickle's version sees the roles reversed.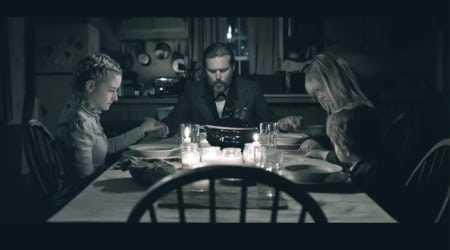 That's not all, the setting has moved from a busy, chaotic Mexican city to a quiet rural village. These changes work, and benefit this new version dramatically, and even though I adore the original film, it is safe to say Mickle's poetic and emotionally driven take on the story is an improvement. The father, who is slowly getting ill, leads the family and insists on their religious beliefs and ritualistic dinners with ferocious intensity, and Sage plays the role with stunning ability. It is his dominant role which brings this tale into territories the original didn't quite manage. You get a feeling here of the girls wanting to change their ways, but are too terrified of daddy, and this leads to some painfully emotional scenes, because deep down the girls love their father. The new setting also gives the story a more grounded, almost primitive feel with all the locals knowing the Parkers, with many simply calling them a little strange, and who like to keep themselves to themselves.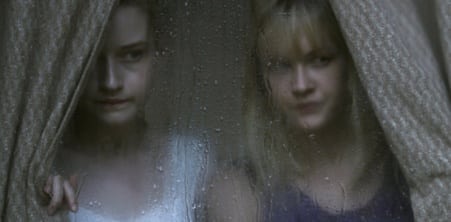 The local doctor, played with scene stealing brilliance by Michael Parks, is friends with Frank, and tries to help him in his hour of need after the passing of his wife. Doc Barrow understands grief all too well, for his daughter went missing the previous summer, and he still holds a torch for her return. In fact, many locals and people from neighbouring towns have lost loved ones, and as the storm rages and threatens to drown the village, it also brings with it some chilling evidence. The bones of a finger are washed up, and Doc Barrow suspects foul play by the Parker household.
We Are What We Are is a slow burner, an operatic, mystical journey into the world of a family dead set on their religious beliefs, and clockwork rituals. Mickle's exceptional camera work means that the film glides through your senses, and builds its layers of lush quality and intensity as things progress. The camera spends its time hovering, sitting still and simply sucking up the atmosphere to engulf the viewer in levels of dark poetry and devastating ambience in one of the finest, most sincere horror films you are ever likely to see. The family brought out real emotions in me, and later events almost brought me to tears. Mickle's jaw dropping talent as a director not afraid to let events linger is so amazing to behold, while Damici's thought provoking and realistic script deliver devastating brilliance at every turn. The cast are all mesmerising, and give career best performances, and it would be impossible to pick a favourite because they are all so damn good. We are even blessed with a small role from the great Kelly McGillis as a caring neighbour to the Parkers.
The film is haunting and slow moving, but it takes its time and delivers atmosphere like no other, and if you do watch this at the cinema, ensure you go with the right crowd who will enjoy such a slow, moody masterpiece. Thankfully at FrightFest, the audience loved it, and you could hear a pin drop during the (many) quiet moments. However, when the violence does arrive, it is savage, brutal and unpleasant, and even the hardened horror fans struggled to watch some of the scenes. But that is the power of Mickle's film, it draws you in so much that you feel you are there with these characters, and the stunning performances and tight, well designed script means that the whole film delivers on every level, making it feel almost real. The weak colouring and constant rain give the proceedings an almost dreamlike quality, and the lush production and artistic feel give the film a heightened shot of brilliance and beauty.
We Are What We Are is a minor masterpiece, a cannibal horror that leaves the nasty stuff mostly to your imagination, but makes it all the more frightening because of how this family relies on it to survive. Mickle and Damici have outdone their previous works, and delivered one of the most arty, thought provoking and beautiful horror films in years, and this is guaranteed to become a cult classic in every sense. Fans of high quality, dramatic horror cannot afford to miss such devastating brilliance. I left the cinema feeling like I had just watched a work of genius, and I left the cinema desperate to watch it again. Fascinating!
Rating: