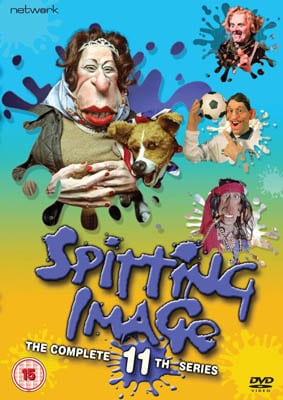 A milestone in television comedy, Spitting Image lifted satire to a new level through the 1980s and '90s. BAFTA-nominated many times, it won a Bronze medal at the Montreux TV festival in 1984, firmly establishing its success for over a decade. Spitting Image – The Complete 11th Series (15) is released on DVD on 1st June 2015, RRP £12.99, courtesy of Network Distributing.
In this series the entire Labour Party attends a drama workshop, Prince Charles tries to rein in William's video-game addiction, Jeffrey Archer tries to finish his novel, and there's ongoing televised coverage as Boris Yeltsin introduces the first loaf of bread in Russia. A retired Alastair Burnet is still reading the news at ten every night, and we share some intimate moments over dinner with John and Norma Major…
No target was safe from its gunsights: politicians of all persuasions, even the Royal Family and the Pope could find themselves up for a ribbing on any given programme. Packed with more wickedly witty sketches and spoof songs, this complete 11th series employs the familiar vocal talents of Steve Coogan, Hugh Dennis, Kate Robbins and Alistair McGowan among others.