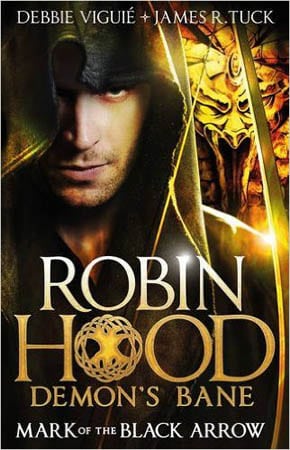 Titan Books will be publishing Robin Hood: Demon's Bane by Debbie Vigie & James R. Tuck on 14th August 2015 in paperbac. Mark of the Black Arrow the first in a brand new series to take the classic characters of Robin Hood, Maid Marian and Friar Tuck and turns their home of Sherwood Forrest into a far more threatening world.
A vast darkness is spreading across the land and if left unchecked, it will engulf the world and so Richard the Lionheart must depart England, entrusted by the church to save life as they know it. In his absence, the safety of the realm is entrusted to his evil brother, Prince John.
With no one to stop him, Prince John practices his black magic on the land, using his powers to force both nobles and peasants alike to give in to his rule and taxes. He creates a creature of darkness who only goes by the name of "the Sheriff," who himself commands any army of hideous creatures that stalk the forests, attacking the innocent that live there. A handful of rebels fight back, but are doomed to fail unless they can find a hero to lead them.
Debbie Viguié is the New York Times Bestselling author of over a dozen novels including the Wicked series and is the co-author the Crusade series. When Debbie isn't busy writing she enjoys spending time with her husband, Scott, visiting theme parks. They live in Florida with their cat, Schrödinger.
James R. Tuck is a professional tattoo artist and author of the Deacon Chalk, occult bounty hunter series of dark urban fantasy novels published by Kensington. James still tattoos three days a week at a shop near his home and has had his work published in national magazines.