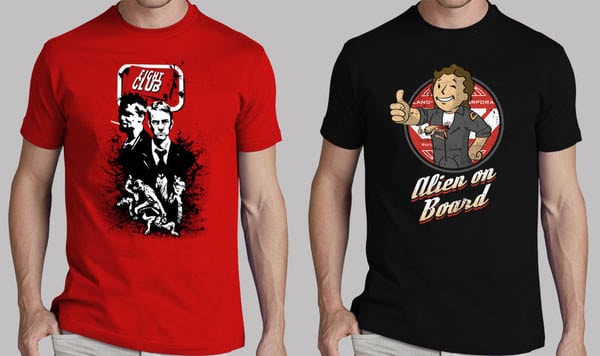 I love movie t-shirts and their designs. Whilst there's some brilliant poster art out there, especially from the past, the poster art for more recent titles leave a lot to be desired in the design department, especially printed on a garment. I prefer something a little different that isn't generic and fortunately there's a site out there that allows you to purchase these types of designs created by artists from around the globe. It's called Tostadora.
Tostadora has a whopping range of film and TV t-shirts, from popular programmes such as Breaking Bad and Game of Thrones to movies such as Star Wars, Jurassic World, Mad Max and more.
After reviewing the Machete t-shirt, I decided upon reviewing two new designs for Fight Club and Alien.
The Fight Club t-shirt design is based upon the imagery of the film's two main characters, Tyler Durden (Brad Pitt) and the narrator (Edward Norton), with guys fighting underneath. The print is in black and white and is super striking against the blood red t-shirt. The design even includes the Fight Club logo on the bar of soap, whilst the entire design is encased in a giant black splatter – again, like blood splatter from a good brawl. This whole design was so visually appealing to me, particularly on the red t-shirt, that it was simply one of those must-haves. The design is actually available on a variety of coloured t-shirts, with the Tostadora site allowing you to preview what it'd look like on each, but red was by far my favourite.
I'm also a fan of sci-fi flick Alien and I've already got a t-shirt bearing the Weyland Yutani logo which is pretty cool but it's generic. They're ten a penny in other words. Whilst I was looking for something a bit more special, I stumbled across the 'Alien On Board' design which I instantly fell in love with. The design blends the movie Alien with videogame franchise Fallout. In the game series, Vault-Tec mascot Vault-Boy appears throughout the game on videos and helping to display stats and items. In his iconic pose, he's got a blonde quiff and is giving the thumbs up. For this Alien x Fallout t-shirt design, Vault-Boy seems to have gone in drag as Ellen Ripley (well, at least her hairdo), giving the thumbs up and wearing a Nostromo jumpsuit in front of the circular Weyland Yutani logo in the background. To make this design even more awesome, a bloodied chest burster has torn through Vault-Boy Ripley's chest and is also giving the thumbs up, whist the text Alien On Board is printed below. This design tickles me something rotten and my fellow gamer and film fans loved the design too. The design is printed quite large on the t-shirt and stands out clearly on black, though it is also available on other coloured t-shirts. If you like Mad Max, there's an awesome spin on that using Vault-Boy as the Road Warrior.
Both the Imperial 11500, crew neck t-shirts are made from incredibly soft jersey cotton that is cuddly and comfortable against your skin. The movie inspired prints are applied using direct-to-garment printing so there's no worries of the print peeling off or cracking as you'd see in vinyl or transfers. A small leaflet is included in the package that gives washing instructions and like most printed garments, it's best to wash the t-shirts at 30 degrees if you want to keep them in top quality as well as avoiding the tumble dryer.
Below are the measurements of men's t-shirt, size Small, which applies for both the tees.
| | |
| --- | --- |
| Chest Width (armpit to armpit) | 19.5″ (39″ circumference) |
| Length (neck to hem) | 26.5″ |
Tostadora are currently offering 10% off everything on their website to celebrate their movie, TV and film t-shirts. All you have to do is use voucher code CINEMA2015 at Tostadora's checkout to get 10% off, but hurry as the offer expires on 11th August 2015.
So whether you're planning on wearing them day-to-day or breaking them out at film festivals, it's worth taking a look at the ever-expanding catalogue of TV and movie inspired designs at Tostadora.