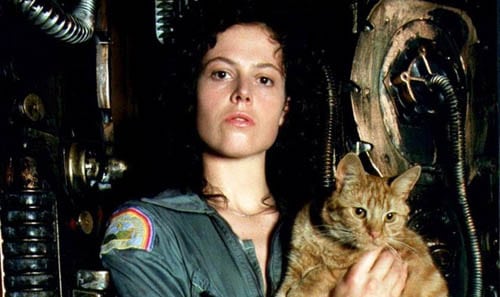 They say never work with animals but we've actually found that kitty cats can just be as big a character as their human co-stars, even if they are paid a whole lot less! In fact, we think cats can have a succesful career of their own, without us humans starring alongside. I Can Haz Cheezburger anyone?
Check out my Top 5 Coolest Movie Cats below and let me know in the comments section your favourite movie moggies!

White Cat – The Mummy
Just in case any undead Egyptian Mummies should rise from the grave and try to eat your soul, just grab your nearest moggie and launch it at them. Yes, the mummy who thinks nothing of ripping your head off turns into a squealing little girl if confronted by the sacred and divine of all creatures, the cat. In The Mummy, Brendan Frasier, as his adventurer counterpart O'Connell, manages to stop the powerful immortal Imhotep from getting it on with a sleeping Rachel Weisz by launching a kitty at him. Take that, you undead mummy!

Deja Vu Black cat – The Matrix
Whilst this kitty may not have done too much, it remains part of an iconic scene from the first Matrix film. Our hero Neo passes a black cat which meows, shakes and then walks off, only to begin to continue up the stairs and be alerted to another black cat doing the same thing. Was it two different cats or deja vu? Never has having deja vu of a black cat meant so much doom as it does to the Nebuchadnezzar crew in this movie.

Bones the cat – Idle Hands
With his parents disappeared, pot-head teen Anton has the run of the house. Sitting on his arse watching music videos on the TV featuring scantily clad women, and smoking a mixture of nutmeg and oregano, Anton lives the life of luxury. It's only til his white pet cat Bones is heard and found licking and pawing an eyeball that he discovers the fate of his parentals in this horror-comedy. Bones the cat also goes airborne a little later in the film. The cat sits alongside a pretty cool line-up of Final Destination's Devon Sawa, Seth Green, Vivica A. Fox, Jessica Alba and Event Horizon's Jack Noseworthy.

Jonesy the cat – Alien
If you ever had to be part of a crew in space, you'd want to be the cat, particularly after watching Ridley Scott's classic sci-fi Alien.
Whilst the rest of the crew get killed off by the monstrous Xenomorph, Ripley's ginger moggy Jonesy effortlessly manages to not only survive effortlessly but also convinced the fearsome alien to gobble up Harry Dean Stanton instead whilst it watches from the shadows. We kid you not!

Corben Dallas' cat – The Fifth Element
My new favourite film cat is the kitty from The Fifth Element. She's white and appears to be cross-eyed from watching far too much TV. She's the only woman in Corben Dallas' life until Leeloo comes along. She also likes to watch fish in her spare time.