Painkillers, Tour of Duty (2015)
Directed by: Peter Winther
Written by: Jason Groce, Kirk Roos, Peter Winther
Starring: Colm Feore, Erica Durance, Julia Voth, Lesley-Ann Brandt, Tahmoh Penikett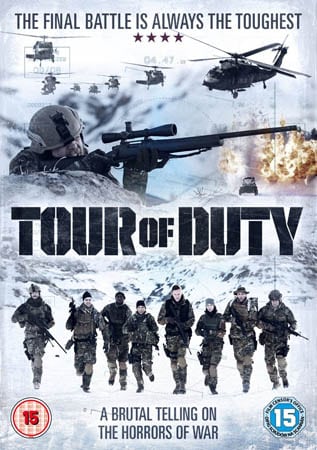 TOUR OF DUTY (2015)
aka PAINKILLERS
Directed by Peter Winther
After their mission goes wrong and they're emergency extracted, five of eight US marine soldiers awaken in a medical facility with no memory of their mission or why it failed. The doctors and nurses at the facility realise that they have all suffered some kind of brain trauma and that with time the memories will come back. However, to get a good night's sleep to rest and repair the brain and to avoid the brain malfunctioning or overheating, they must take special medication. Major John Cafferty and his fellow soldiers must piece together what happened during their mission in Afghanistan if they're to be allowed home to their loved ones.
Mysterious sci-fi war thriller TOUR OF DUTY, also known as PAINKILLERS, holds a mystery that must be unravelled. Right from the beginning, we meet main character and the man in the middle of the mystery, Major John Cafferty (Tahmoh Penikett). At first he's unpredictable due to being tied down to his hospital bed but as soon as he realises he's in a hospital and has memory loss, he begins the attempt to piece it altogether. John is a likable guy, tough and very fit, but it seems no matter how physically strong he is, mentally he is weak. To help kickstart and mend the memories he receives visits from his wife (Smallville's Erica Durance) who he cannot remember and is reunited with four of his squad members, each of whom are going through a similar thing. Together, they attempt to remember what happened to them and their memories are presented in the form of flashbacks so the viewer can see exactly what the soldiers experienced in Afghanistan.
Though the war elements of TOUR OF DUTY are few and far between, you certainly get the impression the soldiers are invidiuals who can handle themselves. They're all fit and strong and fiercely independent characters which makes what happened to them very intriguing indeed. The opening scene sees soldiers Cafferty and Guts (Lesley-Ann Brandt) running for their lives in a cave so we know whatever it is, it's not good. The film does well to dripfeed information and memories as the film goes along, as well as throw up some questions about the medical staff at the facility and whether they're truly as well-intentioned as they seem. The film has a very strong first half but as we approach the second half of the film, it begins to slide a little, losing the grip and tension it had earlier on.
There's some genuinely engrossing moments in TOUR OF DUTY but the end result doesn't quite fit the build up. A major plot point could have been developed into something very interesting but instead it appears to be quite throw-away and purely a reason for a major altercation between too sets of people. Even the altercation and combat scenes lack a real threat which takes away the importance of what they're fighting for and against.
Though it has some good ideas and enjoyable performances from the cast involved, TOUR OF DUTY lacks a proper punch.
Rating: