The final day of Grimmfest is always a bittersweet one and this year's Grimmfest 2015 was no exception. It's another brilliant day of movies but it's also the last. The last time to binge watch movies, the last chance to have a laugh and discuss films with fellow Grimmlins and the staff and the last day to be part of the festival community. Whilst I shed a little tear at having to go back to normality, it's great to know that everyone is only a tweet away and that Grimm Up North host screenings throughout the months before the next annual Grimmfest.
Enough sobbing from me as I headed into the first film of the final day: Hellions. However, before that we were treated to a short film called The Sun Has Died which was quite an interesting piece of cinema filmed in first person. Whilst it did give me a bit of motion sickness, I quite enjoyed the film about a woman being attacked inside a nursery where she cleans. This was in contrast of my experience of Hellions which I found to be quite scary initially before it turned surreal as a group of kid trick or treaters stalked a pregnant teenage girl in her own home.
Next up was Antisocial 2 which seemed quite fitting after first seeing Antisocial at Grimmfest 2013 two years earlier. It continued on from where the previous film left off and the social Red Room seemed to be still at the centre of the world wide virus outbreak but a mysterious update to the social network seemed to be causing much anxiety for those survivors not infected by the virus. The film conjured up some interesting ideas but it didn't seem to be able to execute them coherently and the story ultimately didn't lead anywhere.
Having screened Wes Craven's Scream earlier in the festival, horror fans were keen for their second dose of retro with Arrow Video's restored 2k version of Clive Barker's Hellraiser. It looked absolutely amazing up on the big screen but the Jesus Wept scene towards the end of the film had us scratching our heads after the screening as myself and a couple of other people were convinced that the scene was longer than had been screened. The Arrow Video release screened at Odeon showed the ripping apart scene for just a split second before Kirsty was in shot alongside it and closed the door. In my mind, the scene was that bit longer, had Frank in the full shot – no Kirsty – and actually showed more of him being pulled apart. Have we imagined it or is there more than one cut? We're trying to get to the bottom of this so will let you know our findings soon!
Ho Ho Ho! It might not be Christmas yet but I was definitely in the mood for A Christmas Horror Story, one of the many Xmas horror tales coming out this year. This film featured a few sub plots involving possession, changelings (plenty of them in this year's films) and Krampus the anti-Santa demon who visits those naughty children and adults who've been bad. Some of the segments where hit and miss but one of them was an absolutely hoot and surprised the audience with its kick-ass story. William Shatner also starred as a radio DJ who was becoming more sozzled as the film and Christmas Eve night went on. Plenty of fun with some great ideas but not particularly frightening.
Finally, the time came round the for the film on everyone's lips – the world premiere of Andrew Goth's mind-bending DxM. Some stunning visuals, striking music and a complex plot had me entertained yet baffled. It's definitely one of those films you need to watch 5 times. As soon as I thought I had a handle on it, it would present another scene that made me question it. I always have a hard time grasping quantum physics but I do enjoy watching films about them so I hope one day I may unlock the secrets and the meaning of DxM. Director Andrew Goth, co-writer Joanne Reay and the cast were all in attendance for a Q+A after the film and I managed to have a few words with Andrew, Joanne and the producer afterwords too which you'll be able to read on our site soon.
With the final screening now over, I said a sad final goodbye to my horror fiend chums and disappeared into the Mancunian night whilst the rest of the Grimm brigade headed to Trof for drinks and karaoke as part of the after party.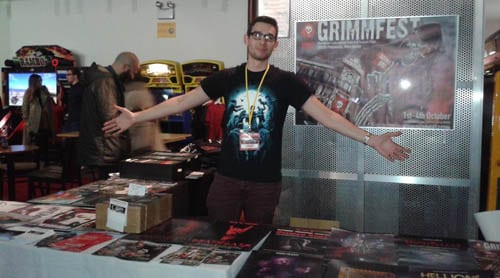 Grimmfest has evolved and this year proved what a force the festival can be. The Odeon Printworks is a fantastic venue with terrific projection work and sound and comfier seats than previously experienced at The Dancehouse, though I do still hold a fondness for that particular venue. As a festival, Grimmfest is growing bigger and better each year and the festival hub was a great addition to the festival with all the stalls and the gaming section. I often found myself visiting the hub between films to chat with other guests and festival goers and of course, mither our very own Courtney who was in charge of selling the posters which many snapped up to be signed by the special guests. I also managed to have a few gaming sessions and enjoy what Bitlord had to offer from retro horror inspired titles to modern ones (Left4Dead, Until Dawn) and even the Silent Hills PT that had us all scratching our heads.
I had the good fortune to interview some of the special guests who had much to tell me about the films they worked on. The festival goers were treated too with various Q+A sessions after the screenings of the films and enjoyed hearing the stories that the guests had to tell.
Of course, not everyone liked every film that was shown throughout the festival but there was plenty of variety to please all the fans and what some people disliked, others loved and vice-versa. My particular favourites of the festival, of which I saw, where He Never Died, The Hallow, Synchronicity and Howl whilst Saturday's short films really shone and proved that short films can be just as powerful as feature length. There's something for everyone at Grimmfest and each and every year the team excel to bring the audience what they want to see and give them a fantastic experience whilst doing it.
Here's to Grimmfest 2015, bringing horror, cult and sci-fi to the North, and let us count down the days to Grimmfest 2016!