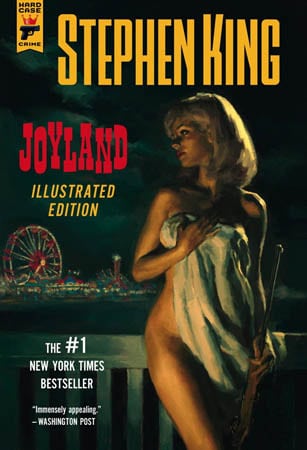 Titan Books will be releasing an illustrated edition of Stephen King's Joyland on 23rd October 2015 in hardback.
This new edition of Stephen King's bestselling Joyland features a brand new cover painting by the late Glen Orbik (1963-2015), one of Hard Case
Crime's most popular artists; a map of the Joyland amusement park illustrated in the classic 'mapback' style by Susan Hunt Yule; and more
than twenty interior illustrations by acclaimed artists Robert McGinnis, Mark Summers and Pat Kinsella.
Since its publication, Joyland has won rave reviews worldwide. The Washington Post called it "a moving, immensely appealing coming-of-age
tale" while Canada's National Post called it "a small marvel of a book, a novel of loss and heartbreak, of growth and discovery… one of the writer's finest works." Entertainment Weekly called it "some of King'smost graceful writing"; the New York Times wrote, "The book delivers chills [and] a mournful sense of life's fragility"; and the Guardian in the U.K. called it "a far gentler, deeper, more thoughtful book…and all the more intriguing for it."
Set in a small-town North Carolina amusement park in 1973, Joyland tells the story of the summer in which college student Devin Jones comes to work at the park and confronts the legacy of a vicious murder, the fate of a dying child, and the ways both will change his life forever.
A riveting story about love and loss, about growing up and growing old—and about those who don't get to do either — Joyland is Stephen King at the peak of his storytelling powers. With all the emotional impact of King masterpieces such as The Green Mile and The Shawshank Redemption, Joyland is at once a mystery, a horror story, and a bittersweet coming-of-age novel, one that will leave even the most hardboiled reader profoundly moved.
Stephen King has written dozens of bestselling books including The Shining, The Stand, and The Green Mile. Film adaptations of his work include Misery and Stand By Me. In 2003, King received the National Book Foundation Medal for Distinguished Contribution to American Letters, and in 2007 he was named a Grand Master by the Mystery Writers of America.